HDMI v1.3 Over One CAT6 Transmitter

save 7%




The HDMI v1.3 Over One CAT6 Transmitter is a convenient way to extend a HDMI signal over a long distance. Instead of using expensive HDMI cables, this unit distributes the HDMI signal over a CAT6 cable. Unlike similar HDMI Over CAT6 products which distribute the CAT6 Video and DDC data along two separate CAT6 connections, this unit distributes the Video and DDC Data along a single CAT6 Connection. We recommend pairing the unit with our ID#906 HDMI v1.3 over One CAT6 Receiver.

A wide range of Input/Output video resolutions are supported – up to WUXGA and High Definition 1080p. The unit equalizes and recovers incoming TMDS data before re-transmitting with optimal quality. When transmitting a signal in 1080p 8 bit resolution, the CAT6 operating distance is 45 meters. This means that you can position the Transmitter and Receiver units up to this distance without any drop in signal quality. Further adding to the extension distance, the HDMI signal from the Input device can run up to 15 meters (@1080p 8 bit).

Please note that the signal distance may be influenced by the source and display used, as well as cable specifications. For example a 1080p 8 bit signal is able to be extended further than a 1080p 12 bit signal. For more information please view the product specifications below.

The HDMI v1.3 over One CAT6 Transmitter supports Deep Color (12 bits/color) video and new lossless compressed (Dolby TrueHD, Dolby Digital Plus and DTS-HD Master Audio) Digital audio, with a bandwidth of up to 2.25Gbps per channel.

This product is similar to our ID#865 HDMI Over One CAT6 Transmitter and Receiver. The main difference between the two models is that this version (ID#905) has its own dedicated power supply, whereas the ID#865 model is powered by its USB connection. ID#905 also features a more sturdy case made from aluminium, and can extend a HDMI signal slightly further.

| | | | |
| --- | --- | --- | --- |
| Unit Dimensions: | 8.0 x 7.5 x 3.0 cm | Shipping Weight: | 0.38 kg |
| Location: | NSW, Australia | Item Type: | |
| Condition: | New | Warranty : | 12 Months |
| Certificates : | CE, CTick, UL | Manual : | User Manual (270.51 KB) |
Features:
Compliant with HDMI 1.3, HDCP 1.1 and DVI1.1 standards.
Supports digital video formats in Deep Color Mode at up to 36 bits (12bits/ color) and new lossless compressed (Dolby TrueHD, Dolby Digital Plus and DTS-HD Master Audio) Digital audio .
Supports one CAT6 cable for data/DDC transmission.
Equalizes and recovers incoming TMDS data before re-transmitting it in optimal quality regardless of the incoming signal quality.
Cable testing showed that with 1080p 8/12bit resolution the HDMI output display can be 15/10 meters away.
Cable testing showed that with 1080p 8/12bit resolution the CAT6 input device can be 45/15 meters away.
Support xvYCC
Specifications:
Frequency Bandwidth: 2.25Gbps (single link)
Input Port: 1 x HDMI Female port; Output Port: 1 x CAT6
Power Supply: 5V/ 1A DC (US/EU standards, CE/FCC/UL certified)
ESD Protection: Human Body Model:± 8kV (air-gap discharge)± 4kV (contact discharge)
Dimensions (mm)78.5 (W) x 72 (D) x 30 (H)
Weight (g): 90
Chassis Material: Aluminium
Silkscreen Colour: Silver
Power Consumption: 3.5W (Transmitter)
Operating Temperature: 0˚C ~ 40˚C / 32˚F ~ 104˚F
Storage Temperature: -20˚C ~ 60˚C / -4˚F ~ 140˚F
Relative Humidity: 20~90% RH (non-condensing)
Power Supplies:
Multi-Voltage Power Supply : 100 - 240VAC to 5V DC 2.6A Switch Mode Power Supply - Center Positive
Connects From :
Connects To :

RJ-45 Control Telnet/WebGUI
CAT5 / CAT6 Cable RJ-45
Converts From :
Converts To :

HDTV 480p
HDTV 576p
HDTV 720p
HDTV 1080p
HDTV 1080i
HDTV 480i
HDTV 576i
1 x HDMI v1.3 over One CAT6 Transmitter
1 x Product Manual
2 x 100-240VAC to 5V DC 2.6A Switch Mode Power Supply (Center Positive)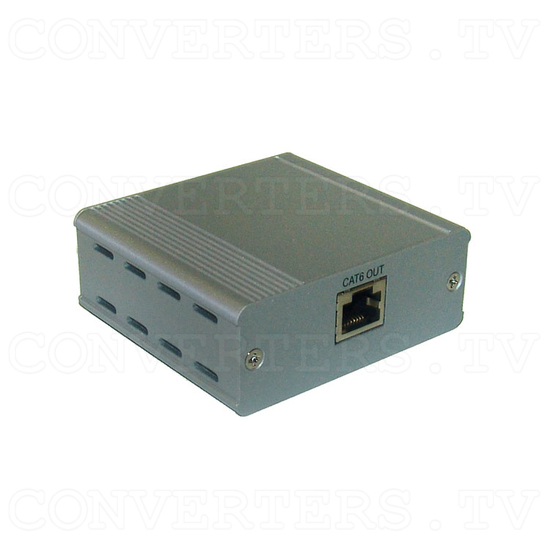 HDMI v1.3 Over One CAT6 Transmitter - Transmitter - Full View
HDMI v1.3 Over One CAT6 Transmitter - Transmitter - Front View
HDMI v1.3 Over One CAT6 Transmitter - Transmitter - Back View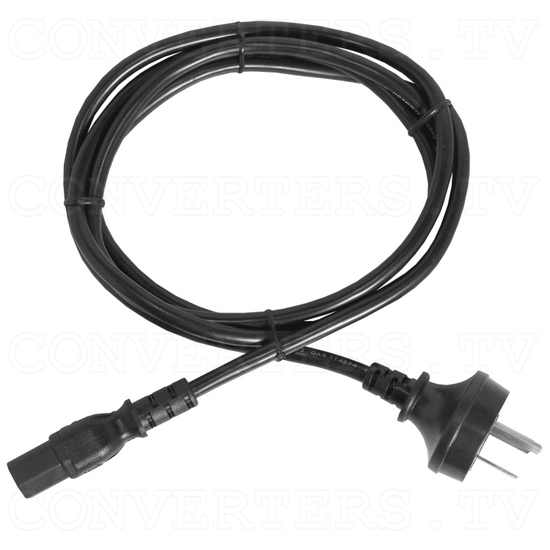 HDMI v1.3 Over One CAT6 Transmitter - Power Supply 110v OR 240v
HDMI v1.3 Over One CAT6 Transmitter - Full Kit