| | |
| --- | --- |
| | HDMI v1.3 Compliant Video Test Pattern Generator |
The HDMI v1.3 Compliant Video Test Pattern Generator is designed for audio and video signal testing. With built-in 39 timings and 51 patterns that accept both analog and digital signals, it provides over a thousand types of testing signals.

Applications for use include equipment testing and adjustment, EDID check, HDCP verification, production testing and defining source settings. The HDMI Test Pattern Generator can be conveniently controlled via the front panel buttons or via the IR remote control.

Please see below or download the product manual for detailed unit specifications.

| | | | |
| --- | --- | --- | --- |
| Unit Dimensions: | 27.8 x 15.0 x 5.0 cm | Shipping Weight: | 1.90 kg |
| Location: | NSW, Australia | Item Type: | HDMI Converters |
| Condition: | New | Warranty : | 12 Months |
| Certificates : | CE, CTick, UL | Manual : | User Manual (582.67 KB) |
Features:
HDMI v1.3, HDCP v1.1 and DVI v1.0 compliant
Provides 39 timings and 51 patterns
Timing included SD, HD up to 1080p, PC up to UXGA/WUXGA (Reduce Blanking Pixel Rate at 154MHz)
Patterns include Graphic Test Patterns and Data Analysis Patterns
Output format with digital HDMI/DVI, or analog PC/HD (component)
Color Space supports RGB444, YCbCr444 and YCbCr422
Deep Color supports 8 / 10 / 12 bits
Audio source is selectable among external 7.1CH, optical or internal sinewave
Internal sinewave LPCM channel is selectable from 2CH, 5.1CH and 7.1CH
Supports HDCP test
Support EDID data analysis
Support HDMI/DVI input data analysis
Support Autorun function
Choose [My Favorite] timings and patterns through RS-232 using PC software that included in the box
Friendly user interface - LCD display, LED indicators, IR remote and RS-232 remote
Specifications:
39 Timings: 480 x 640 ~ 1366 x 768 (Details in Manual)
SD timings - 480i , 480p, 576i and 576p
HD timings: 720p up to 1080p
PC timings: VGA up to UXGA, WUXGA (Reduce Blanking Pixel Rate at 154MHz)
NOTE: Analog PC output only supports PC timings, Analog HD output only supports SD/HD timings, HDMI/DVI output support all timings
NOTE: This system doesn't support user timing editing
51 Patterns: (Details in Manual)
Graphic Test Patterns: 45 Patterns
Data Analysis Patterns: 6 Patterns
NOTE: This system doesn't support user pattern editing
HDMI/DVI Input & Output:
Signal: TMDS single link and clock bandwidth up to 225MHz
Connector: HDMI TYPE-A. DVI input needs DVI to HDMI adapter
Analog PC/HD Output:
Signal: Analog R/G/B/H/V or analog YPbPr are support color space conversion, Component HD outputs support tri-level sync and color space conversion
Connector: D-SUB15. For HD component output, DB15 to 3-RCA adapter cable is required
Video Color Space and Deep Color:
HDMI Output: RGB444(8/10/12bits), YCbCr444(8/10/12bits) and YCbCr422(8bits)
DVI Output: RGB444(8bits)
PC Output: RGB with separate sync H/V or YPbPr with separate sync H/V and without composite sync on Y
HD Output: YPbPr with composite sync on Y or RGB with composite sync on G
Audio Inputs:
External Analog 7.1CH: RCA jacks
External Optical: Toslink jack
Internal Sinewave: Supports LPCM 2CH, 5.1CH and 7.1CH
Supports Sampling Rate 48KHz, 96KHz and 192KHz (Refer to Manual)
Sinewave Frequency: FL (Front Left)=1000Hz, FR (Front Right)=600Hz, CNT (Center)=800Hz, SUB (Subwoofer)=400Hz, SL (Surround Left)=1200Hz, SR¹ (Surround Right)=1400Hz, SBL (Surround Back Left)=1600Hz, SBR (Surround Back Right)=1800Hz
NOTE: This system doesn't support bitstream (Dolby, DTS) decoding from external optical
Audio Output:
Analog 7.1CH: RCA jacks
Optical: Toslink jack
Coaxial: RCA jack
HDMI: Support I2S bus contro.
Pattern 38: Audio control functions please refer to Manual
Pattern 32 - EDID Analysis:
The EDID sources can form three different ways and support 2 block analysis. The system will copy the Sink EDID and built-in into Rx EDID to analysis display information
Built-in Rx EDID
From Display HDMI/DVI Sink EDID
From Display VGA EDID
The EDID analyses are follow VESA E-EDID v1.3 and EIA/CEA 861D Version 3 standard
Pattern P39 - HDCP Analysis:
This system will do the HDCP handshaking and link-integrity test and it also supports Sink Repeater BKSV list and V' values.
HDMI/DVI Input Analysis:
Support manual Hot-plug (Press [OPTION])
Pattern 48: HDMI/DVI Video Timing Detection and Analysis
Pattern 49: HDMI/DVI Video Packets and Infoframe Detection and Analysis
Pattern 50: HDMI Audio Packets and Infoframe Detection and Analysis
User Interface:
LCD display, LED indicators, IR remote
RS-232 remote: D-SUB9 female connector
PC software supports RS-232 remote control
Power Supplies:
Multi-Voltage Power Supply : 100 - 240VAC to 5V DC 2.6A Switch Mode Power Supply - Center Positive
Connects From :
Connects To :

Composite - RCA / AV (TV)
HDMI (HDTV)
Optical TOSlink S/PDIF
Analog Stereo L/R Jacks

Composite - RCA / AV (TV)
VGA 15pin D-Sub (31K+)
HDMI (HDTV)
Optical TOSlink S/PDIF
Analog Stereo L/R Jacks
VGA 9 pin D-sub
Converts From :
Converts To :

HDTV 480p
HDTV 576p
HDTV 720p
HDTV 1080p
HDTV 1080i
HDTV 480i
HDTV 576i

HDTV 480p
HDTV 576p
HDTV 720p
HDTV 1080p
HDTV 1080i
HDTV 480i
HDTV 576i
1 x HDMI V1.3 Pattern Generator
1 x Product Manual
1 x 100-240VAC to 5V DC 2.6A Switch Mode Power Supply (Center Positive)
HDMI v1.3 Compliant Video Test Pattern Generator - Full View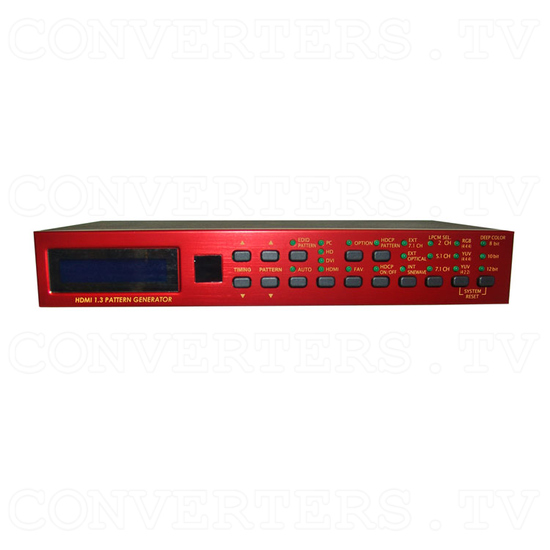 HDMI v1.3 Compliant Video Test Pattern Generator - Front View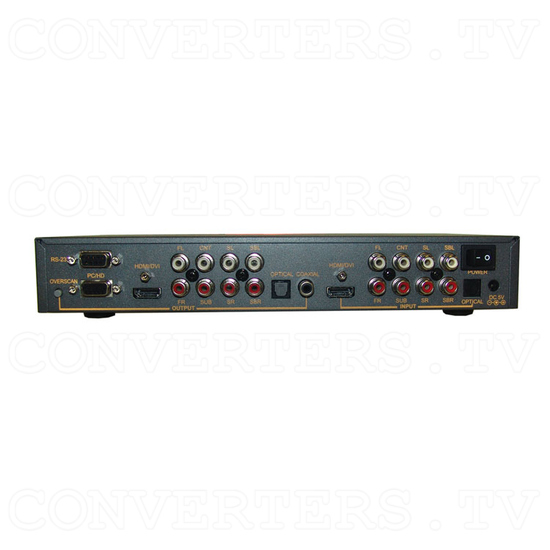 HDMI v1.3 Compliant Video Test Pattern Generator - Back View
HDMI v1.3 Compliant Video Test Pattern Generator - Remote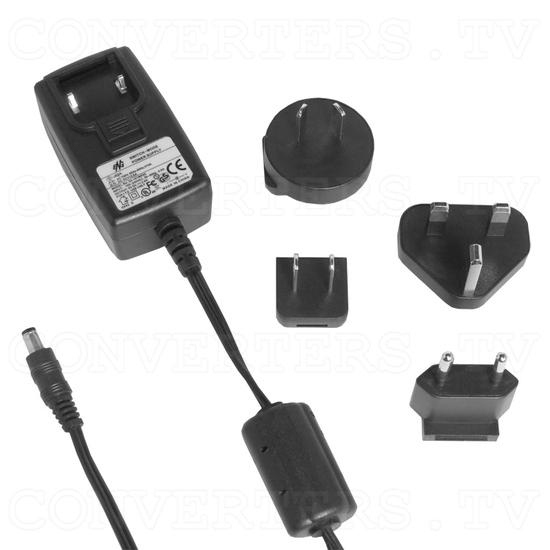 HDMI v1.3 Compliant Video Test Pattern Generator - Power Supply 110v OR 240v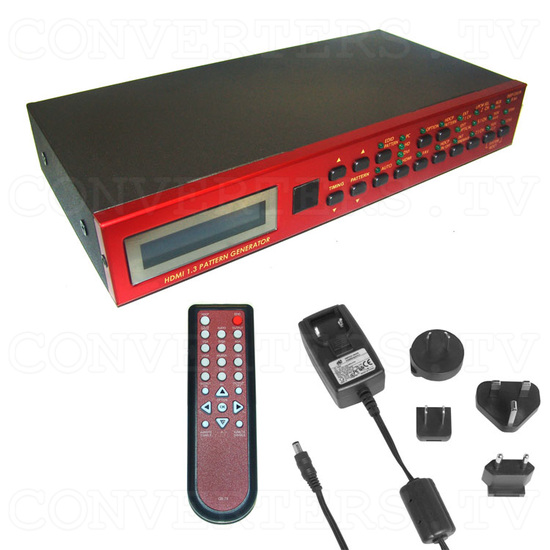 HDMI v1.3 Compliant Video Test Pattern Generator - Full Kit