HDMI to HDMI Scaler Box

save 39%




The HDMI to HDMI Scaler Box is a simple, easy to install and operate converter for scaling PC and HD resolutions to other PC or HD resolutions to easily match your Plasma or LCD monitor/HDTV. Connect your HDMI video source to the input port of the scaler, and connect the output port of the scaler to your HDTV's HDMI input port. Use the converters hot-key to instantly view by OSD the input and output timings and to change the output timing as required. Convert HD timings into PC timings and PC timings to HD timings, all with the push of a button.

Selectable output timings are for PC with aspect ratio=4:3, XGA (1024*768@60Hz) and UXGA (1600*1200@60Hz), and with aspect ratio=16:9, WXGA (1366x768@60Hz), 1440x900 (WXGA+@60Hz) and 1400x1050 (SXGA+@60Hz). Selectable output timings for HD are 720p@60Hz and 1080p@60Hz 8bit colour.

Compact, lightweight and economical to run, this HDMI to HDMI Scaler Box simplifies connection and display of PC and HD video sources to HDTV's or LCD monitors. Full compliance to HDMI v1.2 specifications for the HDMI output and HDMI v1.3 specifications for the HDMI input. It is HDCP and DVI compatible, and the HDMI cable rated input/output distance is 6m using a 24AWG wire. Distance will vary depending on quality of cable used.

| | | | |
| --- | --- | --- | --- |
| Unit Dimensions: | 10.0 x 6.3 x 2.2 cm | Shipping Weight: | 0.33 kg |
| Location: | NSW, Australia | Item Type: | HDMI Converters |
| Condition: | New | Warranty : | 12 Months |
| Certificates : | CE, CTick, UL | Manual : | User Manual (337.73 KB) |
Features:
Output supports HDMI 1.2, HDCP 1.1 and DVI 1.0
HDCP compliant
Input supports HDMI v1.3 8 bit
Supports HD resolution input: VGA~WSXGA, WUXGA@60 (Reduce Blanking)/ 1366X768/1440X900/1400X1050
Fast switch hot key from 720p to 1080p/1280 x 800/1366 x 768/1920 x 1200(RB)
Auto–Detection and Hot plug
Interlaced progressive conversion with various picture display
Specifications:
TMDS Clock Frequency: 225MHz
Input port: 1 x HDMI
Output port: 1 x HDMI
HDMI Cable In*: 1080p-8bits (6M)
HDMI Cable Out*: 1080p-8bits (6M)
Power Supply: 5V/1A DC (US/EU standards, CE/FCC/UL certified)
Dimensions (mm): 114 (W) x 65 (D) x 26 (H)
Weight(g): 78
Chassis Material: Plastic
Silkscreen Colour: Black
Power Consumption: 2.7W
Operating Temperature: 0°C~40°C / 32°F~104°F
Storage Temperature: -20°C~60°C / -4°F~140°F
Relative Humidity: 20~90% RH (non-condensing)
Cable tested with 24AWG cable, using cables of another type may result in a different operating distance.
Figures provided are reference figures only, actual figures may depend on source and display use with cable specification.
Accepted HDMI PC Resolutions:
640*480@60Hz
800*600@60Hz
1024*768@60Hz
1280*960@60Hz
1280*1024@60Hz
1600*1200@60Hz
1920*1200@60Hz
Accepted HDMI HD Resolutions:
720*480i@59/60Hz
720*480p@59/60Hz
1280*720p@59/60Hz
1920*1080i@59/60Hz
1920*1080p@59/60Hz
720*576i@50Hz
720*576p@60Hz
1280*720p@50Hz
1920*1080i@50Hz
1920*1080p@50Hz
1366*768@60Hz
Output Resolutions (Selectable):
High Def:
720p@60Hz 8bit colour
1080p@60Hz 8 bit colour
with aspect ratio=4:3:
XGA (1024*768@60Hz)
UXGA (1600*1200@60Hz)
with aspect ratio=16:9:
WXGA (1366x768@60Hz)
WXGA+(1440x900@60Hz)
SXGA+(1400x1050@60Hz).
Converts From :
Converts To :

HDTV 480p
HDTV 576p
HDTV 720p
HDTV 1080p
HDTV 1080i
HDTV 480i
HDTV 576i
1 x HDMI to HDMI Scaler Box
1 x Product Manual
1 x 100-240VAC to 5V DC 2.6A Switch Mode Power Supply (Center Positive)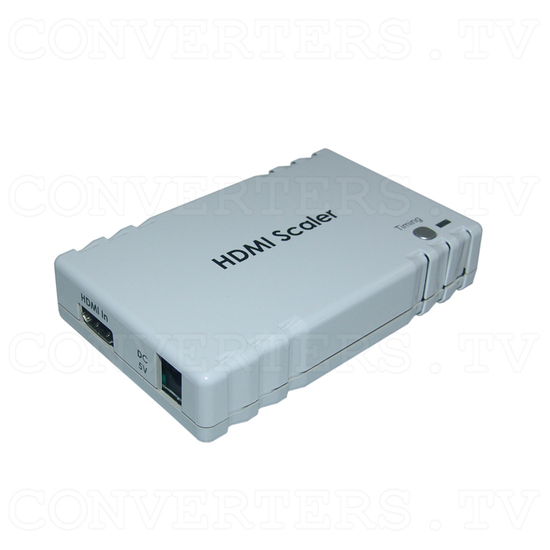 HDMI to HDMI Scaler Box - Full View
HDMI to HDMI Scaler Box - Front View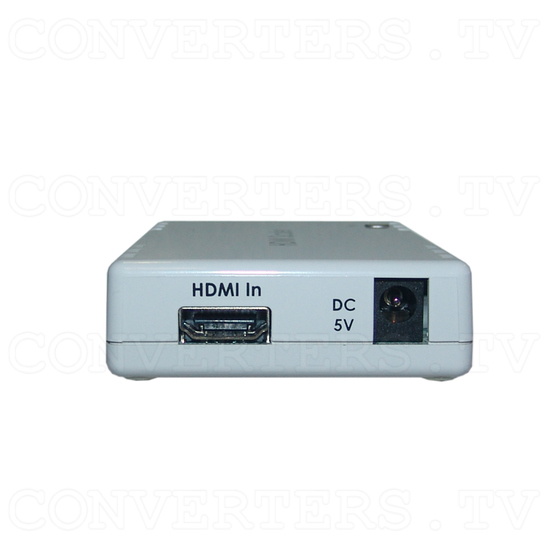 HDMI to HDMI Scaler Box - Back View
HDMI to HDMI Scaler Box - Top View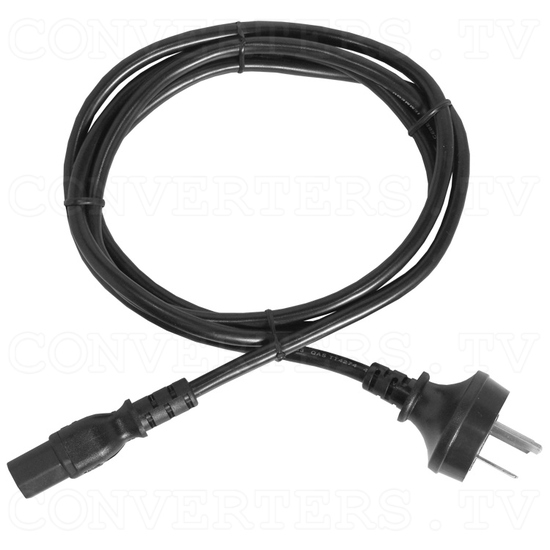 HDMI to HDMI Scaler Box - Power Supply 110v OR 240v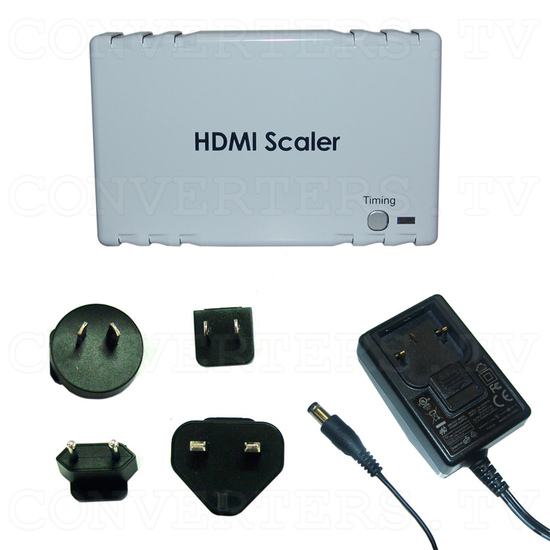 HDMI to HDMI Scaler Box - Full Kit