HDMI to HDMI Scaler Box

save 17%




The HDMI to HDMI Scaler Box is designed to scale HDMI video and audio sources between various HD and PC resolutions. Both input and output support resolutions up to 1920x1200@60Hz (RB) and the unit is compliant with the HDMI 1.3, HDCP 1.4 and DVI 1.0 standards.

High Definition audio formats are supported via "Bypass", with a maximum supported audio sampling rate of 192 kHz. A handy feature of the HDMI to HDMI Scaler Box is the ability to freeze-frame, or turn off the video output while still transmitting the audio signal. In addition the HDMI to HDMI Scaler Box gives you the option of using internally generated EDID, or simply use the EDID from the connected display.

A comprehensive On-Screen-Display (OSD) allows the User to configure the HDMI to HDMI Scaler Box simply and easily. Fine tuning of a video's contrast, brightness, hue and saturation are able to be adjusted manually and the aspect ratio and overscan are adjustable as well, making this the perfect HDMI scaler to integrate any source signal to a display that requires conversion.

| | | | |
| --- | --- | --- | --- |
| Unit Dimensions: | 9.5 x 5.0 x 2.3 cm | Shipping Weight: | 0.45 kg |
| Location: | NSW, Australia | Item Type: | HDMI Converters |
| Condition: | New | Warranty : | 12 Months |
| Certificates : | CE, CTick, UL | Manual : | User Manual (196.52 KB) |
Features:
HDMI v1.3, HDCP 1.4 and DVI 1.0 compliant
Scales the video signal from an HDMI source up to 1920×1200@60Hz (RB)
Accepts a wide range of Standard and High Definition (SD/HD) resolutions from 480i/p ~ 1080i/p
Manual adjustments for contrast, brightness, hue and saturation
Provides stable output timing, even if no video source is present
Maximum output pixel rate is up to 165 MHz
Maximum input pixel rate is up to 225 MHz
Supports color space of RGB and YCbCr 4:4:4@8,10 and 12-bit and RGB can be colour space converted to YCbCr for input and output RGB@8-bit
Supports bypass of various audio formats including: LCPM up to 7.1 (8CH), AC3, DTS, Dolby True HD and DTS-HD bypass
Maximum audio sampling rate of 192kHz
Able to mute output audio
Able to freeze or blank video while continuing to output live audio
Supports Frame rate and Format conversion
Supports CEC bypass
Supports EDID management with customizable internal EDID or cloned EDID from the connected display
Firmware can easily be updated in the field via USB
Specifications:
Maximum Pixel Rate: 165MHz (output) / 225MHz (input)
Input: 1 × HDMI; 1 x mini-USB (Service Only)
Output: 1 × HDMI
LED on top plates: 1 x Power LED; 1 x HDCP Status LED
Audio Sampling Rates: 44.1/48/96/192kHz
HDMI Cable Input distance: 10m / 1080p@12-bit
HDMI Cable Output distance: 10m / 1080p@8-bit
Power Supply: 100-240vAC to +5v 2.6A (US/EU standards; CE/FCC/UL certified)
Power Consumption (watts): 2.42W
Dimensions (cm's): 9.5 (w) × 5.0 (d) × 2.3 (h) jacks included
Weight (grams): 67g
Chassis: Black Plastic
Operating Temperature: 0c ~ 40c / 32f ~ 104f
Relative Humidity: 20% ~ 90% RH (non-condensing)
ESD Protection: Human Body Model: +/-8kV (air-gap discharge); +/-6kV (contact discharge)
Power Supplies:
Multi-Voltage Power Supply : 100-240VAC to 5V DC 2.6A Switch Mode Power Supply (Center Positive) Screw Connector
Connects From :
Connects To :

HDMI (HDTV)
USB (Service)
Converts From :
Converts To :

HDTV 480p
HDTV 576p
HDTV 720p
HDTV 1080p
HDTV 1080i
HDTV 480i
HDTV 576i

HDTV 480p
HDTV 576p
HDTV 720p
HDTV 1080p
HDTV 1080i
HDTV 480i
HDTV 576i
1 x HDMI to HDMI Scaler Box
1 x User Manual
1 x 100-240VAC to 5V DC 2.6A Switch Mode Power Supply (Center Positive) Screw Connector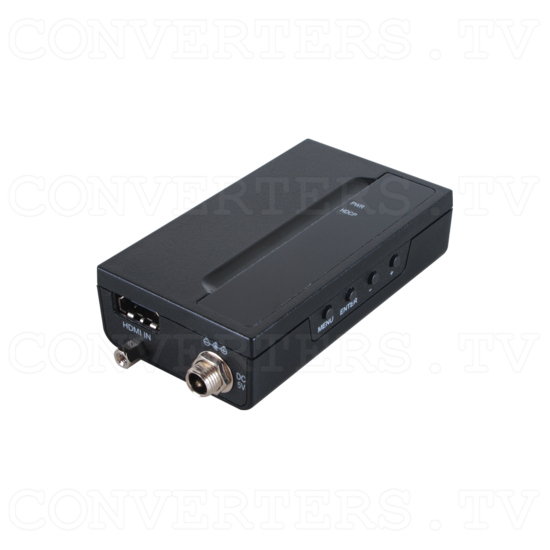 HDMI to HDMI Scaler Box - Full View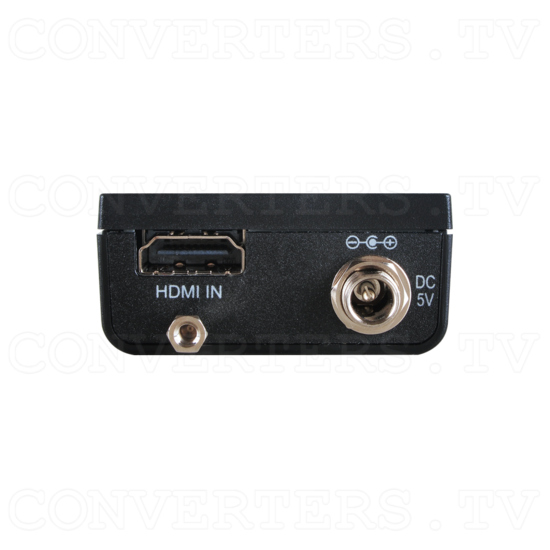 HDMI to HDMI Scaler Box - Front View
HDMI to HDMI Scaler Box - Back View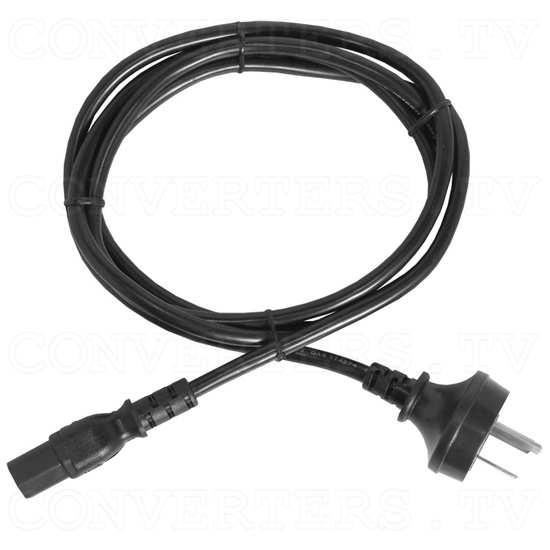 HDMI to HDMI Scaler Box - Power Supply 110v OR 240v