HDMI to CAT6 1 In 4 Out Splitter

save 31%




Used/Floor Stock Details :
Price (each) :

| | |
| --- | --- |
| 85.60 USD | |

Used Stock Qty :
2pcs available (immediate shipment)
Location :
NSW, Australia
Warranty :
3 Months
The HDMI to CAT6 1 In 4 Out Splitter copies a single HDMI video/audio signal to three RJ-45 CAT6 outputs and an HDMI local output. The three individual CAT6 outputs then transmit the HDMI signal across dual CAT5e/6/7 cables up to a distance of 45m. When used with CAT6 to HDMI receivers, the unit provides a great way to link and display a single HDMI source to 4 different screens, simultaneously.

The local HDMI output port is connected to a co-located HDMI monitor and is used to check the status of the output signal going to line.

The local HDMI output port can also be treated as an extender to connect to another HDMI splitter to cascade with other units in multiple layers. The HDMI to CAT6 1 In 4 Out Splitter is perfect for those who need to extend an HDMI signal over a large distance to multiple display devices.

By using the splitter (with additional CAT6 to HDMI receivers), devices such as DVD and Blu-Ray players, Digital Set Top Boxes, PS3 and XBox 360 game consoles and other HDMI compliant Multimedia devices can be displayed to four HDTV's at the same time, perfectly duplicating identical High Definition video images and audio. Any device which outputs digital video signals using HDMI technology can be used with this device.

The HDMI to CAT6 splitter also incorporates functions such as EDID, Deep Color, System Reset and IR systems. Also supports DVI input/output devices.

| | | | |
| --- | --- | --- | --- |
| Unit Dimensions: | 21.5 x 13.3 x 4.3 cm | Shipping Weight: | 1.90 kg |
| Location: | NSW, Australia | Item Type: | HDMI Converters |
| Condition: | New | Warranty : | 12 Months |
| Certificates : | CE, CTick, UL | Manual : | User Manual (477.68 KB) |
Features:
HDMI 1.3, HDCP1.1 and DVI1.0 compliant
Deep color video 8bit, 10bit, 12bit, 1080p@60Hz
One HDMI source connection to one HDMI output and three CAT6 to HDMI - allowing users to link up to four displays simultaneously
HDCP keysets allows each output to work independently when connecting to a HDMI display
Supports DVI source and DVI display by using HDMI to/from DVI adapter cable
Supports LPCM 7.1CH, Dolby TrueHD, Dolby Digital Plus and DTS-HD Master Audio transmission (32-192kHz Fs sample rate)
Supports a wide range of PC and HDTV resolutions from VGA to SXGA (1280 x 1024) and 480i to 1080p
Selects EDID from TV mode or STD mode (this splitter)
Deep color setting of 8 bit or 12 bit
IR remote control
System Reset function
CEC Bypass
Specifications:
Frequency Bandwidth: 2.25Gbps (single link)
Input Ports: 1 x HDMI female port (Type A connector)
Output Ports: 3 x CAT6 output Video/3 x CAT6 output DDC, 1 x HDMI female port (Type A connector)
EDID: STD / TV
HDMI Audio Output: PCM2, 5.1, 7.1, Dolby 5.1, DTS 5.1, DD+, D-TrueHD, DTS-HD
HDMI Cable In: 1080p 8-bit (15M), 12-bit (10M)
HDMI Cable Out: 1080p 8-bit (15M), 12-bit (10M)
CAT6 Cable Out: 1080p 8-bit (45M), 12-bit (15M)
HDMI Resolution: 480i, ~ 1080p 50/60, 1080p 24, VGA ~ SXGA
IR Frequency: 20 ~ 60KHz
ESD Protection: ± 8kV (air-gap discharge), ± 4kV (contact discharge)
Power Supply: 5VDC/2.6A (US/EU standards, CE/FCC/UL certified)
Dimensions (mm): 215(W) x133(D) x 43(H)
Weight(g): 900
Chassis Material: Metal
Colour: Black
Power Consumption: 12W
Operating Temperature: 0˚C ~ 40˚C / 32˚F ~ 104˚F
Storage Temperature: -20˚C ~ 60˚C / -4˚F ~ 140˚F
Relative Humidity: 20~90% RH (non-condensing)
Supported Resolutions PC: DVI & HDMI
640*480@60/72/75Hz
800*600@56/60/72/75Hz
1024*768@60/70/75Hz
1280*960@60
1280*1024@60/75Hz
1600*1200@60
1920*1200@60
Supported Resolutions HD: DVI & HDMI
720*480i@59/60Hz
720*480p@59/60Hz
1280*720p@59/60Hz
1920*1080i@59/60Hz
1920*1080p@59/60Hz
720*576i@50Hz
720*576p@50Hz
1280*720p@50Hz
1920*1080i@50Hz
1920*1080p@50Hz
1366*768@60Hz
1366*768@50Hz
Supported Resolutions HD: HDMI Only
1920*1080p@23Hz
1920*1080p@24Hz
Power Supplies:
Multi-Voltage Power Supply : 100 - 240VAC to 5V DC 2.6A Switch Mode Power Supply - Center Positive
Connects From :
Connects To :

DVI - I (HDTV)
HDMI (HDTV)
CAT5 / CAT6 Cable

RJ-45 Control Telnet/WebGUI
CAT5 / CAT6 Cable
Converts From :
Converts To :

HDTV 480p
HDTV 576p
HDTV 720p
HDTV 1080p
HDTV 1080i
HDTV 480i
HDTV 576i
1 x 1 by 4 HDMI to CAT6 splitter
1 x Product Manual
1 x Infrared Sensor
1 x Infrared Reciever
1 x 100-240VAC to 5V DC 2.6A Switch Mode Power Supply (Center Positive)
HDMI to CAT6 1 In 4 Out Splitter - Full View
HDMI to CAT6 1 In 4 Out Splitter - Front View
HDMI to CAT6 1 In 4 Out Splitter - Back View
HDMI to CAT6 1 In 4 Out Splitter - Infrared sensor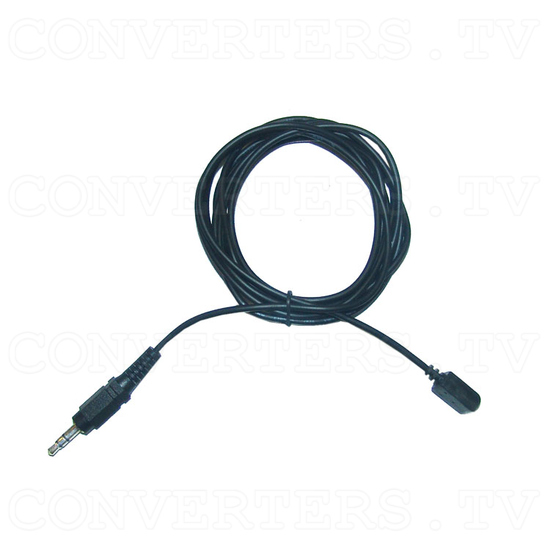 HDMI to CAT6 1 In 4 Out Splitter - Infrared Reciever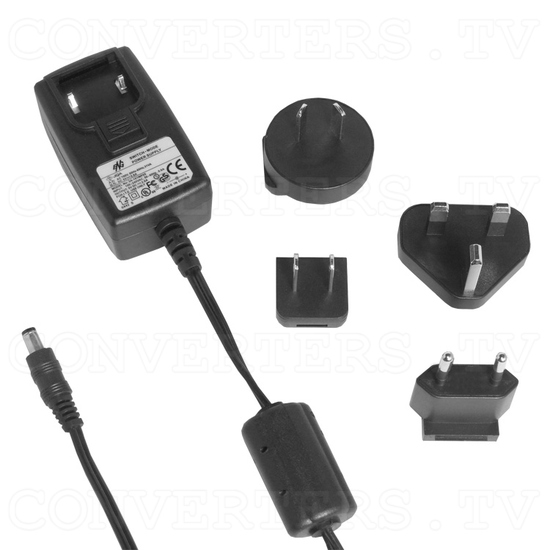 HDMI to CAT6 1 In 4 Out Splitter - Power Supply 110v OR 240v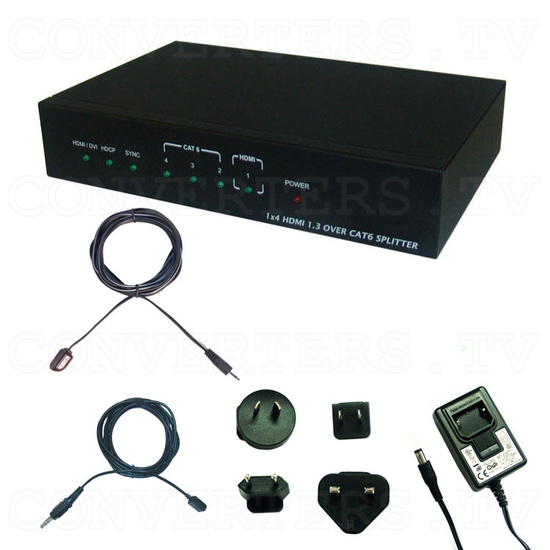 HDMI to CAT6 1 In 4 Out Splitter - Full Kit