HDMI to 3G SDI Converter

save 45%




The HDMI to 3G SDI Single Output Converter allows HDMI sources such as Blu-ray Players or game consoles to be displayed on an SDI display and is useful for applications including smart home entertainment, smart building or any smart AV installation system and film studio display.

It has a high bit processing rate at 2.970Gbit/s which ensures fast signal transmission without signal degradation - this means no loss of quality in sound or visual. Further, the external audio allows the user to play a different audio source instead of the HDMI audio to be displayed synchronously without delay on the SDI output. It allows you to easily convert your high definition HDMI signal with audio to 3G SDI for long signal distance transmission.

*Please Note* - This product does not process HDCP input. When receiving content that has HDCP encryption there will be no video output.

| | | | |
| --- | --- | --- | --- |
| Unit Dimensions: | 12.5 x 8.0 x 3.0 cm | Shipping Weight: | 0.48 kg |
| Location: | NSW, Australia | Item Type: | |
| Condition: | New | Warranty : | 12 Months |
| Certificates : | CE, CTick, UL | Manual : | User Manual (276.5 KB) |
Features:
Supports HDMI timing: 480i, 576i, 720p50/60, 1080p 24/25/30, 1080i 50/60, 1080p 50/60
Operation at 2.970Gbit/s, 2.970/1.001Gbit/s, 1.485Gbit/s, 1.485/1.001Gbit/s and 270Mbits/s
Simultaneous display one HDMI source on one SDI display
When a DVI signal goes through HDMI, the R/L audio can be sent with it to the 3G SDI output
Integrated audio embedded up to 8 channel PCM 48kHz for HDMI or 2CH for DVI audio
Auto video mode detection (3G/SD/HD)
Connect with other units (SDI to HDMI) to extend your signal over long distances
Choose between a selectable EDID and recordable EDID
Supports signal transmission distances of up to 300M for SD signals, 200M for HD signals and 100M for 3G signals
Note: Cable tested with Belden 1694A. Operating distances may vary if used with another type of cable
Specifications:
SDI Transmission Rates: 2.970 Gbit/s and 2.970/1.001 Gbit/s
Frequency Bandwidth: 225MHz/link (HDMI 1.3)
Input: 1 x HDMI, 1 x R/L
Output: 1 x BNC (SD-SDI/HD-SDI/3G-SDI)
Input Support Timing: 480i, 576i, 720p@50/60,1080i@50/60, 1080p@24/25/30/50/60
SDI Cable Distance 3G up to 100M (BELDEN 1694A), HD up to 200M (BELDEN 1694A), SD up to 300M (BELDEN 1694A)
ESD Protection Human Body Model: ± 8kV (air-gap discharge), ± 4kV (contact discharge)
Operating Temperature: 0°C ~ 40°C/ 32°F ~104°F
Storage Temperature: -20°C ~ 60°C/ -4°F ~140°F
Relative Humidity: 20~90% RH (non-condensing)
Power Supplies:
Multi-Voltage Power Supply : Switch mode Power Supply 100-240v 50-60Hz 0.6A, DC 5V - 3.0A center positive
Connects From :
Connects To :

HDMI (HDTV)
Analog Stereo L/R Jacks
Converts From :
Converts To :

HDTV 720p
HDTV 1080p
HDTV 1080i
HDTV 480i
HDTV 576i
1 x HDMI to 3G SDI Converter
1 x Product Manual
1 x Switch mode Power Supply 100-240v 50-60Hz 0.6A, DC 5V - 3.0A center positive
HDMI to 3G SDI Converter - Full View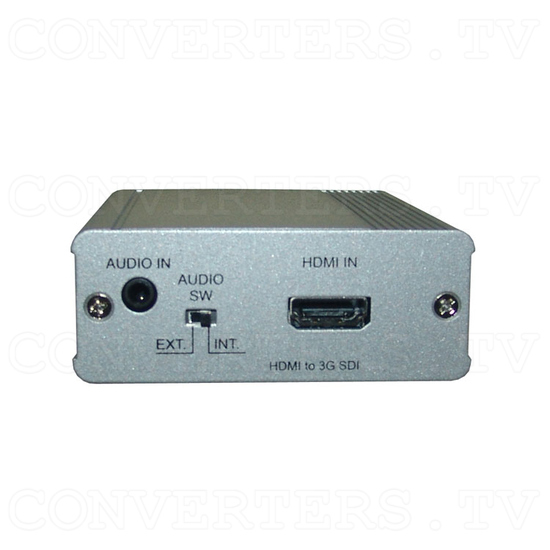 HDMI to 3G SDI Converter - Front View
HDMI to 3G SDI Converter - Back View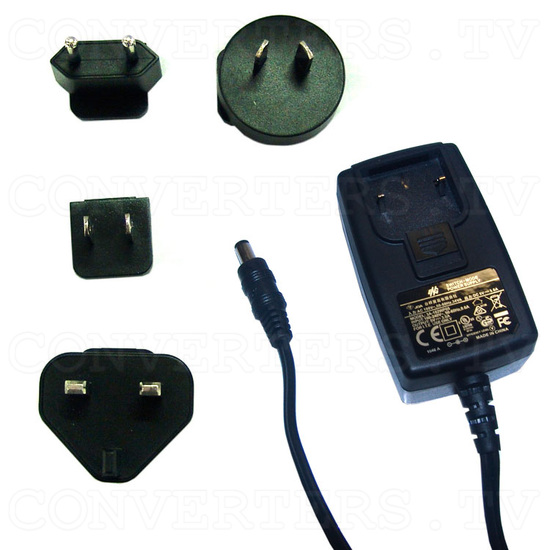 HDMI to 3G SDI Converter - Power Supply 110v OR 240v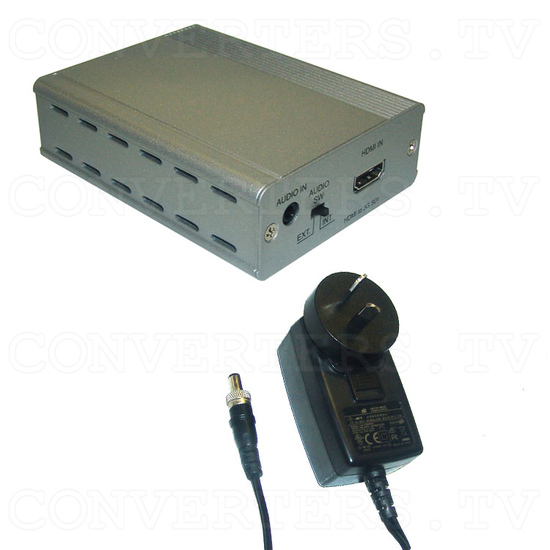 HDMI to 3G SDI Converter - Full Kit