HDMI over CAT5e/6/7 Receiver with bidirectional PoC

save 6%





HDMI over CAT5e/6/7 Transmitter with bidirectional PoC receives uncompressed video and audio over a single pair of CAT5e/6/7 wires for a distance up to 60m.

The HDBaseT-LiteTM HDMI over single CAT5e/6/7 with bidirectional IR, RS-232 & bidirectional PoC Transmitter and Receiver set can
make your home or office set-up more efficient and easy to use.

Uncompressed video and audio can be transmitted up to 60 meters with the PoC function and added benefit of controls through the builtin RS-232 and IR ports.

This family design of HDBaseT™ technology allows a full usage of HDMI and controls over CAT5e/6/7 cable.

| | | | |
| --- | --- | --- | --- |
| Unit Dimensions: | 7.4 x 7.2 x 2.9 cm | Shipping Weight: | 1.50 kg |
| Location: | NSW, Australia | Item Type: | CAT5/6 Cable Products |
| Condition: | New | Warranty : | 12 Months |
| Certificates : | CE, CTick, UL | | |
Feaures:
Compatible with HDCP and DVI
Supports HDMI 3D and 4K x 2K features
Supports HDBaseT-Lite Technology
Supports HD resolutions up to 1080p@60Hz/36-bit
Supports distance up to 60 meters through CAT5e/6/7 cable
Supports bidirectional IR and PoC
HDMI input/output up to 15 meters with 8bits resolution or 10 meters with 12bits resolution
RS-232 with baud rate up to 115200/sec
Supports wide range of IR frequency from 30~50kHz
Supports HDCP repeater and CEC bypass
Audio supports LPCM 7.1CH, Dolby TrueHD, Dolby digital Plus and DTS-HD Master Audio transmission
Specifications:
Video Bandwidth: 340MHz/10.2Gbps
Transmitter Inputs: 1 x HDMI, 1 x IR Extender, 1 x RS-232
Transmitter Outputs: 1 x RJ45, 1 x IR Blaster
Receiver Inputs: 1 x RJ45, 1 x IR Extender
Receiver Outputs: 1 x HDMI, 1 x IR Blaster, 1 x RS-232
ESD Protection Human Body Model: ±8kV (air-gap discharge); ±4kV (contact discharge)
Power Supply: 100-240vAC to +24vDC 1.25A for Transmitter and Receiver (US/EU standards, CE/FCC/UL certified)
Power Consumption (watts): 3w/TX, 6.93w/RX
Dimensions (cm's): 7.4 (w) x 8.2 (d) x 2.9 (h) Tx; 7.4 (w) x 7.2 (d) x 2.9 (h) Rx
Weight (grams): 206g/TX, 192g/RX
Chassis Material: Black Metal
Operating Temperature: 0˚c ~ 40˚c / 32 ˚f ~ 104 ˚f
Storage Temperature: -20˚c ~ 60˚c / -4 ˚f ~ 140 ˚f
Relative Humidity: 20 ~ 90% RH (non-condensing)
Connects From :
Connects To :

CAT5 / CAT6 Cable RJ-45
IR Extender (Rx)

HDMI (HDTV)
RS-232 (9 pin D-Sub)
IR Blaster (Tx)
Converts From :
Converts To :

HDTV 480p
HDTV 576p
HDTV 720p
HDTV 1080p
HDTV 1080i
HDTV 480i
HDTV 576i
4K x 2K
3D
1 x HDMI over CAT5e/6/7 Receiver with bidirectional PoC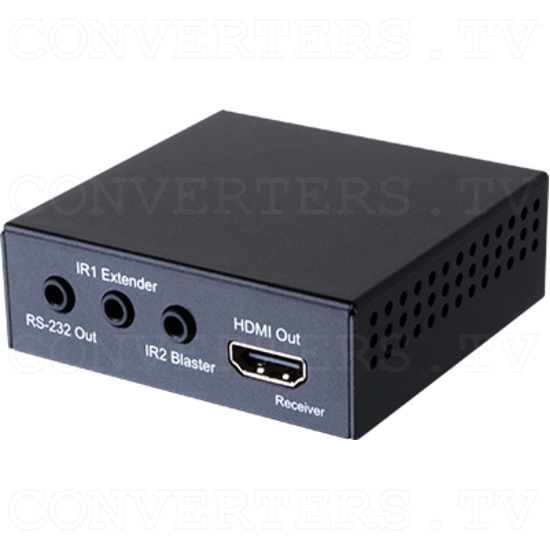 HDMI over CAT5e/6/7 Receiver with bidirectional PoC - Full View.png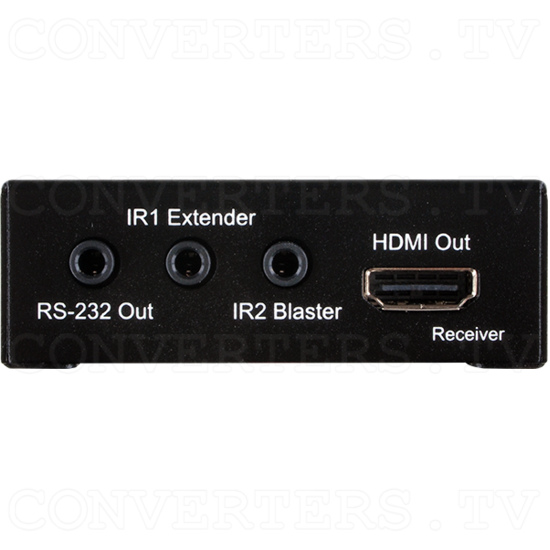 HDMI over CAT5e/6/7 Receiver with bidirectional PoC - Front View.png
HDMI over CAT5e/6/7 Receiver with bidirectional PoC - Back View.png