HDMI and USB over CAT5/6 TX/RX

save 49%




The HDMI and USB over CAT5/6 TX/RX is a pair of devices that allow a HDMI and/or USB host device to send and save data up to 100 meters away over a CAT5/6 cable, while offering four USB port extensions to facilitate operation from the remote end. This means that you can connect a PC to the Transmit unit and then control the PC via a keyboard and mouse connected to the Receive unit at the remote end, up to 100m away. Fully compliant with HDMI v1.3, HDCP 1.1 and DVI 1.1 specifications. The device is ideal for remote PC, USB, and HDMI transmission.

Moreover, when connected to another device from the same family you may extend the transmission distance as far as you want without any signal loss or delay, or connect with multiple pairs of the extenders to set up a Local Area Network (LAN) of up to 16 units/devices for data sharing among the connected sources and displays.

The HDMI and USB over a CAT5e/6 TX/RX is the ideal choice for your HDMI and USB extension and data sharing needs. Audio transmitted at 48kHz LPCM 2Ch. Also works with DVI by using a "DVI to HDMI cable" adapter.

| | | | |
| --- | --- | --- | --- |
| Unit Dimensions: | 18.0 x 11.0 x 2.5 cm | Shipping Weight: | 1.63 kg |
| Location: | NSW, Australia | Item Type: | HDMI Converters |
| Condition: | New | Warranty : | 12 Months |
| Certificates : | CE, CTick, UL | Manual : | User Manual (531.12 KB) |
Applications:
HDMI, DVI, RS-232, IR&USB Extender
Broadcasting system over single CAT5e/6
Multimedia display and multi-data sharing
Long distance data sending with cascade
Matrix network system
System control over RS-232 and equipment control over IR
KVM control
System Requirements:
Input HDMI and or USB source equipment such as DVD, Blu-Ray player and or PC/Notebook with connection cables
Output display such as HD TV, monitor and or PC/Notebook, active speaker, amplifier and connection cables
CAT5e/6 cable up to 100Ms in between of transmitter and receiver.
Features:
HDMI v1.3, HDCP v1.1 and DVI v1.0 compliant
Support USB 2.0 high-speed and USB 1.1 (full-speed, low-speed) devices
Support Audio 48kHz LPCM 2Ch with stream
Operate with USB 2.0 high speed host controllers and USB 1.1 classic hosts
True plug and play without any driver installation required
Remote display and control of the host device and source equipment
Save and share data into a separate room
Tested CAT5/6 cable distance of up to 100 meters or cascade up to as long it require or link up to 16 pairs for matrix system
Supports digital display output resolution up to 1920 x 1080@60Hz
Adopt visually lossless video compression algorithm
Automatic display mode detection and DDC synchronization
Support Over-LAN (TCP/IP)
Simple set up with easy to use
LED indicators for easy viewing
Total transmission frequency 1G Hz
Specifications:
Transmitter: Input Port: 1 x USB (B type), 1 x HDMI, 1 x IR Blaster, 1 x RS-232; Output Port: 1 x RJ45
Receiver: Input Port: 1 x RJ45; Output Ports: 4 x USB (A type), 1 x HDMI, 1 x RS-232, 1 x IR Receiver, 1 x 3.5Ø Phone Jack, 1 x 3.5Ø Microphone
Supports full HD 1080p resolution
Supports RGB 4:2:2 & YUV 4:4:4 @ 8, 10 & 12 bit Deep Colour ; YUV 4:2:2 @ 8 bit Deep Colour)
Operates over 100m CAT5/6 cable transmission distance
ESD Protection: Human body model: ± 10kV (air-gap discharge), ± 6kV (contact discharge)
Power Supply: 5V / 2.6A (US/EU standards, CE/FCC/UL certified)
Dimensions (mm): 102 (W) x 95 (D) x 25 (H)
Weight(g): 214 / Transmitter, 220 / Receiver
Chassis Material: Aluminium
Silkscreen Colour: Black
Operating Temperature: 0˚C ~ 40˚C / 32˚F ~ 104˚F
Storage Temperature: -20˚C ~ 60˚C / -4˚F ~ 140˚F
Power Consumption: 5W / Transmitter, 12W / Receiver
DVI & HDMI PC Input Resolutions: (RGB 4:2:2 & YUV 4:4:4 @ 8, 10 & 12 bit Deep Colour ; YUV 4:2:2 @ 8 bit Deep Colour)
640*480@60Hz
800*600@60Hz
1024*768@60Hz
1280*1024@60Hz
DVI & HDMI HD Input Resolutions: (RGB 4:2:2 & YUV 4:4:4 @ 8, 10 & 12 bit Deep Colour ; YUV 4:2:2 @ 8 bit Deep Colour)
720*480i@59Hz
720*480i@60Hz
720*480p@59Hz
720*480p@60Hz
1280*720p@59Hz
1280*720p@60Hz
1920*1080I@59Hz
1920*1080I@60Hz
1920*1080P@59Hz
1920*1080p@60Hz
720*576i@50Hz
720*576p@50Hz
1280*720p@50Hz
1920*1080i@50Hz
1920*1080p@50Hz
1366*768@60Hz
1366*768@50Hz
Test Equipment:
CPHD-3 HDMI v1.3 Pattern Generator
Toshiba LCD TV 19AV550Y
UTP CAT6 Electra Cable CMX 4PR 23AWG 100m
Converts From :
Converts To :

HDTV 480p
HDTV 576p
HDTV 720p
HDTV 1080p
HDTV 1080i
HDTV 480i
HDTV 576i
CAT5/6 Protocol

HDTV 480p
HDTV 576p
HDTV 720p
HDTV 1080p
HDTV 1080i
HDTV 480i
HDTV 576i
CAT5/6 Protocol
1 x HDMI & USB over CAT5/6 TX/RX
1 x Product Manual
1 x Infrared Reciever
1 x Product Manual
1 x Switch mode Power Supply 100-240v 50-60Hz 0.6A, DC 5V - 3.0A center positive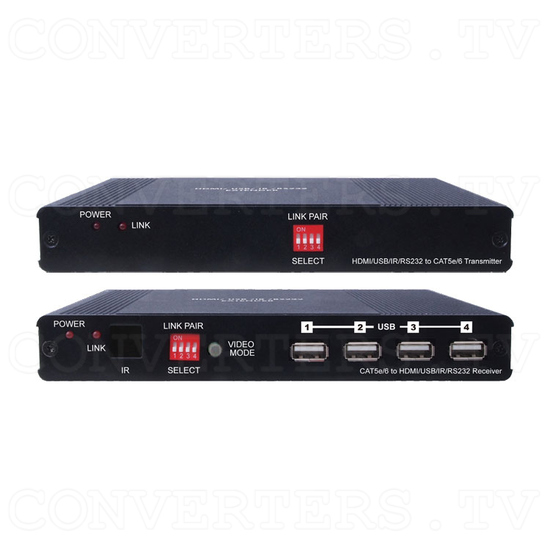 HDMI and USB over CAT5/6 TX/RX - Full View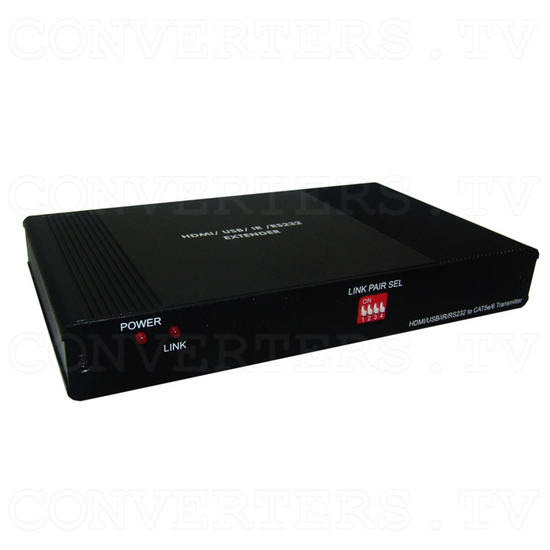 HDMI and USB over CAT5/6 TX/RX - Transmitter - Full View
HDMI and USB over CAT5/6 TX/RX - Transmitter - Front View
HDMI and USB over CAT5/6 TX/RX - Transmitter - Back View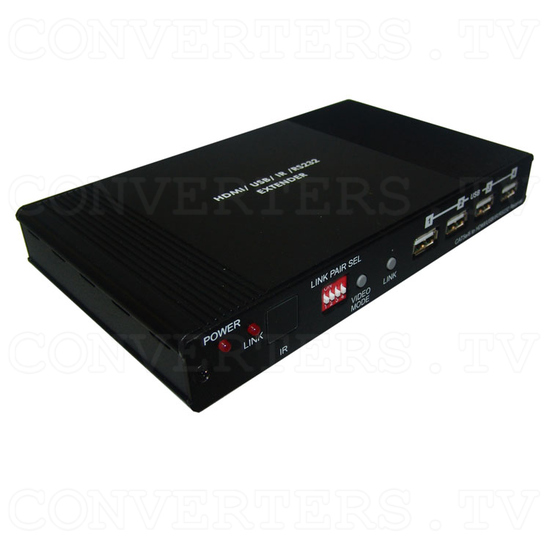 HDMI and USB over CAT5/6 TX/RX - Receiver - Full View
HDMI and USB over CAT5/6 TX/RX - Receiver - Front View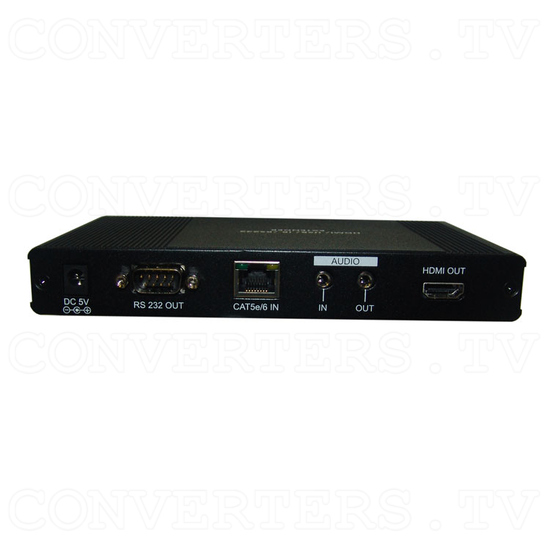 HDMI and USB over CAT5/6 TX/RX - Receiver - Back View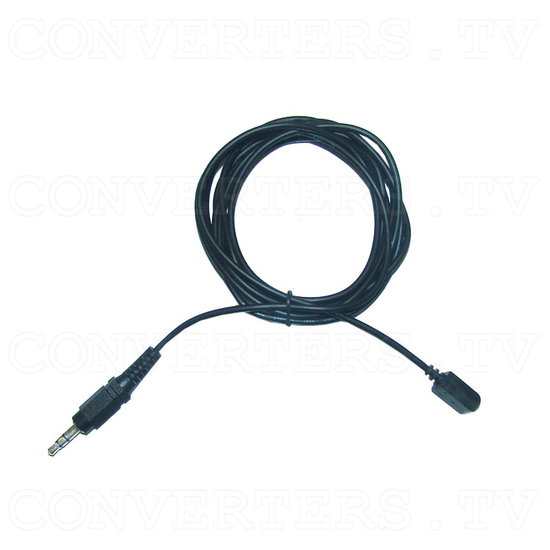 HDMI and USB over CAT5/6 TX/RX - Infrared Reciever
HDMI and USB over CAT5/6 TX/RX - Power Supply 110v OR 240v