HDMI and HDBaseT Splitter Repeater

save 5%





The HDMI and HDBaseT Splitter Repeater functions as an HDMI Splitter and as an HDBaseT Repeater, giving the ability to "drop-off" an HDMI video and audio signal along a distance of up to 60m.

The HDMI and HDBaseT Splitter Repeater accepts HDBaseT line signalling over a CAT5e/6/7 pair of wires up to a distance of 60m, then after re-timing and re-shaping the signal, re-transmits the HDBaseT signal out for up to another 60m across CAT5e/6/7 cable.

An HDMI output allows for the connection of an HDMI enabled HDTV or monitor to display the transmitted video and audio signal as it is passed-thru to the next cable stage, or the HDMI output could be cascaded to another splitter as well.

Full support is given for HDMI resolutions up to 1080p Full HD, 4K×2K timing and 3D, plus Digital audio multi-channel formats such as LPCM 7.1CH, Dolby TrueHD, Dolby Digital Plus and DTS-HD are also included for transmission.

| | | | |
| --- | --- | --- | --- |
| Unit Dimensions: | 14.5 x 17.3 x 3.5 cm | Shipping Weight: | 1.12 kg |
| Location: | NSW, Australia | Item Type: | CAT5/6 Cable Products |
| Condition: | New | Warranty : | 12 Months |
| Certificates : | CE, CTick, UL | | |
Features:
HDMI with 3D & 4Kx2K supported, HDCP and DVI compliant
Simultaneous HDMI and CAT5e/6/7 outputs
Supports data rate from 250Mbps up to 3Gbps
Supports wide range of PC resolutions from VGA to WUXGA and HDTV resolutions up to 4Kx2K (3840x2160@24/25/30Hz, 4096x2160@24Hz and 4K2K@60 YUV_420)
Supports LPCM 7.1CH, Dolby TrueHD, Dolby Digital Plus and DTS-HD Master Audio transmission (32-192kHz sample rate)
Supports distances up to 60 meters through CAT5e/6/7 cables
Can select EDID
Supports USB service port
Supports control of devices via 2-way IR
The 3D signal display follow by display TV's EDID
Note:
1. This system was tested with CAT6/23AWG cables, results may vary with cables of a different specification.
2. Displaying HDMI 4Kx2K resolution require the standard 4Kx2K HDMI cable and display in order for proper image displaying.
3. This device obtain the last memory function therefore, the device will use last output port's EDID when the output is not connected to a display after power cycling. The unit will detect HDMI output's EDID when it obtain a 4Kx2K EDID and send out the signal accordingly to other output ports. If the HDMI output is without a 4Kx2K's EDID the unit will detect all output's EDID and send out the signal that all outputs can
Specifications:
Video Bandwidth: 340Mbps / 10.2Gbps
Input ports: 1 x CAT5e/6/7; 1 x IR IN; 1 x USB (Service only)
Output ports: 1 x HDMI; 1 x CAT5e/6/7, 1 x IR OUT,
Supported Resolutions: Up to 4Kx2K (3840x2160@24/25/30Hz/4096x2160@24Hz/4K2K@60Hz YUV_420)
HDMI Input & Output Cable Distance: Up to 10m@8 or12-bit 1080p
CAT5e/6/7 Output Cable Distance: Up to 60m
IR Frequency: 30~50kHz
Power Supply: 100-240vAC to +24vDC 1.25A (US/EU standards, CE/FCC/UL certified)
Power Consumption (watts): 22.33W with Receiver connected
Dimensions (cm's): 14.5 (w) x 16.0 (d) x 3.0 (h) Jacks Excluded; 14.5 (w) x 17.3 (d) x 3.5 (h) Jacks Included
Weight (grams): 662g
Chassis Material: Black Metal
ESD Protection: Human body model: ±8kV (air-gap discharge); ±4kV (contact discharge)
Operating Temperature: 0°c ~ 40°c / 32°f ~ 104°f
Storage Temperature: -20˚c ~ 60˚c / -4˚f ~ 140˚f
Relative Humidity: 20% ~ 90% RH (non-condensing)
Connects From :
Connects To :

CAT5 / CAT6 Cable RJ-45
IR Extender (Rx)
USB (Service)

HDMI (HDTV)
CAT5 / CAT6 Cable RJ-45
IR Blaster (Tx)
Converts From :
Converts To :

HDTV 480p
HDTV 576p
HDTV 720p
HDTV 1080p
HDTV 1080i
HDTV 480i
HDTV 576i
CAT5/6 Protocol
4K x 2K
3D

HDTV 480p
HDTV 576p
HDTV 720p
HDTV 1080p
HDTV 1080i
HDTV 480i
HDTV 576i
CAT5/6 Protocol
4K x 2K
3D
1 x HDMI and HDBaseT Splitter Repeater
1 x Infrared Reciever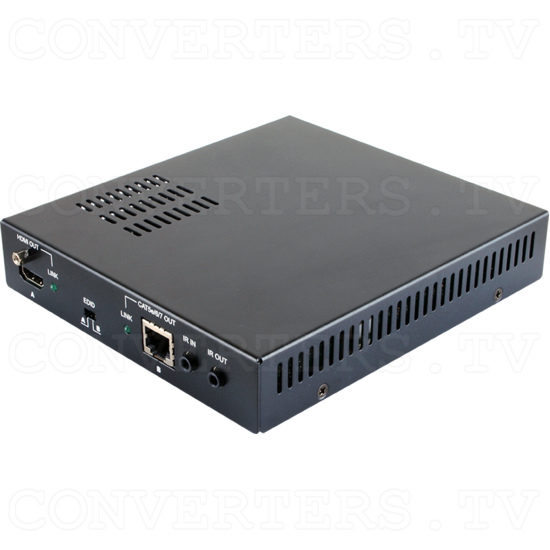 HDMI and HDBaseT Splitter Repeater - Full View.png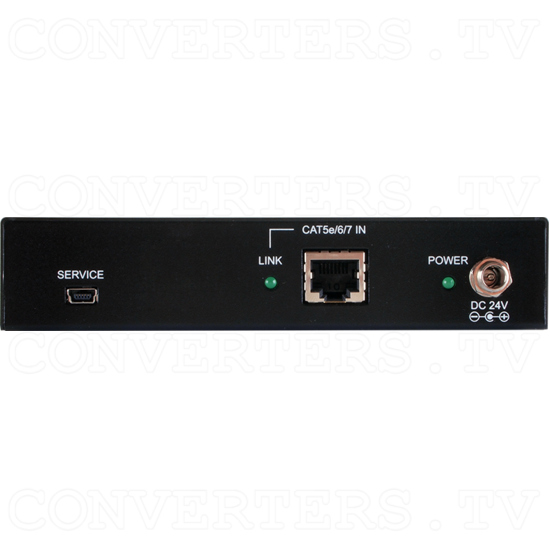 HDMI and HDBaseT Splitter Repeater - Front View.png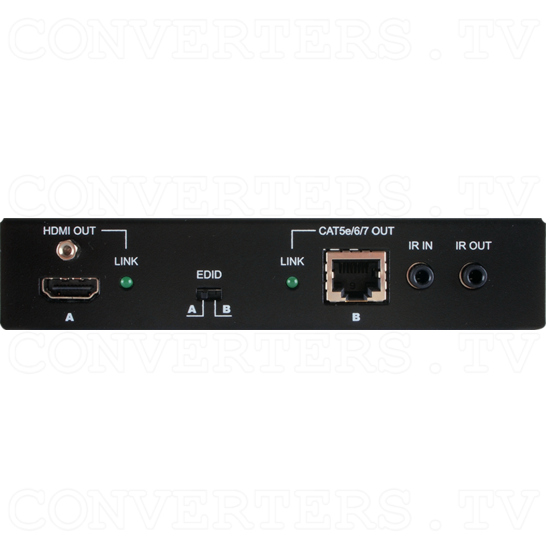 HDMI and HDBaseT Splitter Repeater - Back View.png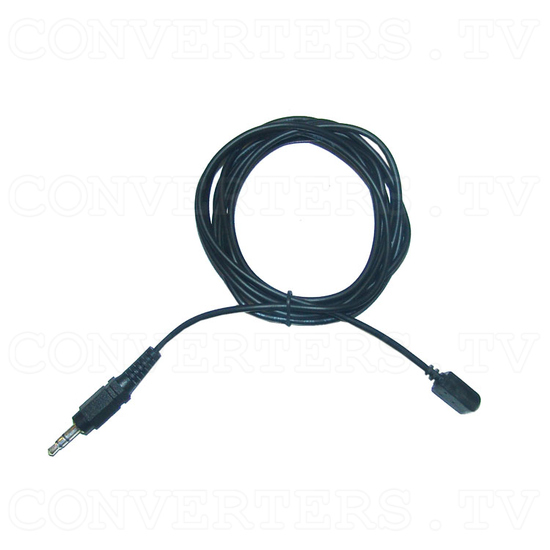 HDMI and HDBaseT Splitter Repeater - Infrared Reciever