HDMI Video Scaler

save 40%




The HDMI Video Scaler accepts a HDMI input, scales it, and outputs to HDMI at a number of different selectable resolutions. It scales any PC (VGA-WUXGA) or HD (480i-1080p) to/from another PC/HD resolution.

When the Native Resolution setting is selected from the On Screen Display, the HDMI Video Scaler will automatically detect the factory setting of the connected display, and output the corresponding resolution and refresh rate. Supported input/output resolutions include VGA, SVGA, XGA, SXGA, UXGA, WXGA, WSXGA, WUXGA, 480i, 576i, 480p, 576p, 720p, 1080i, and 1080p.

The HDMI Video Scaler supports both analog and digital audio input and output. Audio can be connected via the Audio Input port, or you can connect an external SPDIF audio source via the SPDIF TOSLINK (optical) Input port.

The HDMI Video Scaler would suit those who want the ability to easily switch the resolution of their HDMI input source for the best display quality possible for their HDTV. The HDMI Video Scaler is very versatile, offering a range of resolutions, and offering unmatched flexibility for the user. Application of the HDMI Video Scaler is unsurpassed, making it ideal for integration into modern-day lifestyles dependent on new cutting-edge technology.

The HDMI Video Scaler is compatible for DVI/HDMI to HDMI/DVI conversion using a DVI/HDMI converter cable.

| | | | |
| --- | --- | --- | --- |
| Unit Dimensions: | 15.0 x 10.0 x 2.5 cm | Shipping Weight: | 0.82 kg |
| Location: | NSW, Australia | Item Type: | |
| Condition: | New | Warranty : | 12 Months |
| Certificates : | CE, UL | Manual : | User Manual (212.64 KB) |
Practical Applications:
The HDMI Video Scaler is ideal for use in:
Lecture Halls and Auditoriums.
Educational Facilities such as Schools and Universities.
Shopping Malls and Large Retail Shops.
Sports Stadiums and Gymnasiums.
Recreational Resort and Accommodation Facilities.
Industrial Complexes.
Commercial Office Buildings.
Private Family Homes.
The HDMI Video Scaler is ideal for use by:
Professional Advertisers.
Lecture Professors, Public and Private Teachers.
Industrial Manufacturers.
Commercial Shop owners.
Resort and Motel/Hotel Managers
Sports Organisers.
Concert, Stage and Theatre groups.
Private Home Owners.
Features:
Modern, slimline and durable casing.
Easy to instal and operate.
Easy access to connections and operation controls.
Clearly labelled inputs, outputs and operation controls.
OSD for full operation settings and control. (Image adjust features)
LED indicator for power on/off.
Supports 50/60Hz conversion.
Native function for auto-detect display device data to auto-set unit output.
Supports PAL and NTSC Video systems.
Supports PC (VGA up to WUXGA) and HD (480p/i up to 1080p/i) resolutions.
Supports Audio Digital and Analog inputs and outputs.
5vDC power supply
Specifications:
HD Video Input connector: 1 x HDMI female (Type A)
HD Video Output connector: 1 x HDMI female (Type A)
Digital Audio i/p & o/p connectors: 1 x SPDIF/TOSLINK (optical)
Analog Audio i/p & o/p connectors: 1 x Phono jack 3.5mm
HDMI 1.2, HDCP 1.1, DVI 1.0 compliant
Video 3-D motion picture adaptive & de-interlacing
Video 3:2 / 2:2 pull-down detection & recovery
Power Supply: Universal Switch Mode 100-240vAC to 3.3vDC 1.2A
Dimensions: 15.0(w) x 10.0(d) x 2.5(h)
Weight: 330 grams
Accepted Resolutions: DVI and HDMI:
VGA:
640*480@60hz
640*480@72hz
640*480@75hz
640*480@85hz
800*600@56hz
800*600@60hz
800*600@72hz
800*600@75hz
800*600@85hz
1024*768@60hz
1024*768@70hz
1024*768@75hz
1024*768@85hz
1366*768@50hz
1366*768@60hz
1280*960@60hz
1280*960@85hz
1280*1024@60hz
1280*1024@75hz
1280*1024@85hz
1600*1200@60hz
1920*1200@60hz
HD:
720x480i@59hz
720x480i@60hz
720x480p@59hz
720x480p@60hz
1280*720p@59hz
1280*720p@60hz
1920*1080i@59hz
1920*1080i@60hz
1920*1080p@59hz
1920*1080p*60hz
720x576i@50hz
720*576p@50hz
1280x720p@50hz
1920*1080i@50hz
1920*1080p@50hz
1920*1080p@23hz
1920*1080p@24hz
Output timings selectable using OSD Menu.
Default Output Timing:
Native : auto-detects connected screen and sets output to best suit screen specifications
Output HDMI HD Timings:
1080p@50/60Hz
1080i@50/60Hz
720p@50/60Hz
576i/p@50/60Hz
480i/p@50/60Hz
Output HDMI PC Timings:
VGA, SVGA, XGA, SXGA, SXGA+, UXGA, WXGA, WXGA+ WSXGA, WUXGA
Power Supplies:
Multi-Voltage Power Supply : 100 - 240VAC to 5V DC 2.6A Switch Mode Power Supply - Center Positive
Connects From :
Connects To :

HDMI (HDTV)
Optical TOSlink S/PDIF

HDMI (HDTV)
Optical TOSlink S/PDIF
Converts From :
Converts To :

HDTV 480p
HDTV 576p
HDTV 720p
HDTV 1080p
HDTV 1080i
HDTV 480i
HDTV 576i

HDTV 480p
HDTV 576p
HDTV 720p
HDTV 1080p
HDTV 1080i
HDTV 480i
HDTV 576i
1 x HDMI Video Scaler
1 x Line Jack to Stereo AV Cable
1 x Product Manual
1 x 100-240VAC to 5V DC 2.6A Switch Mode Power Supply (Center Positive)
HDMI Video Scaler - Full View
HDMI Video Scaler - Front View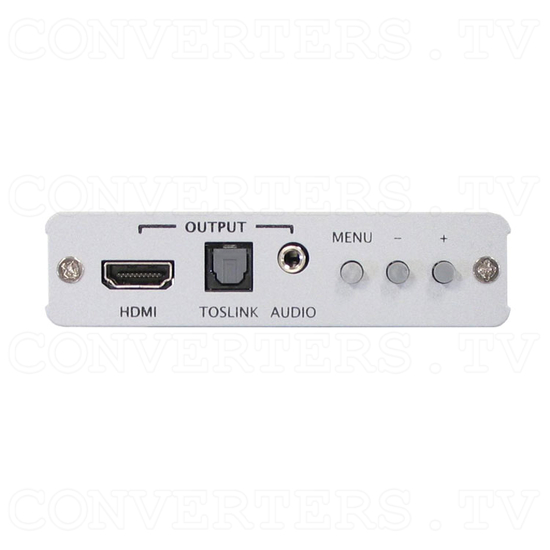 HDMI Video Scaler - Back View
HDMI Video Scaler - Side View
HDMI Video Scaler - Line Jack to Stereo AV Cable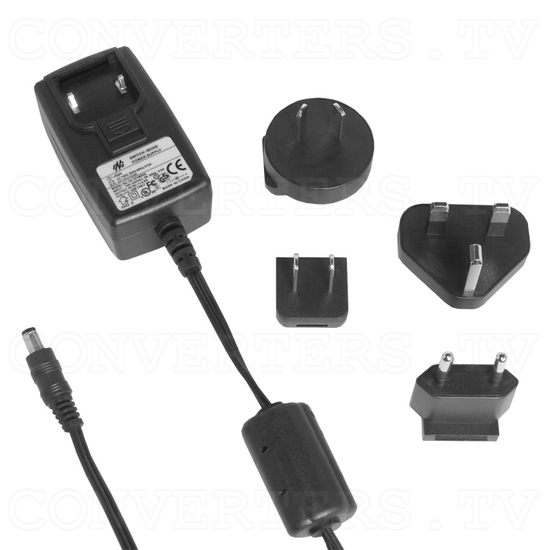 HDMI Video Scaler - Power Supply 110v OR 240v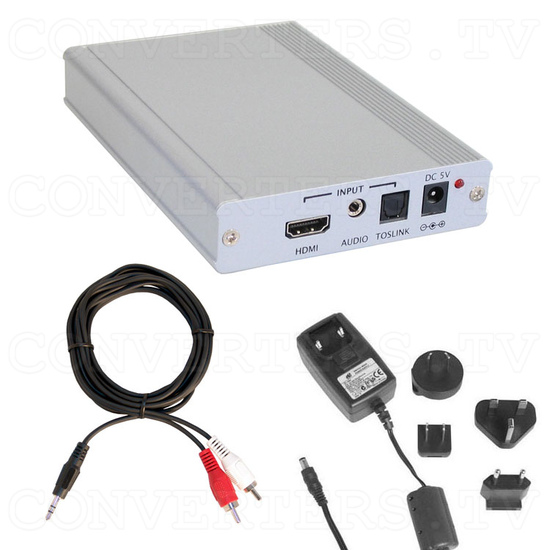 HDMI Video Scaler - Full Kit