| | |
| --- | --- |
| | HDMI/VGA to HDMI Live Video Streamer |
The HDMI/VGA to HDMI Live Video Streamer makes online broadcasting of live video an easy and simple process, using Video sources from cameras, PCs, video game consoles, etc. and a breeze to connect for immediate broadcast. Video content up to 4K UHD is supported and is automatically scaled to a resolution that is more appropriate for efficient streaming.

In addition to the standard HDMI input, a VGA input and an analog stereo audio input is also available as a source. An HDMI output is provided for local monitoring of the selected input source. All video content is encoded and streamed with low latency and high quality, making it ideal for live streaming events to a variety of popular online streaming services.

An audio mixer function is included, allowing the selection of an external audio source for your video stream. Audio functions include volume level adjustment, mute, and mixer source selection.

The HDMI/VGA to HDMI Live Video Streamer can be controlled and configured via an intuitive WebGUI or via standard Telnet or RS-232 connections. Comprehensive EDID management provides improved compatibility with different sink devices. The intuitive WebGUI provides easy control of your live event stream including source selection, resolution, bitrate and more.

| | | | |
| --- | --- | --- | --- |
| Unit Dimensions: | 23.5 x 11.5 x 2.5 cm | Shipping Weight: | 1.20 kg |
| Location: | NSW, Australia | Item Type: | |
| Condition: | New | Warranty : | 12 Months |
| Certificates : | CE, CTick, UL | Manual : | User Manual (1.62 MB) |
Features:
1 x HDMI input and 1 x VGA input
1 x HDMI output (for local monitoring of the selected input source)
Advanced H.264 video streaming supports up to 1080p@60fps video output
Can act as a streaming server (using RTSP/RTP protocols) or streaming client (using the RTMP protocol)
Optional support for the ONVIF (Open Network Video Interface Forum) streaming and IP integration standards
Audio embedding support from the external analog stereo audio input
On screen countdown timer to inform the audience and event host of the scheduled ending time for the current stream
Text overlays may be applied over live broadcasts
Integrated downscaling function supports converting Ultra HD video content (up to 4K@60Hz) down to 1080p or lower for live video broadcast
Intuitive user interfaces including front panel controls, WebGUI, Telnet, RS-232, and IR
Advanced EDID management including Internal , External & User configured EDID selections
Can generate a maximum of 4 simultaneous streams with the same video source (1080p@60fps, 1080p@30fps, VGA@30fps, QVGA@30fps) for easy system integration with multiple display device types
Specifications:
HDMI Bandwidth: 600MHz / 18Gbps
Input Ports: 1 x HDMI; 1 x VGA (HD-15); 1 x Stereo (3.5mm)
Output Ports: 1 x HDMI
Control/Data Ports: 1 x RS-232 (DE-9); 1 x LAN (RJ-45)
Baud Rate: 19200bps
Power Supply: 100-240vAC to +5vDc 3A (US/EU standards, CE/FCC/UL certified)
Power Consumption (watts): 9.24w
Dimensions (cm's): 23.5 (w) x 11.5 (d) x 2.5 (h)
Weight (grams): 0.670g
Chassis: Black Metal
Operating Temperature: 0c ~ 40c / 32f ~ 104f
Relative Humidity: 20% ~ 90% RH (non-condensing)
ESD Protection: Human Body Model: +/-8kV (air-discharge); +/-4kV (contact)
Video Specifications:
Supported Resolutions:
refer User Manual for full details
Audio Specifications:
Analog Input:
Max Audio Level: 2Vrms
Impedence: 20k ohm
Type: Unbalanced
Input/output Signal Distance across HDMI cable:
1080p: 8-bit / 10m ; 12-bit / 10m
4K30: 8-bit / 5m
4K60: 8-bit / 3m
Connects From :
Connects To :

VGA 15pin D-Sub (31K+)
HDMI (HDTV)
3.5mm Headphone Jack
RS-232 (9 pin D-Sub)
LAN
Converts From :
Converts To :

HDTV 480p
HDTV 576p
HDTV 720p
HDTV 1080p
HDTV 1080i
HDTV 480i
4K x 2K

HDTV 480p
HDTV 576p
HDTV 720p
HDTV 1080p
HDTV 1080i
HDTV 480i
HDTV 576i
4K x 2K
1 x HDMI/VGA to HDMI Live Video Streamer
1 x Product Manual
HDMI/VGA to HDMI Live Video Streamer - HDMI VGA to HDMI Live Video Streamer ID#15599 Full.png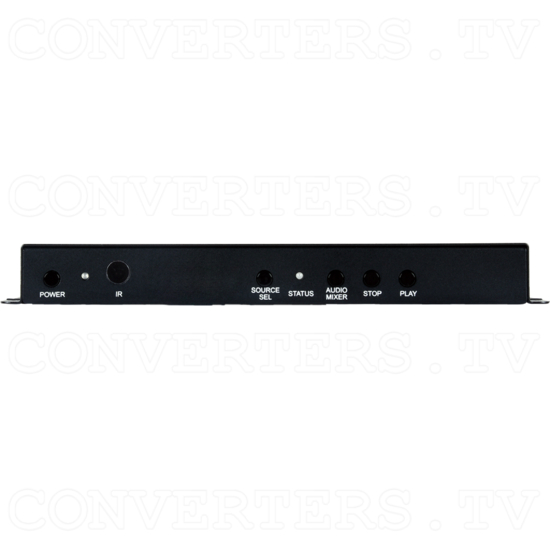 HDMI/VGA to HDMI Live Video Streamer - HDMI VGA to HDMI Live Video Streamer ID#15599 Front.png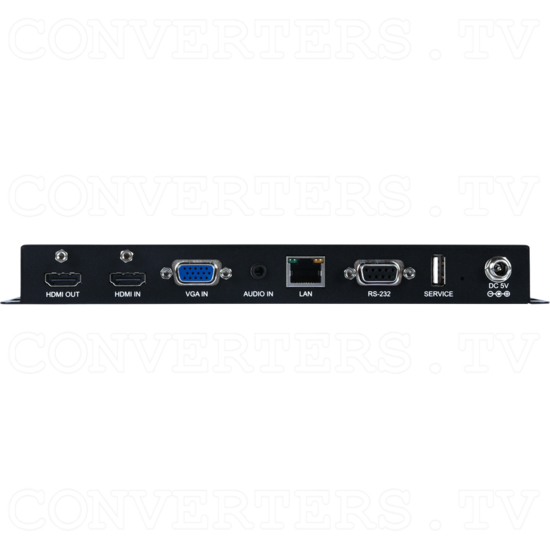 HDMI/VGA to HDMI Live Video Streamer - HDMI VGA to HDMI Live Video Streamer ID#15599 Back.png