HDMI/VGA over IP Extender with USB/LAN Serving

save 24%




This 4K video and audio extender set is a multi-function video over IP extension solution with support for up to 4K UHD signal transmission. This transmitter and receiver pair is ideal for any household or commercial environment. The available input interfaces on the transmitter are HDMI (DVI compliant) and VGA. The receiver's HDMI video output supports resolutions up to 4K@30Hz. A line-in port is also provided for additional audio support.

Both video and audio are converted to, and transmitted as, streaming video via IP to a compatible receiver. The basic point to point transmission distance is 100m, however the distance can be extended further through the use of Gigabit network switches to reach across your local network offering the convenience of sharing your existing data network while extending the distribution distance. Additionally, it is possible for the user to cascade multiple units from the same device family to extend the transmission distance up to as long as needed without introducing additional signal loss or delay.

This transmitter and receiver set also includes additional functionality such as RS-232 & IR pass-through, line-out and microphone input features that allow the user to enjoy interaction with, and control over, their favorite audio equipment from a distance. These units provide intuitive control options including physical external controls with an OSD as well as a comprehensive WebGUI.

| | | | |
| --- | --- | --- | --- |
| Unit Dimensions: | 23.1 x 12.0 x 2.4 cm | Shipping Weight: | 0.80 kg |
| Location: | NSW, Australia | Item Type: | CAT5/6 Cable Products |
| Condition: | New | Warranty : | 12 Months |
| Certificates : | CE, CTick, UL | | |
FEATURES:
4K UHD HDMI support and HDCP 2.2 compliant
Video and audio transmission over IP using H.264 compression
Supports HDMI input resolutions up to 4K@60Hz (YUV 4:2:0) or 4K@30Hz (YUV 4:4:4)
Supports VGA input resolutions up to WUXGA
Supports HDMI output resolutions up to 4K@30Hz (RGB)
Supports pass-through of LPCM 2.0, Dolby Digital and DTS audio formats
Line-in on the transmitter for connection of analog audio sources
Microphone input on the receiver
Line-out connections on both the transmitter and receiver for connection to headphones or speakers
Supports USB keyboards and mice for KVM applications
Supports IR, RS-232 and CEC bypass
Integrated 3 port network switch for single transmitter to
multiple receiver applications
SPECIFICATIONS:
Inputs:
1x RJ45 [1x PoE Propriety Data / IP Control / LAN Serving]
2x RJ45 [2x Propriety Data / IP Control / LAN Serving]
1x 3.5mm Stereo Mini-jack [1x MIC IN Stereo(L/R)]
2x USB Type A [2x USB 1.1 Propriety Data]
2x USB Type A [2x USB 2.0 Propriety Data]
1x 9-pin D-sub [1x RS-232 Data]
1x 3.5mm Stereo Mini-jack [1x IR IN Infrared Receiver]
Outputs:
1x HDMI [1x Uncompressed AV and Data]
1x 15-pin D-sub [1x VGA RGBHV]
1x 3.5mm Stereo Mini-jack [1x LINE OUT Stereo(L/R)]
1x TOSLINK [1x OPTICAL 2 Channel LPCM]
1x 3.5mm Stereo Mini-jack [1x IR OUT Infrared Emitter]
Power Supply: 5V/4A
Dimensions: 231m (W)×120mm (D)×25mm (H)
Weight: TX- 666g, RX- 666g
Connects From :
Connects To :

VGA 15pin D-Sub (31K+)
USB (PC) Type A Device Ports
3.5mm Headphone Jack
RS-232 (9 pin D-Sub)
IR Extender (Rx)

VGA 15pin D-Sub (31K+)
HDMI (HDTV)
Optical TOSlink S/PDIF
3.5mm Headphone Jack
IR Blaster (Tx)
Converts From :
Converts To :

HDTV 480p
HDTV 576p
HDTV 720p
HDTV 1080p
HDTV 1080i
HDTV 480i
HDTV 576i
4K x 2K
3D

HDTV 480p
HDTV 576p
HDTV 720p
HDTV 1080p
HDTV 1080i
HDTV 480i
HDTV 576i
4K x 2K
3D
1 x HDMI/VGA over IP Extender with USB/LAN Serving
1 x User Manual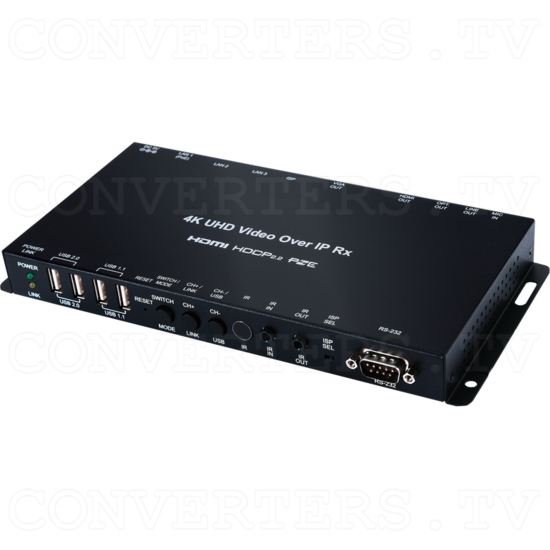 HDMI/VGA over IP Extender with USB/LAN Serving - ID#15442 Full View.png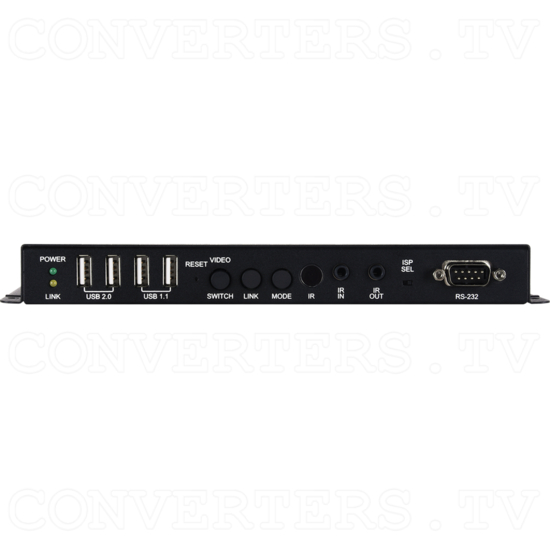 HDMI/VGA over IP Extender with USB/LAN Serving - ID#15442 Front View.png
HDMI/VGA over IP Extender with USB/LAN Serving - ID#15442 Back View.png