HDMI/USB over CAT5e/6/7 Slimline Transmitter with 48v PoH and LAN Serving

save 8%




The HDMI over single CAT5e/6/7 Transmitter sends uncompressed audio/video and IP data over a single run of CAT5e/6/7 cable for a distance of up to 100 meter.

Designed with the added benefit of control via the built-in RS-232 and IR ports, USB and bidirectional LAN serving connection.

The Receiver (PD) can be powered by the PoH 48V function of the Transmitter (PSE), allowing for greater flexibility in installations.

| | | | |
| --- | --- | --- | --- |
| Unit Dimensions: | 7.8 x 16.3 x 1.6 cm | Shipping Weight: | 1.50 kg |
| Location: | NSW, Australia | Item Type: | CAT5/6 Cable Products |
| Condition: | New | Warranty : | 12 Months |
| Certificates : | CE, CTick, UL | | |
Features:
HDMI with 3D, 4K2K support, HDMI & DVI Compliant
Supports CEC bypass
Simultaneous transmission of uncompressed data over a single CAT5e/6/7 cable up to 100m/328ft at 1080p and 70m/230ft at 4K2K
5Play™ convergence: HDMI, LAN, PoE & Control (IR & RS-2232)
Supports resolution up to 4K2K@50/60 _YUV_420 and 21:9
Supports standard 48V from Transmitter (PSE) to Receiver (PD)
Supports USB 2.0 keyboard and mouse
Ultra-thin wall plate design with friendly installation
Note: 1. The standard 48V PoE function is designed for powering compatible Receivers only—non-PoE Receivers will need their own power supply. Receivers from other brands may not be compatible.
Specifications:
Video Bandwidth: 340 MHz / 10.2 Gbps
Transmitter Input Ports: 1 × HDMI, 1 × IR, 1 × RS-232, 1 × LAN
Transmitter Output Ports: 1 × CAT5e/6/7, 1 × IR, 1 × USB
Receiver Input Ports: 1 × CAT5e/6/7, 1 × IR, 2 × USB
Receiver Output Ports: 1 × HDMI, 1 × IR, 1 × RS-232, 1 × LAN
Supported HDMI Resolutions: VGA~WUXGA (RB), 408i~4K2K@50/60 (YUV420)
IR Frequency: 30~50 kHz
HDMI Cable Distance Input: 10m@1080p/8-bit or 12-bit, 5m@4K
HDMI Cable Distance Output: 10m@1080p/8-bit, 5m@1080p/12-bit or 4K
CAT Cable Distance: Up to 100m@4K2K
Power Supply: 240vAC to +48vDC 0.83A (US/EU standards, CE/FCC/UL certified)
Power Consumption (watts): 16.5w
ESD Protection Human body model: ±8 kV (air-gap discharge); ±4 kV (contact discharge)
Dimensions (cm's): 7.8 (w) × 16.3 (d) × 1.6 (h)
Weight (grams): 330g - TX, 334g - RX
Chassis: Black Metal
Operating Temperature: 0˚C~40˚C/32˚F~104˚F
Storage Temperature: −20˚C~60˚C/−4˚F~140˚F
Relative Humidity: 20%~90% RH (non-condensing)
Connects From :
Connects To :

HDMI (HDTV)
USB (PC) Type A Device Ports
IR Blaster (Tx)
IR Extender (Rx)
USB (Service)
RS-232 Terminal Block
Converts From :
Converts To :

HDTV 480p
HDTV 576p
HDTV 720p
HDTV 1080p
HDTV 1080i
HDTV 480i
HDTV 576i
4K x 2K
3D
1 x HDMI/USB over CAT5e/6/7 Slimline Transmitter with 48v PoH and LAN Serving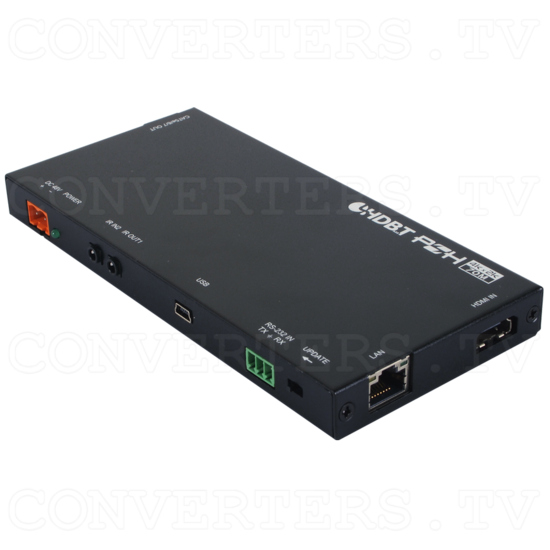 HDMI/USB over CAT5e/6/7 Slimline Transmitter with 48v PoH and LAN Serving - Full View.png
HDMI/USB over CAT5e/6/7 Slimline Transmitter with 48v PoH and LAN Serving - Front View.png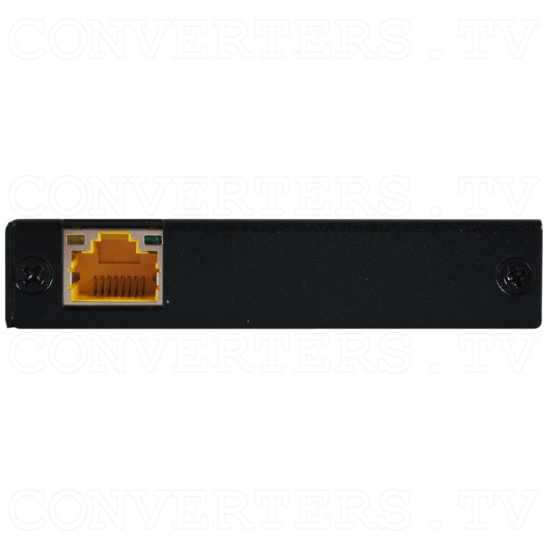 HDMI/USB over CAT5e/6/7 Slimline Transmitter with 48v PoH and LAN Serving - Back View.png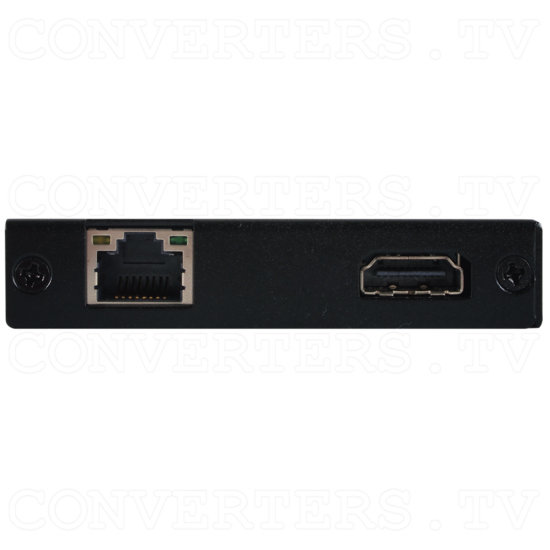 HDMI/USB over CAT5e/6/7 Slimline Transmitter with 48v PoH and LAN Serving - Side View.png