HDMI Switch 5 in 1 out

save 37%




The HDMI Switch 5 in 1 out allows a single HDMI product, such as a HDTV, to access multiple HDMI sources, such as a DVD player, personal computer, or game console/s. The Switcher allows five HDMI devices to be connected to one HDMI compatible monitor or projector, and allows the user to switch between each of the sources by using the HDMI Switch remote. The switcher can also be placed at the end of a long HDMI cable to regenerate the HDMI signal.

The HDMI Switch 5 in 1 out is useful if your TV has limited HDMI inputs, yet you have multiple devices with HDMI output (such as games consoles, blu-ray players and set-top boxes). The HDMI Switch allows you to use one HDMI source channel on your TV to switch between the signal of up to five of these devices without losing any quality. This saves you the hassle of having to manually switch a HDMI cable between two entertainment devices every time you want to use them.

| | | | |
| --- | --- | --- | --- |
| Unit Dimensions: | 11.2 x 6.1 x 2.3 cm | Shipping Weight: | 0.39 kg |
| Location: | NSW, Australia | Item Type: | |
| Condition: | New | Warranty : | 12 Months |
| Certificates : | CE, CTick, UL | Manual : | User Manual (897.36 KB) |
Features:
Five HDMI input signals switched to a single HDMI sink device
Support deep colour 30 bit, 36 bit
Support blue-ray 25/50/60fs/HD-DVD/xvYcc
Digital Audio formats: DTS-HD/Dobly-trueHD/ LPCM 7.1/ DTS/ Dolby-AC3/DSD
Support signal retiming
Support input up to 15 meters AWG26 HDMI cable length, output up to 25 meteres AWG26 HDMI cable length
Inputs can be switched with the IR remote control, also can be controlled by button
It can smartly jump over those input sources which are not connected
With last setting recall function, it will come back to the last status used when restarted or reconnected.
No loss of quality
Installs in minutes
Needs +5vDC 2A power supply
Specifications:
HDMI resolution: 1080p/1080i/720p/576p/576i/480i/480p@24/50/60Hz
Support Video colour format: 24bit/30bit/36bit Deep Colour
Support Audio formats: DTS-HD/Dolby-trueHD/LCPM7.1/DTS/Dolby-AC3/DSD
Max bandwidth: 250 MHz
Max Baud rate: 7.5 Gbps
Input/Output TMDS signal: 0.5-1.5 Volts p-p (TTL)
Input/Output DDC signal: 5Volts p-p (TTL)
Input cable distance: 15m AWG26 HDMI standard cable
Output cable distance: 25 AWG26 HDMI standard cable
Max working current: 650mA
Power: 100~240vAC to +5vDC 2A
Operating temperature range: -15 to +55ºC
Operating humidity range: 5-90% (no condensation)
Dimensions (cm's): 11.5(l) x 6.1(w) x 2.5(h)
Weight: 190g
| Connects From : | Connects To : |
| --- | --- |
| | |
Converts From :
Converts To :

HDTV 480p
HDTV 576p
HDTV 720p
HDTV 1080p
HDTV 1080i
HDTV 480i
HDTV 576i
4K x 2K
3D

HDTV 480p
HDTV 576p
HDTV 720p
HDTV 1080p
HDTV 1080i
HDTV 480i
HDTV 576i
4K x 2K
3D
1 x HDMI Switch 5 to 1 (metal)
1 x Product Manual
1 x Power Supply 100~240vAC to +5vDC 2A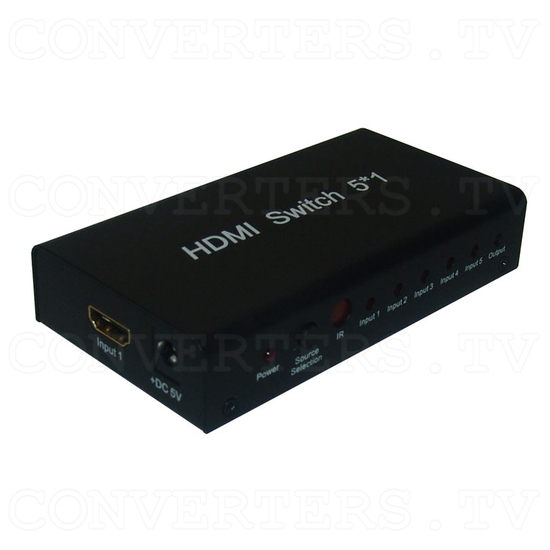 HDMI Switch 5 in 1 out - Full View
HDMI Switch 5 in 1 out - Front View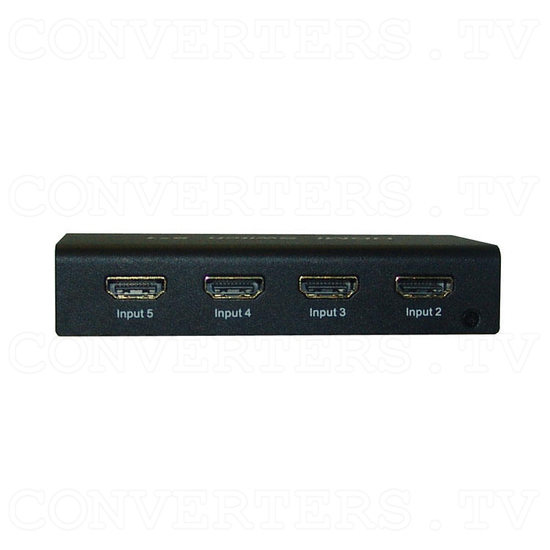 HDMI Switch 5 in 1 out - Back View
HDMI Switch 5 in 1 out - Left View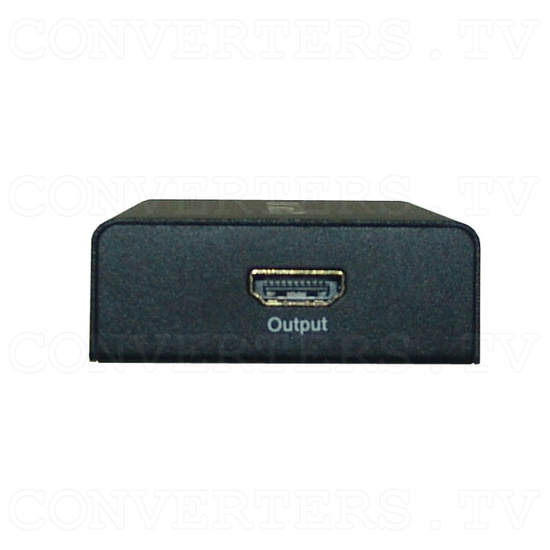 HDMI Switch 5 in 1 out - Right View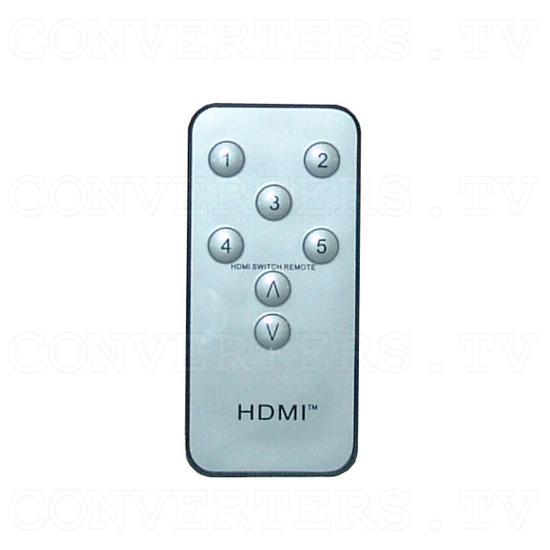 HDMI Switch 5 in 1 out - Remote
HDMI Switch 5 in 1 out - Power Supply 110v OR 240v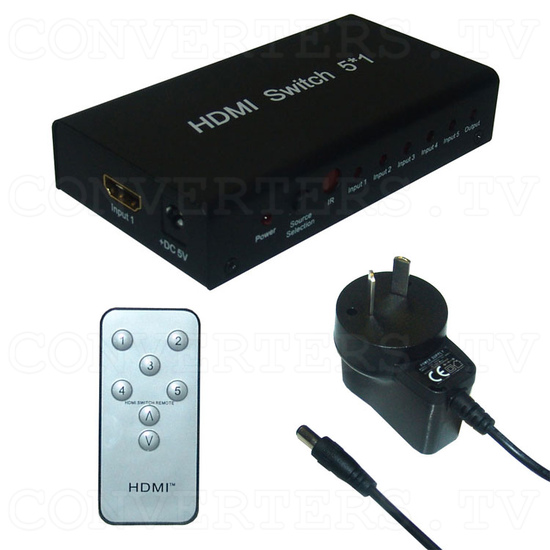 HDMI Switch 5 in 1 out - Full Kit