HDMI Switch 4 input - 2 output

save 27%




HDMI Switch 4 input - 2 output allows up to four HDMI devices to be connected to the unit so that you can easily switch between them for display on your HDTV. The unit can also output the HDMI Signal to two High Definition TV displays simultaneously.

The HDMI Switch 4 input - 2 output "Principal-of-Operation" is to duplicate the selected HDMI signal received, into two separate and identical High Definition signal outputs. The Digital HDMI Video and Audio signal is then transmitted to both HDTV displays simultaneously. This results in identical High Definition Digital HDMI Video and Audio reproduction on both of the connected HDTV displays.

A HDMI Switch 4 input - 2 output can be "Cascaded" (out to in, out to in etc) with either a "HDMI to HDMI Signal Repeater-Extender 1 input - 1 output" or another "HDMI to HDMI Splitter-Extender" for Digital HDMI Signal extension over long distances, up to 30 meters in length per section of transmission. This easily allows all of the HDMI Switch 4 input - 2 output outputs to be utilised anywhere close and/or distant to the HDMI source.

By using the HDMI Switch 4 input - 2 output, any device such as Digital VCR / DVD / CVD / SCVD players, Digital Set Top Boxes, PS3 and XBox 360 game consoles, and many other HDMI compliant Multimedia devices can be displayed to two HDTV's at the same time, perfectly duplicating the High Definition video images and audio. Any device which outputs digital video signals using HDMI technology can be used with the HDMI Switch 4 input - 2 output.

Application of the HDMI Switch 4 input - 2 output is unsurpassed, making it ideal for integration into modern-day lifestyles dependent on new cutting-edge technology. Fully adaptable and compliant for DVI to HDMI / HDMI to DVI conversion by use of the appropriate converter cable.

| | | | |
| --- | --- | --- | --- |
| Unit Dimensions: | 24.0 x 10.5 x 4.5 cm | Shipping Weight: | 1.25 kg |
| Location: | NSW, Australia | Item Type: | |
| Condition: | New | Warranty : | 12 Months |
| Certificates : | CE, UL | Manual : | User Manual (179.11 KB) |
Practical Applications:
The HDMI Switch 4 input - 2 output is ideal for use in:
Lecture Halls and Auditoriums.
Educational Facilities such as Schools and Universities.
Shopping Malls and Large Retail Shops.
Sports Stadiums and Gymnasiums.
Recreational Resort and Accommodation Facilities.
Industrial Complexes.
Commercial Office Buildings.
Private Family Homes.
The HDMI Switch 4 input - 2 output is ideal for use by:
Professional Advertisers.
Lecture Professors, Public and Private Teachers.
Industrial Manufacturers.
Commercial Shop owners.
Resort and Motel/Hotel Managers
Sports Organisers.
Concert, Stage and Theatre groups.
Private Home Owners.
Features:
One HDMI source equally duplicated to Two HDTV's.
Compact and Durable Black casing.
Easy to understand, Front and Rear Panel Layout and Labeling.
Front panel buttons for Input select and Power On/Off.
LED indicator for Power On/Off.
LED indicators for selected HDMI input.
Compatible for any Appliance with a HDMI Output or Input.
Suitable for standard HDMI Type A (male) cable connectors.
Operation up to 30 meters in distance before signal regeneration required.
Can be Cascaded for extending HDMI signal transmission over long distances.
Can be converted for DVI systems integration.
Medium Power consumption.
Specifications:
Remote Control.
RS232 Port for connection to PC for remote control.
HDMI Input connector: One x Type A (female)
HDMI Output connector: Two x Type A (female)
Supports HDMI signal Resolutions for PC (VGA to UXGA); HDTV (480i to 1080p)
Operating Distance: Up to 30 meters Buffered.
Frequency Bandwidth: Up to 2.25Gbps (Giga-bits per sec) Single Link.
HDMI 1.3, HDCP 1.1, and DVI 1.0 Compliance rating.
Deep Colour Video up to 12bit, 1080p@60Hz
Supports Digital Audio: Dolby Digital Plus, Dolby True HD and DTS-HD Master (32-192Khz Fs sample rate)
Supports DVI Source and Display transmission using HDMI to DVI converter cable.
Power: Universal Switch-Mode Power Supply 100-240vAC 50/60Hz to 5vDC 2.6Amp
Weight: 800 grams.
Dimensions: 24.0cm(w) x 10.5cm(d) x 4.5cm(h)
Power Supplies:
Multi-Voltage Power Supply : 100-240VAC to 5V DC 2.6A Switch Mode Power Supply Center Negative
Connects From :
Connects To :

HDMI (HDTV)
VGA 9 pin D-sub
Converts From :
Converts To :

HDTV 480p
HDTV 576p
HDTV 720p
HDTV 1080p
HDTV 1080i
HDTV 480i
HDTV 576i

HDTV 480p
HDTV 576p
HDTV 720p
HDTV 1080p
HDTV 1080i
HDTV 480i
HDTV 576i
1 x HDMI Switch 4 input - 2 output
1 x Remote Control
1 x Product Manual
1 x 100-240VAC to 5V DC 2.6A Switch Mode Power Supply (Center Negative)
HDMI Switch 4 input - 2 output - Full View
HDMI Switch 4 input - 2 output - Front View
HDMI Switch 4 input - 2 output - Back View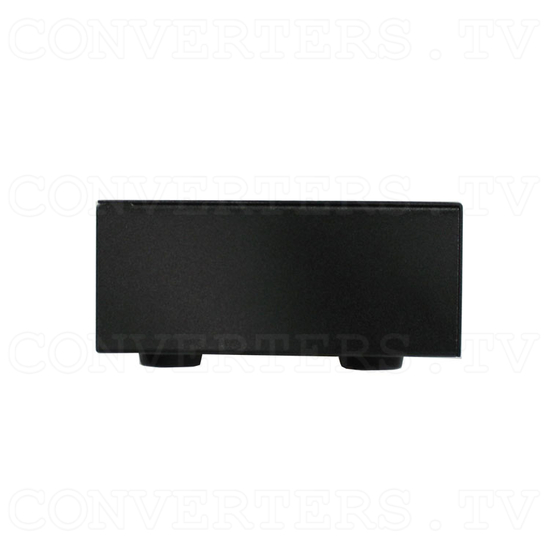 HDMI Switch 4 input - 2 output - Side View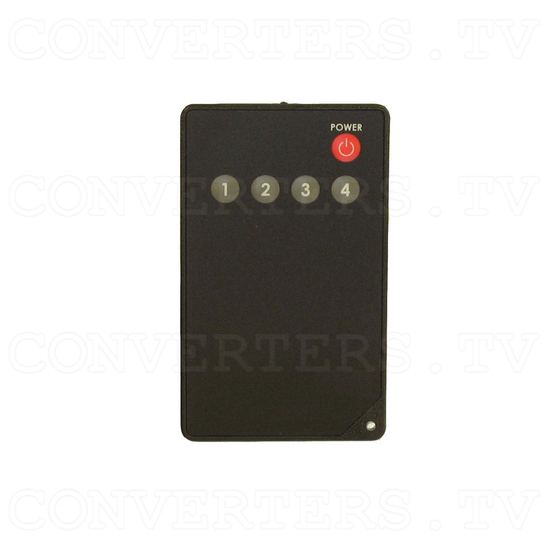 HDMI Switch 4 input - 2 output - Remote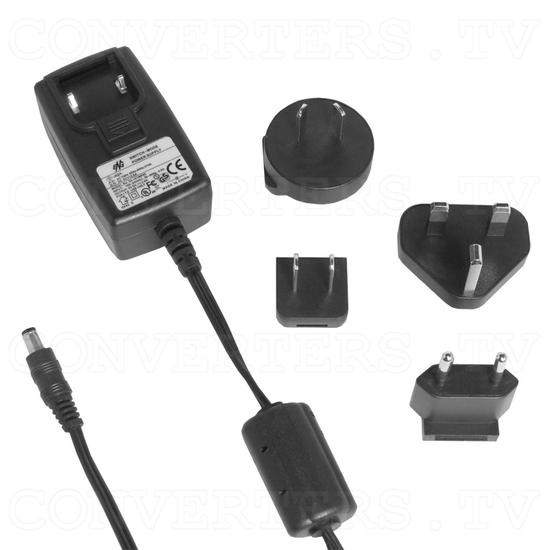 HDMI Switch 4 input - 2 output - Power Supply 110v OR 240v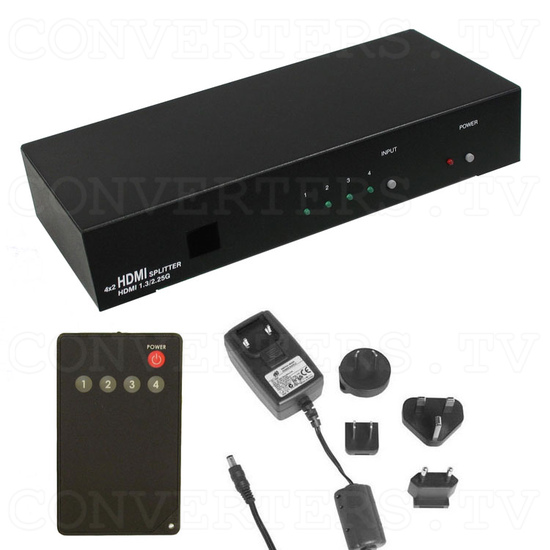 HDMI Switch 4 input - 2 output - Full Kit