| | |
| --- | --- |
| | HDMI Splitter 1 in 4 out |
The HDMI Splitter 1 in 4 out uses a single HDMI video and audio source and displays the content across multiple outputs. The splitter allows one HDMI signal to be split easily into four equal HDMI signals for connection to fout HDTV's. For example, if you connect the splitter to your personal computer (PC) monitor output, you can then connect four monitors to your computer via the splitter and display the same content on each without losing any visual quality.

Also, if you have experienced a loss of quality with your HDMI product the splitter can be used to regenerate and re-time the HDMI signal and regain quality. Supports HD1080p, all 3D formats and UHD 4kx2k.

The splitter has many applications. It can be used in Business, Advertising and Education where displays are situated around a room, hall or shop. Small, compact and efficient.

| | | | |
| --- | --- | --- | --- |
| Unit Dimensions: | 17.8 x 6.6 x 2.0 cm | Shipping Weight: | 0.51 kg |
| Location: | NSW, Australia | Item Type: | |
| Condition: | New | Warranty : | 12 Months |
| Certificates : | CE, CTick, UL | Manual : | User Manual (890.83 KB) |
Features:
HDMI input signal to four HDMI sink devices
Support full HD, full 3D systems
Support 4kx2K resolution
Support CEC
Support Deep colour 24/50/60fs/HD-DVD/xvYCC
Digital audio format DTS-HD/Dobley-trueHD/LCM7.1/Dolby-AC3/DSD/HD (HBR)
Support signal retiming
Support input up to 15 meters AWB26 HDMI standard cable length
Output up to 25 meters AWG26 cable length
No loss of quality
Installs in minutes
Specifications:
HDMI resolution: 1080p/1080i/720p/576p/576i/720p/480p/480i@25/50/60Hz
Support audio format: DTS-HD/Dobley-trueHD/LCM7.1/Dolby-AC3/DSD/HD (HBR)
Max bandwidth: 340MHz
MAx baud rate: 10.3Gbps
Input/output TMDS signal: 0.5-1.5 Volts p-p (TTL)
Input/output DDC signal: 5Volts p-p (TTL)
Input cable distance: 15m AWG26
Output cable distance 25m AWG26 standard cable
Max working current: 1200mA
Power: 100~240vAC to 5vDC / 2A
Operating temperature range: -15 to +55ºC
Operating humidity range: 5 to 90% RH (no condesation)
Dimensions: 18.0(l) x 6.6(w)x 2.0(h)
Weight: 320g
Support audio formats: DTS-HD/Dolby-TrueHD/LCM7.1/Dolby-AC3/DSD/HD (HBR)
Max working current: 1200mA
| Connects From : | Connects To : |
| --- | --- |
| | |
Converts From :
Converts To :

HDTV 480p
HDTV 576p
HDTV 720p
HDTV 1080p
HDTV 1080i
HDTV 480i
HDTV 576i

HDTV 480p
HDTV 576p
HDTV 720p
HDTV 1080p
HDTV 1080i
HDTV 480i
HDTV 576i
1 x HDMI Splitter 1 in 4 out
1 x Product Manual
1 x 100~240vAC to 5vDC 2A Power Supply
HDMI Splitter 1 in 4 out - Full View
HDMI Splitter 1 in 4 out - Front View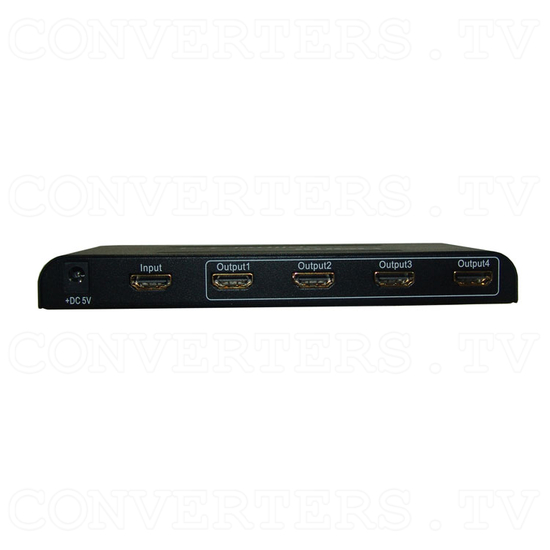 HDMI Splitter 1 in 4 out - Back View
HDMI Splitter 1 in 4 out - Power Supply 110v OR 240v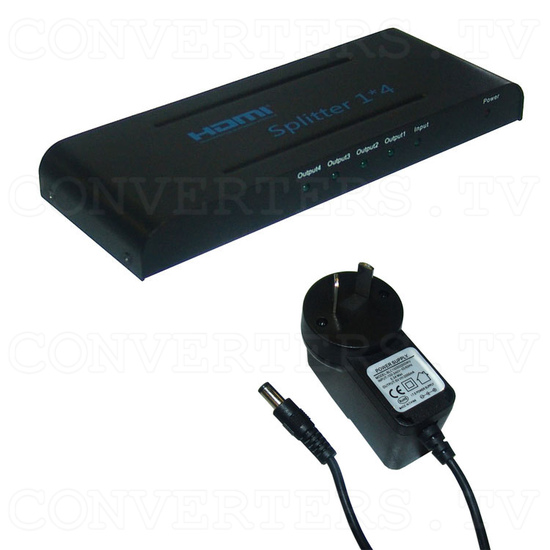 HDMI Splitter 1 in 4 out - Full Kit