HDMI Splitter 1 In 4 Out

save 44%




The HDMI Splitter 1 In 4 Out is a high performance device that allows a single HDMI source to be split into four separate and identical buffered HDMI outputs for multi-viewing purposes. Supports a wide range of PC and HDTV resolutions from VGA to UXGA and 480i/p to 1080i/p.

For example you could connect your Blu-Ray player to the splitter via HDMI, and then output the signal via HDMI to four displays simultaneously. Thanks to the splitters buffering capabilities, there is no loss in quality on any of the outputs. Each of the output signals can be run up to 12 meters @1600x1200.

The splitter can also be used with DVI devices. Simply connect your DVI source or display by using a HDMI/DVI converter cable.

| | | | |
| --- | --- | --- | --- |
| Unit Dimensions: | 14.1 x 9.5 x 4.0 cm | Shipping Weight: | 0.70 kg |
| Location: | NSW, Australia | Item Type: | |
| Condition: | New | Warranty : | 12 Months |
| Certificates : | CE, CTick, UL | Manual : | User Manual (276.94 KB) |
Features:
Built-in EDID simulator and HDCP keyset allows each output to work independently in connecting to a HDMI display
Splits a HDMI source up to 4 outputs without loss
Supports DVI source and DVI display by using HDMI to/from DVI adapter cable
Supports a wide range of PC and HDTV resolutions from VGA to UXGA and 480p to 1080p. Maximum resolution bandwidth 165MHz
Can be cascaded up to 3 layers, or more if using high quality cable
Each of the buffered output can run up to 12 meters @1600x1200
Specifications:
HDMI, HDCP & DVI compliant
Frequency bandwidth: 1.65Gbps (single link)
Input/Output:1-in/4-out HDMI female port
Power: 100-240vAC to 5vDC 2.6A (US/EU standards; Ul/FCC/CE certified)
Power consumption: 6W Max
Operating temperature range: 0 ~ 48 C
Operating humidity range: 30 to 80% RH
Dimensions (cm): 14.1(l) x 9.5(w) x 4.0(h)
Weight (g): 379g
Accepted HDMI/DVI PC Resolutions:
640*480@60/72/75Hz
800*600@56/60/72/75Hz
1024*768@60/70/75Hz
1366*768@50/60Hz
1280*960@60Hz
1280*1024@60/75Hz
1600*1200@60Hz
1920*1200@60Hz
Accepted HDMI/DVI HD Resolutions:
720*480i@59/60Hz (not DVI)
720*480p@50/60Hz
720*576i@50Hz (not DVI)
720*576p@50Hz
1280*720p@50/59/60Hz
1920*1080i@50/59/60Hz
1920*1080p@23/24/50/59/60Hz
Power Supplies:
Multi-Voltage Power Supply : 100 - 240VAC to 5V DC 2.6A Switch Mode Power Supply - Center Positive
Connects From :
Connects To :

DVI - D (HDTV)
HDMI (HDTV)

DVI - D (HDTV)
HDMI (HDTV)
Converts From :
Converts To :

HDTV 480p
HDTV 576p
HDTV 720p
HDTV 1080p
HDTV 1080i
HDTV 480i
HDTV 576i

HDTV 480p
HDTV 576p
HDTV 720p
HDTV 1080p
HDTV 1080i
HDTV 480i
HDTV 576i
1 x HDMI Splitter 1 In 4 Out
1 x Product Manual
1 x 100-240VAC to 5V DC 2.6A Switch Mode Power Supply (Center Positive)
HDMI Splitter 1 In 4 Out - Front View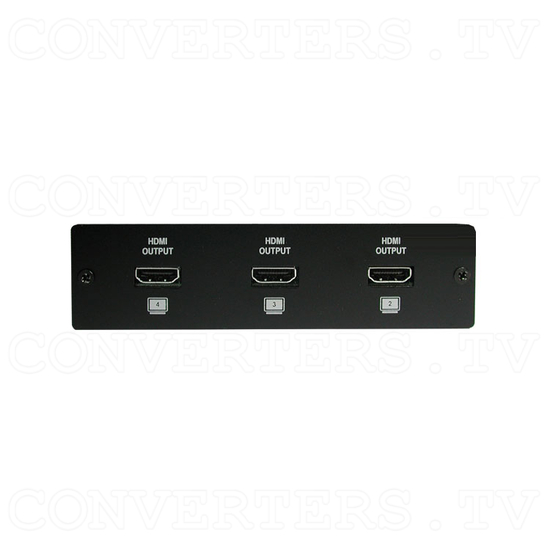 HDMI Splitter 1 In 4 Out - Back View
HDMI Splitter 1 In 4 Out - Power Supply 110v OR 240v