HDMI Quad 4x1 Picture in Picture Processor

save 4%




The HDMI Quad 4x1 Picture in Picture Processor is perfect for connecting and displaying up to four different HDMI video signals onto one HDTV. This can be achieved either as an individual display, or in various 'tile' formats, to best suit your application. The handy 'Picture-in-Picture' feature allows for Channel 1 to be displayed as the 'main' picture (full screen), while Channel 2 is displayed as a 'superimposed' picture over the 'main' picture. Perfect for use in Advertising and Education, Industry and Commercial applications and private Home Theatres.

The HDMI Quad 4x1 Picture in Picture Processor is easy to install and setup. It has full support for PAL and NTSC HD video and PC timings of 480i/p ~ 1080i/p and VGA to WUXGA@60RB. There are eight (8) selectable output picture display settings. Four display modes show the four input video signals as individual channels, while four other modes display the four individual channels together in different configurations.

The Audio component supports up to 8CH 192kHz for both input and output, with facility to 'mute' audio when not in use. Supports DVI video input only, no DVI audio input available.

Control over input selection, switching, display mode and other in-built features such as zoom, shrink, overlay, PiP, PoP etc is achieved by using front-panel buttons, an IR Remote Control, or RS-232 protocol via a PC or Laptop. Hotkeys preset to the various Display modes makes selection of your video source to be displayed in various ways very simple and easy. Output video resolution follows input video resolution.

| | | | |
| --- | --- | --- | --- |
| Unit Dimensions: | 43.2 x 26.0 x 5.0 cm | Shipping Weight: | 6.66 kg |
| Location: | NSW, Australia | Item Type: | |
| Condition: | New | Warranty : | 12 Months |
| Certificates : | CE, CTick, UL | Manual : | User Manual (605.14 KB) |
Features:
Supports HDMI 1.3, DVI 1.1 and HDCP 1.0
Supports HD 480i/p~1080i/p and PC VGA~WUXGA video resolutions
Supports seamless switching and display between channels and windows
Supports zoom, shrink and overlay for all channels
Supports 'Picture-in-Picture' (PiP) and 'Picture-on-Picture' (PoP) multi-window display
Supports 5 different picture display settings: 4 x Individual Channels and 4 x Tiled Channel
Supports Fade-In-Out, ChromaKey (Ch1 & Ch2), Mirror and Rotation (90-180)
Supports customisation of channel size and position of the displayed picture
Supports OSD (On Screen Display), RS-232, Remote Hand Control and on-panel push buttons
Supports DVI video input only, no DVI audio input available
HDCP compliant
Slimline, black aluminium metal finish
Easy to instal and operate
Low power consumption
Specifications:
Video Bandwidth: 225MHz / 6.75Gbps
Input Ports: 4 x HDMI A Type Male
Output Port: 1 x HDMI A Type Male
Supported I/O Format: RGB 4:4:4, YUV 4:4:4 and YUV 4:2:2
Support 8, 10, 12 bit Colour
Supported HDMI/DVI PC res: VGA ~ WUXGA
Supported HDMI/DVI HD res: 480i/p ~ 1080i/p
Power Supply: 100-240vAC to 5vDC 3A (US/EU standards; CE/FCC/UL certified)
Power Consumption (watts): 9.5w
Dimensions (cm's): 43.2(l) x 26.0(w) x 5.0 (h)
Weight (kg): 2.895kg
Operating Temp: 0C ~ 40C / 32F ~ 104F
Storage Temp: -20C ~ 60C / -4F ~ 140F
Relative Humidity: 20 ~ 90% (non-condensing)
ESD Protection: ±8kv (air-gap discharge); ±4kv (contact-gap discharge)
Support Input HDMI/DVI PC Res:
640*480@60/72/75/85Hz
800*600@56/60/72/75/85Hz
1024*768@60/70/75/85Hz
1280*1024@60/75Hz
1366*768@60Hz
1600*1200@60Hz
1920*1200@60Hz
Support Input HDMI/DVI HD Res:
720*480i@59/60Hz
720*480p@59/60Hz
720*576i@50Hz
720*576p@50Hz
1280*720p@50/59/60Hz
1920*1080i@50/59/60Hz
1920*1080p@23/24/50/59/60Hz
Power Supplies:
Multi-Voltage Power Supply : 100 - 240VAC to 5V DC 2.6A Switch Mode Power Supply - Center Positive
Connects From :
Connects To :

HDMI (HDTV)
RJ-45 Control Telnet/WebGUI
RS-232 (9 pin D-Sub)
Mini USB - Power Only
Converts From :
Converts To :

HDTV 480p
HDTV 576p
HDTV 720p
HDTV 1080p
HDTV 1080i
HDTV 480i
HDTV 576i

HDTV 480p
HDTV 576p
HDTV 720p
HDTV 1080p
HDTV 1080i
HDTV 480i
HDTV 576i
1 x HDMI Quad 4x1 Picture in Picture Processor
1 x User Manual
1 x 100-240VAC to 5V DC 2.6A Switch Mode Power Supply (Center Positive)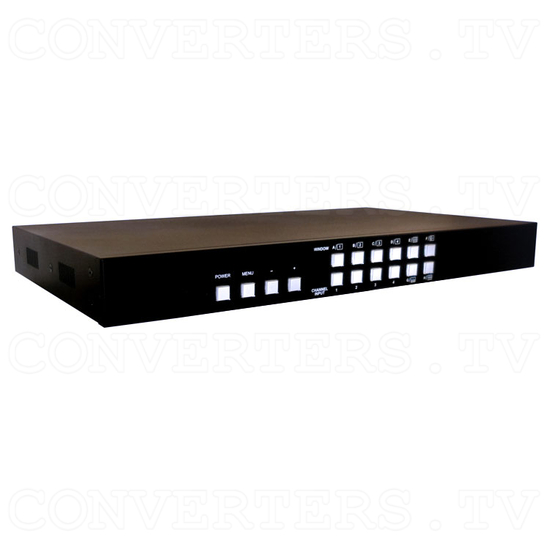 HDMI Quad 4x1 Picture in Picture Processor - Full View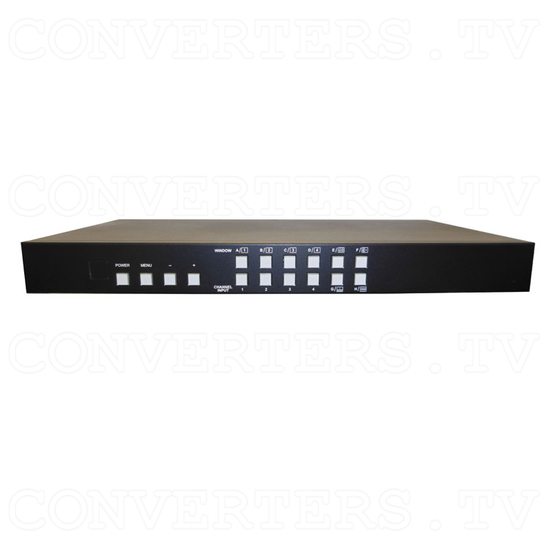 HDMI Quad 4x1 Picture in Picture Processor - Front View
HDMI Quad 4x1 Picture in Picture Processor - Back View
HDMI Quad 4x1 Picture in Picture Processor - Front and Back - Close-up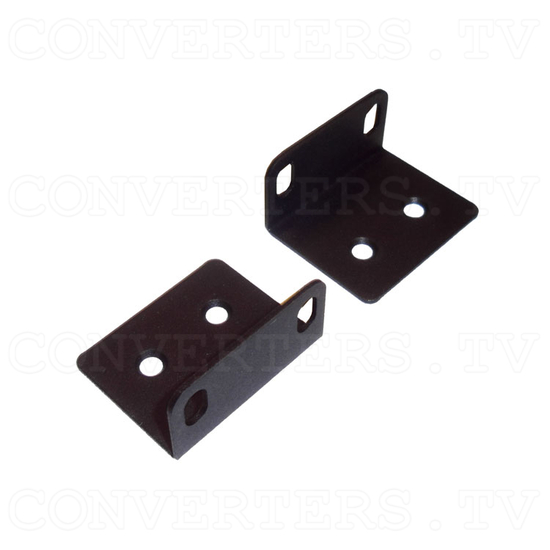 HDMI Quad 4x1 Picture in Picture Processor - Brackets
HDMI Quad 4x1 Picture in Picture Processor - Remote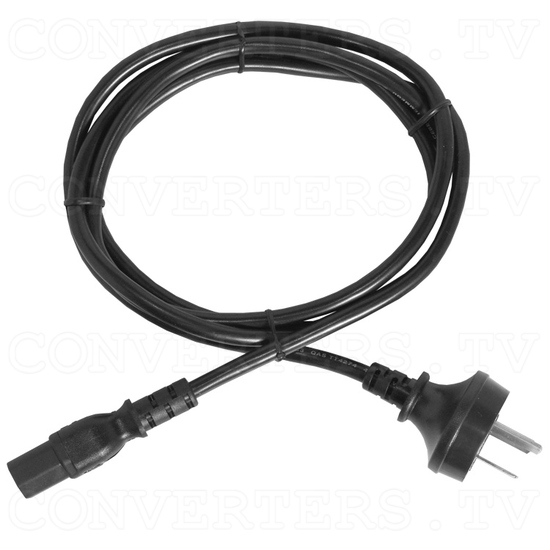 HDMI Quad 4x1 Picture in Picture Processor - Power Supply 110v OR 240v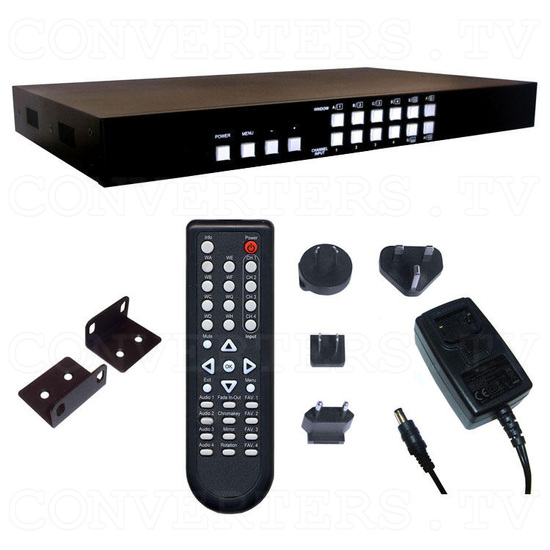 HDMI Quad 4x1 Picture in Picture Processor - Full Kit