| | |
| --- | --- |
| | HDMI Over One CAT6 Transmitter and Receiver |
| | |
| --- | --- |
| This product has been replaced by : | View other products in this category |
The HDMI Over One CAT6 Transmitter and Receiver is a convenient way to extend a HDMI signal over a long distance. Instead of using expensive HDMI cables, this unit distributes the HDMI signal over a CAT6 cable. Unlike similar products which distribute the CAT6 video and DDC data along two separate connections, this unit distributes the video and DDC Data along one connection.

A wide range of Input/Output video resolutions are supported – up to WUXGA and High Definition 1080p. The unit equalizes and recovers incoming TMDS data before re-transmitting with optimal quality. When transmitting a signal in 1080p 8 bit resolution, the CAT6 operating distance is 40 meters. This means that you can position the Transmitter and Receiver units up to this distance without any drop in signal quality. Further adding to the extension distance, the HDMI signal from the Input/Output device can run up to 12 meters in each direction (@1080p 8 bit).

Please note that the signal distance may be influenced by the source and display used, as well as cable specifications. For example a 1080p 8 bit signal is able to be extended further than a 1080p 12 bit signal. For more information please view the product specifications below.

The HDMI Over One CAT6 Transmitter and Receiver supports Deep Color (12 bits/color) video and new lossless compressed (Dolby TrueHD, Dolby Digital Plus and DTS-HD Master Audio) digital audio, with a bandwidth of up to 2.25Gbps per channel. The transmitter is powered by its USB connection while the receiver obtains its power through the CAT6 cable. When operating over long distances the receiver can be connected with a USB power supply for improved performance.

The unit is also able to be "Cascaded", meaning that multiple HDMI Over One CAT6 Transmitter and Receiver units can be linked together to create an even longer digital HDMI signal transmission pathway.

| | | | |
| --- | --- | --- | --- |
| Unit Dimensions: | 5.5 x 7.5 x 2.0 cm | Shipping Weight: | 0.55 kg |
| Location: | NSW, Australia | Item Type: | CAT5/6 Cable Products |
| Condition: | New | Warranty : | 12 Months |
| Certificates : | CE, CTick, UL | Manual : | User Manual (254.33 KB) |
Features:
Supports digital video formats up to 36 bits
Supports high definition input/output up to WUXGA/1080p
Uses one CAT6 cable for data/DDC transmission
Equalizes and recovers incoming TMDS data before re-transmitting it with optimal quality
HDMI Cable testing showed that with WUXGA/1080p 8bit resolution, input/ output device can run to 12 meters, and with WUXGA/1080p 12bit resolution it can run up to 10 meters
When transmitting a signal in 1080p 8bit resolution the CAT6 operating distance is 40 meters, and when the signal is in 12bit resolution the CAT6 operating distance is 15 meters
Using only transmitter side's power in 1080p 8bit resolution the CAT6 operating distance is 20 meters depending on source and display used
The transmitter is powered by its USB connection while the receiver obtains its power through the CAT6 cable. When operating over long distances the receiver can be connected with a USB power supply for improved performance
Specifications:
Transmitter - Input: 1 x USB (for power), 1 x HDMI; Output: 1 x CAT6
Receiver - Input: 1 x USB (for power), 1 x CAT6; Output: 1 x HDMI
Input Cable Distance: 12M - WUXGA or 1080p 8 Bits, 10M - WUXGA or 1080p 12 Bits
Output Cable Distance: 12M - WUXGA or 1080p 8 Bits, 10M - WUXGA or 1080p 12 Bits
CAT6 Cable Distance: 40M - WUXGA or 1080p 8 Bits, 15M - WUXGA or 1080p 12 Bits
Operating Temperature: 0°C - 45°C / 32°F - 104°F
Storage Temperature: -20°C - 60°C / -4°F - 140°F
Relative Humidity: 20-90% RH (non-condensing)
Power Consumption: 3.5W (TX), 2W (RX)
Power Supplies:
Multi-Voltage Power Supply : Switch mode Power Supply AC100V - 50-60Hz, DC 5V - 1.0A
Connects From :
Connects To :

HDMI (HDTV)
USB (PC) Type A Device Ports
CAT5 / CAT6 Cable RJ-45

HDMI (HDTV)
USB (PC) Type A Device Ports
CAT5 / CAT6 Cable RJ-45
Converts From :
Converts To :

HDTV 480p
HDTV 576p
HDTV 720p
HDTV 1080p
HDTV 1080i
HDTV 480i
HDTV 576i
CAT5/6 Protocol

HDTV 480p
HDTV 576p
HDTV 720p
HDTV 1080p
HDTV 1080i
HDTV 480i
HDTV 576i
CAT5/6 Protocol
1 x HDMI Over One CAT6 Transmitter and Receiver
1 x Product Manual
1 x Power Supply Adapter
1 x Switch mode Power Supply AC100V - 50-60Hz, DC 5V - 1.0A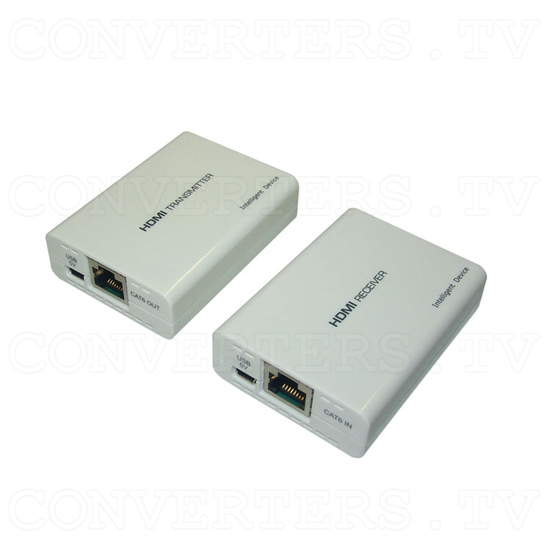 HDMI Over One CAT6 Transmitter and Receiver - Full View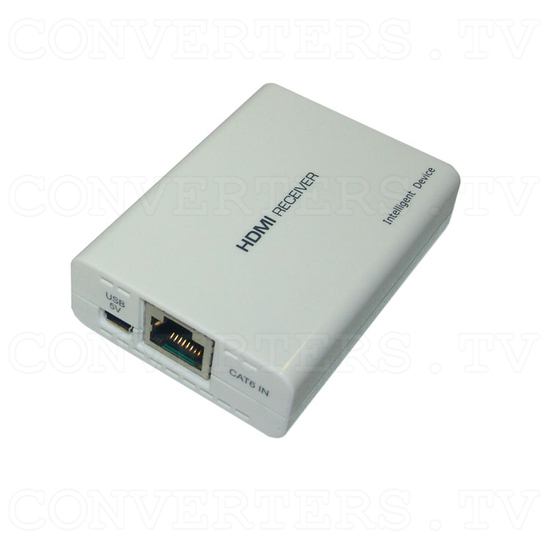 HDMI Over One CAT6 Transmitter and Receiver - Receiver - Full View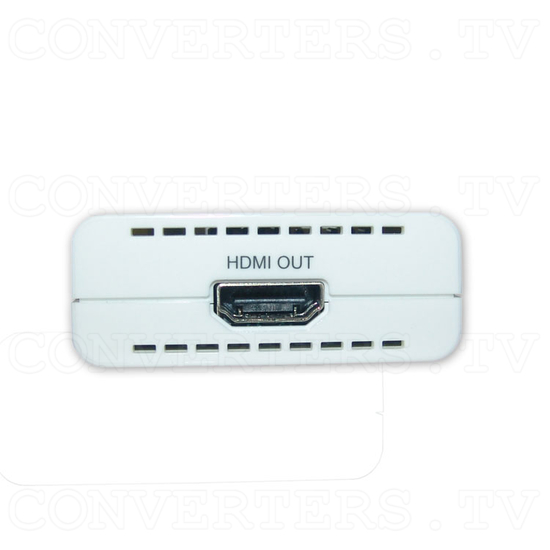 HDMI Over One CAT6 Transmitter and Receiver - Receiver - Front View
HDMI Over One CAT6 Transmitter and Receiver - Receiver - Back View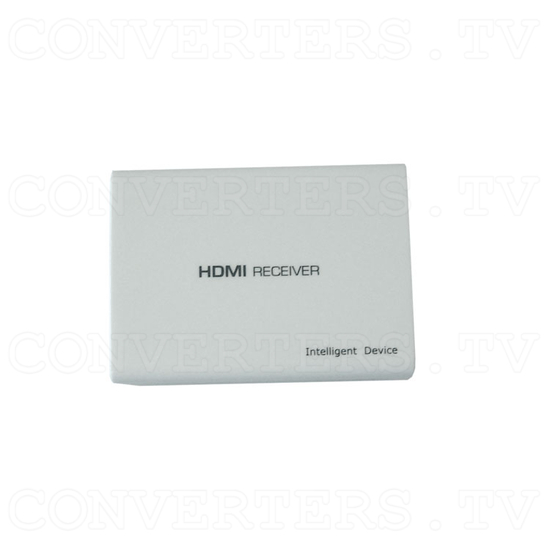 HDMI Over One CAT6 Transmitter and Receiver - Receiver - Top View
HDMI Over One CAT6 Transmitter and Receiver - Transmitter - Full View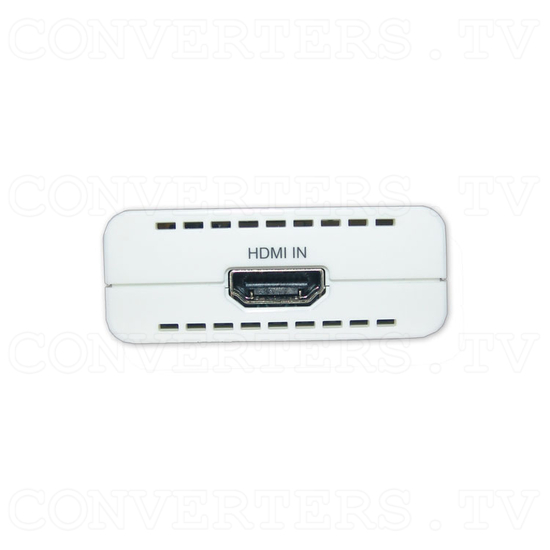 HDMI Over One CAT6 Transmitter and Receiver - Transmitter - Front View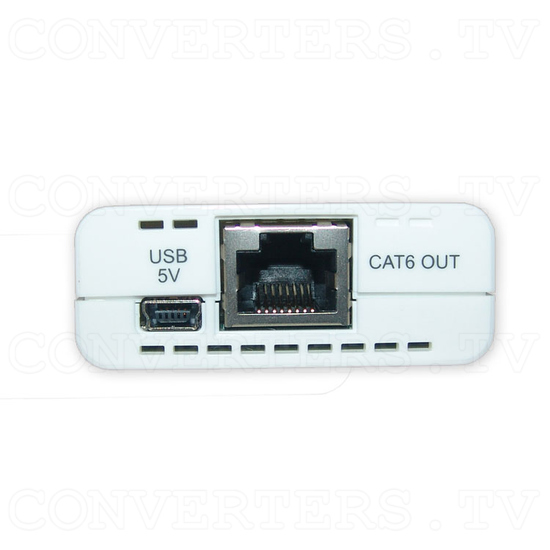 HDMI Over One CAT6 Transmitter and Receiver - Transmitter - Back View
HDMI Over One CAT6 Transmitter and Receiver - Transmitter - Top View
HDMI Over One CAT6 Transmitter and Receiver - Power Supply 110v OR 240v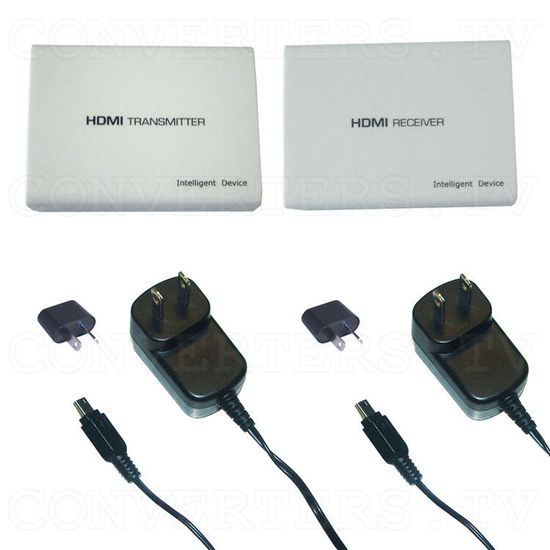 HDMI Over One CAT6 Transmitter and Receiver - Full Kit