HDMI HD UHD Video Extender

save 3%




The HDMI HD UHD Video Extender is the solution for cascading and increasing the operating distance of any HDMI HD 1080p (High Def) and HDMI UHD (Ultra High Def) 4K2K video and audio signal. It amplifies and equalizes the signal, providing strong signal strength through an HDMI cable for a distance of up to 15 meters at HD resolutions and 10m at UHD resolutions. It can be cascaded up to 5 times and is capable of transmitting and receiving data from 340Mbps up to 10.2Gbps bandwidth rate, with CDR (Clock Data Recovery) ensuring no loss of data.

The HDMI HD UHD Video Extender is usually powered by the source HDMI equipment along the HDMI cable, eliminating the need for a separate power supply. If the HDMI source equipment does not provide enough power over the HDMI cable to operate the Extender, then an HDMI Power Inserter (ID#15381) can be used.

| | | | |
| --- | --- | --- | --- |
| Unit Dimensions: | 6.5 x 2.4 x 1.0 cm | Shipping Weight: | 0.18 kg |
| Location: | NSW, Australia | Item Type: | |
| Condition: | New | Warranty : | 12 Months |
| Certificates : | CE, CTick, UL | Manual : | User Manual (174.59 KB) |
Features:
HDMI, HDCP 2.2 and DVI 1.1 compliant
Built-in TMDS equalization and CDR (Clock Data Recovery) for extended HDMI cable operating distance
Supports up to HD 1080p and UHD 4K2K@50/60Hz & YUV_420 and 21:9 aspect ratio
Supports HDMI Input / Output cable lengths up to 15m@HD 1080p and 10m@UHD 4K2K@50/60Hz & YUV_420 resolution
Cascade an HDMI signal up to 5 layers (with additional power supply)
Supports being powered by compatible HDMI source devices over the HDMI cable
Note: For devices that do not support Power over Cable (PoC) an HDMI Power Inserter can be used in-line between the source HDMI device and the HDMI HD UHD Video Extender.
Specifications:
Video Bandwidth: 340MHz / 10.2Gbps
Input Port: 1 x HDMI Type A (Female)
Output port: 1 x HDMI Type A (Female)
Supported Resolutions: 480i ~ 1080p, 4K2K@24/25/30/50/60, (YUV420), VGA ~ WUXGA (RB)
In/Out HDMI Cable Distance: 15m@1080p , 10m@4K2K
Power: From HDMI source equipment, or from Power Inserter
Power Consumption: 0.75w (max)
Operating Temperature: 0c ~ 40c / 32f ~ 104f
Relative Humidity: 20% ~ 90% RH (non-condensing)
ESD Protection: Human Body Model: ±8kV (air-gap) ; ±4kV (contact)
Dimensions (cm): 6.5 (l) x 2.4 (w) x 1.0 (h)
Weight: 15g
Chassis: Black Plastic
Supported HDMI HD and UHD Resolutions:
640*480@60/72/75/85Hz
800*600@56/60/72/75/85Hz
1024*768@60/70/75/85Hz
1280*720@60Hz
1280*1024@60Hz
1600*1200@60Hz
1920*1200@60(RB)
3840*2160p@24/25/30Hz
4096*2160p@24Hz
4096*2160@50/60(YUV420)
480i/480p@60Hz
576i/576p@50Hz
720p@50/60Hz
1080i@50/60Hz
1080p@24/25/30/50/60Hz
| Connects From : | Connects To : |
| --- | --- |
| | |
Converts From :
Converts To :

HDTV 480p
HDTV 576p
HDTV 720p
HDTV 1080p
HDTV 1080i
HDTV 480i
HDTV 576i
4K x 2K
3D

HDTV 480p
HDTV 576p
HDTV 720p
HDTV 1080p
HDTV 1080i
HDTV 480i
HDTV 576i
4K x 2K
3D
1 x HDMI HD UHD Video Extender
1 x User Manual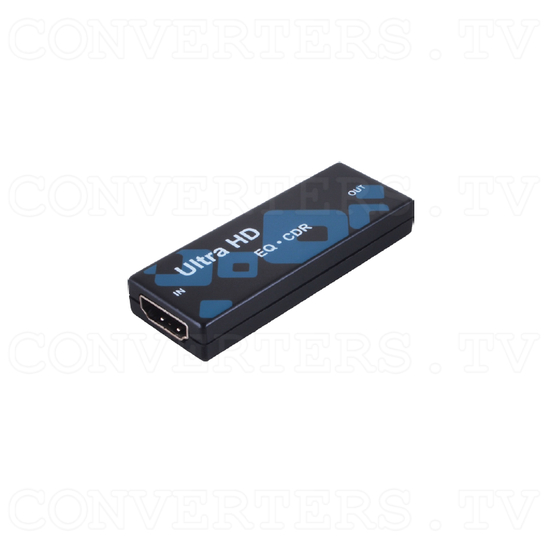 HDMI HD UHD Video Extender - Full View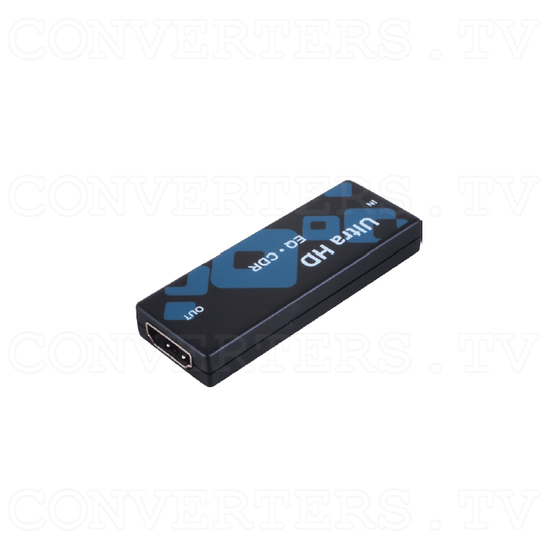 HDMI HD UHD Video Extender - Angle View