HDMI HD 4K2K Scaler

save 3%




New HDMI UHD 4K2K Scaler designed to accept a High Definition 1080p@24Hz video signal and upscale it to Ultra High Definition 4K2K resolution, or take UHD 4K2K resolution and downscale it to HD 1080p@24Hz. Integrate High Definition and Ultra High Definition equipment using the HDMI UHD 4K2K Scaler. Twin HDMI outputs give you one HDMI 'scaled' port for signal change, while the 'bypass' port outputs an UHD 4K2K or HD 1080p@24Hz signal, dependent on the attached display.

The HDMI UHD 4K2K Scaler supports input of HD 1080p@24/25/30Hz and gives an output of 4K2K 4096*2160p@24Hz and 3840*2160p@24/25/30Hz. If 'bypass' is set for 'down/bypass' then 4096*2160p@24Hz is not supported. It will also not support 3D signals when the 'bypass' is set to 'up/bypass' or 'down/bypass'. For other timings, use in 'bypass' only mode.

Use the HDMI UHD 4K2K Scaler to integrate older High Definition 1080p equipment with new release Ultra High Definition 4K2K equipment. Scale up or down to best match and display between the attached source equipment and the monitor (sink).

| | | | |
| --- | --- | --- | --- |
| Unit Dimensions: | 10.2 x 10.9 x 2.5 cm | Shipping Weight: | 0.61 kg |
| Location: | NSW, Australia | Item Type: | |
| Condition: | New | Warranty : | 12 Months |
| Certificates : | CE, CTick, UL | Manual : | User Manual (176.36 KB) |
Features:
Supports HD HDMI signal upscale from HD 1080p to UHD 4K2K, or downscale from UHD 4K2K to HD 1080p
1080p supports 24/25/30Hz
4K2K supports 4096*2160@24Hz and 3840*2160@24/25/30Hz
Supports HDMI signal bypass
Dual HDMI output ('scaled' and ;bypass')
LED lamps indicate system status
Easy select 'up/down scale' button function
Specifications:
Bandwidth: 300MHz / 9Gbps
Input Port: 1 x HDMI
Output Ports: 2 x HDMI ('scale' & 'bypass')
HDMI Cable Distance: Input = 5m@4K2K Output = 10m@4K2K
Power Supply: 100-240vAC to 5vDC 2.6A (US/EY standards; CE/FCC/UL certified)
Power Consumption: 2.4W
Dimensions (cm's): 10.2(l) x 10.9(w) x 2.5(h)
Weight (grams): 220g
Chassis: Aluminium/Black
ESD Protection: Human Body Model: ±8kV (air-gap); ±4kV (contact)
Operating Temperature: 0c ~ 40c / 32f ~ 104f
Relative humidity: 20~90% RH (non-condensing)
Power Supplies:
Multi-Voltage Power Supply : 100 - 240VAC to 5V DC 2.6A Switch Mode Power Supply - Center Positive
| Connects From : | Connects To : |
| --- | --- |
| | |
| Converts From : | Converts To : |
| --- | --- |
| | |
1 x HDMI HD 4K2K Scaler
1 x Product Manual
1 x 100-240VAC to 5V DC 2.6A Switch Mode Power Supply (Center Positive)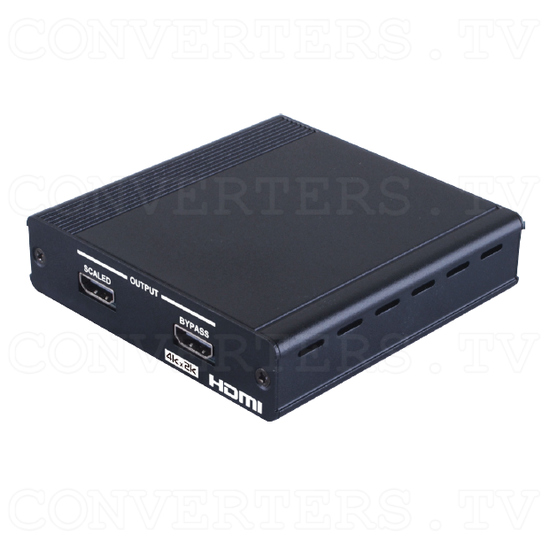 HDMI HD 4K2K Scaler - Full View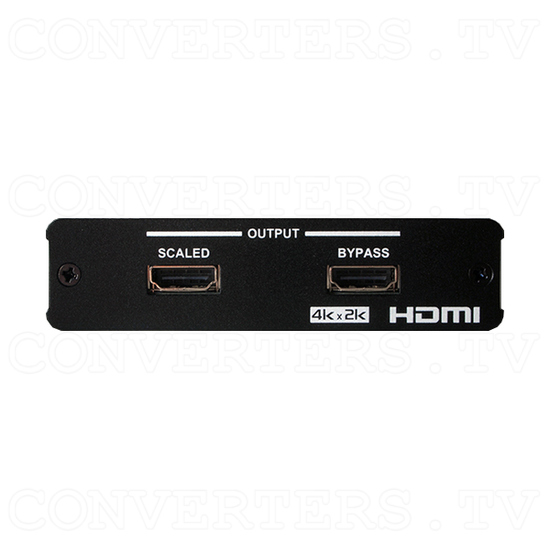 HDMI HD 4K2K Scaler - Front View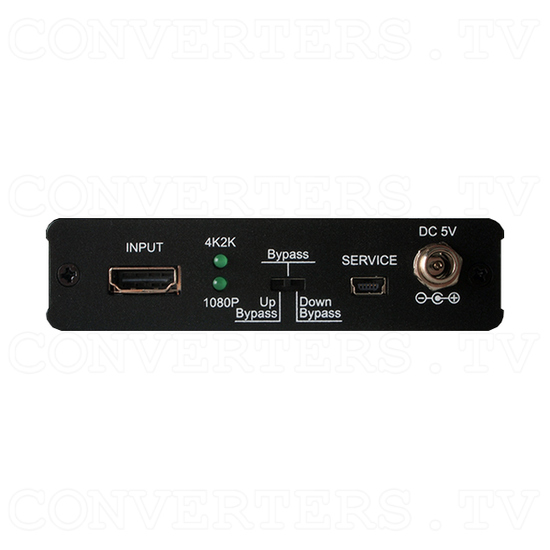 HDMI HD 4K2K Scaler - Back View
HDMI HD 4K2K Scaler - Power Supply 110v OR 240v