| | |
| --- | --- |
| | HDMI/Audio over CAT Cable Transmitter w/ 48V PoH |
The HDMI/Audio over CAT Cable Transmitter w/ 48V PoH is a great solution for extending uncompressed HD audio and video, as well as Ethernet and control, via a single run of Cat.5e/6/7 cable over distances of up to 100m.

Multiple data and control interfaces are in-built to the The HDMI/Audio over CAT Cable Transmitter w/ 48V PoH, including IR, RS-232 and LAN connections. This transmitter complies with the advanced HDCP 2.2 and HDMI 2.0 standards, as well as supporting the legacy HDCP 1.x and HDMI 1.x standards.

Despite HDBaseT's 10Gbps bandwidth limitation 4K UHD HDMI video, up to and including 4K@60Hz (4:4:4), is able to be processed and extended by subsampling 4:4:4 color to 4:2:0 and reducing bit depth when necessary.

Beyond video, data and control this unit also includes useful audio features. The Optical Audio Return (OAR) feature supports transmitting optical audio from a compatible Receiver back to the Transmitter for local playback. An audio insertion feature is also included, allowing for stereo analog audio to be embedded into the HDBaseT output signal.

Rounding out the feature set is robust EDID management as well as automatic HDBaseT clock stretching and TMDS re-clocking support. Compatible Receivers (PD) may be powered by 48V PoH provided by this Transmitter (PSE), allowing for greater flexibility within different installation scenarios.

| | | | |
| --- | --- | --- | --- |
| Unit Dimensions: | 16.3 x 7.9 x 1.6 cm | Shipping Weight: | 0.30 kg |
| Location: | NSW, Australia | Item Type: | CAT5/6 Cable Products |
| Condition: | New | Warranty : | 12 Months |
| Certificates : | CE, CTick, UL | | |
Features:
HDMI with 3D & 4K@60Hz support, DVI 1.0 compatible
HDCP 2.2 and HDCP 1.x compliant
Supports up to 4K UHD (18Gbps, 4K@60Hz 4:4:4) video input
Supports output resolutions up to 4K@50/60Hz (YUV 4:2:0)
Supports Deep Color input and output up to 12-bit
Supports CEC bypass
Simultaneous transmission of uncompressed video, audio and data over a single Cat.5e/6/7 cable up to 100m at 1080p and 70m at 4K
Supported HDBaseT feature set: High-Definition Video and Audio, 100BaseT Ethernet, 48V PoH and Control (Bi-directional IR/RS-232 pass-through)
Supports the output of a 720p color bar pattern when no source is connected
Supports automatic signal down conversion to match HDBaseT bandwidth requirements
- 4K@50/60Hz (4:4:4) → 4K@50/60Hz (YUV 4:2:0, 8-bit)
- 4K@23/24/25/30Hz (10 or 12-bit) → 4K@23/24/25/30Hz (8-bit)
- 4K@50/60Hz (YUV 4:2:0, 10 or 12-bit) → 4K@50/60Hz (YUV 4:2:0, 8-bit)
Supports the Optical Audio Return (OAR) function to transmit optical audio from a compatible receiver to this transmitter
Supports the insertion of external stereo audio into the transmitted HDBaseT signal 3
Comprehensive EDID management support including 6 pre-defined EDIDs, 9 user EDIDs and an EDID bypass mode
PC-based EDID management software allows for the uploading of customized user EDIDs via USB
Supports HDMI DDC bus clock stretching for improved compatibility with certain Blu-ray players
Performs TMDS re-clocking and signal re-generation for improved signal integrity
Supports standard 48V PoH from Transmitter (PSE) to Receiver (PD) (compatible Receivers only)
Ultra-slim case design for easy installation (only 16mm thick!)
Notes:
The 48V PoH function is designed for powering compatible Receiver units only—non-PoH Receivers will need their own power supply. Receivers of another brand may not be compatible.
4K and 3D sources or equivalently high-bandwidth signals require an appropriate compatible display and HDMI cables in order to achieve the best image quality. The use of "Premium High Speed HDMI" cables is highly recommended.
Specifications:
Video Bandwidth: HDM - 600MHz/18Gbps; HDBaseT - 340MHz/10.2Gbps
Input Ports: 1 × HDMI; 1 × Terminal Block (Stereo Audio)
Output Ports: 1 × Cat.5e/6/7; 1 × Optical (S/PDIF Audio); 1 × Terminal Block (Stereo Audio)
Control Interfaces: 1 × IR Blaster [3.5mm]; 1 × IR Extender [3.5mm]; 1 × RS-232 [Terminal Block]; 1 × LAN [RJ-45]; 1 × USB Mini-B
HDMI Cable Length: 10m (1080p@60Hz, 12-bit); 3m (4K@60Hz, YUV 4:4:4, 8-bit)
IR Frequency: 30 - 50kHz (30 - 60kHz under ideal conditions)
Baud Rate: Up to 115200bps
Power Supply: 48V/0.83A DC (US/EU standards, CE/FCC/UL certified)
Power Consumption: 17.8W
ESD Protection: Human Body Model: ±12kV (Air Discharge); ±8kV (Contact Discharge)
Dimensions (cm's): 16.3 (w) × 7.8 (d) × 1.6 (h) [Case Only]; 16.3 × 7.92 (d) x 1.6 (h) [All Inclusive]
Weight (grams): 184g
Chassis: Black Aluminum
Operating Temperature: 0˚C - 40˚C/32˚F - 104˚F
Storage Temperature: −20˚C - 60˚C/−4˚F - 140˚F
Relative Humidity: 20% - 90% RH (Non-condensing)
Connects From :
Connects To :

HDMI (HDTV)
LAN
IR Extender (Rx)
USB (Service)
RS-232 Terminal Block
Analog Stereo L/R terminal block

Optical TOSlink S/PDIF
IR Blaster (Tx)
Analog Stereo L/R terminal block
Converts From :
Converts To :

HDTV 480p
HDTV 576p
HDTV 720p
HDTV 1080p
HDTV 1080i
HDTV 480i
HDTV 576i
4K x 2K
3D
1 x HDMI/Audio over CAT Cable Transmitter w/ 48V PoH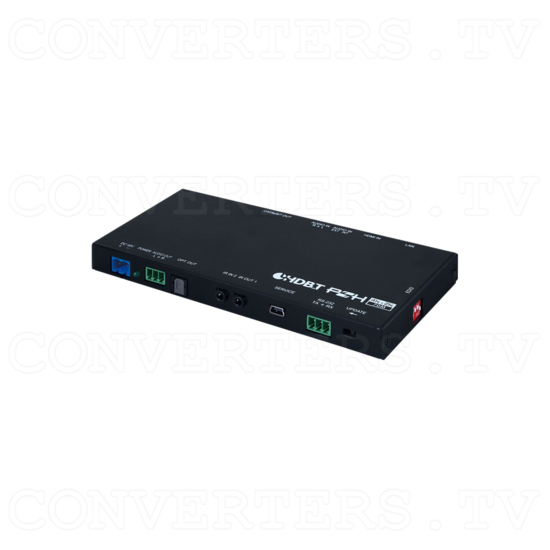 HDMI/Audio over CAT Cable Transmitter w/ 48V PoH - ID#15519 Full View.png
HDMI/Audio over CAT Cable Transmitter w/ 48V PoH - ID#15519 Front View.png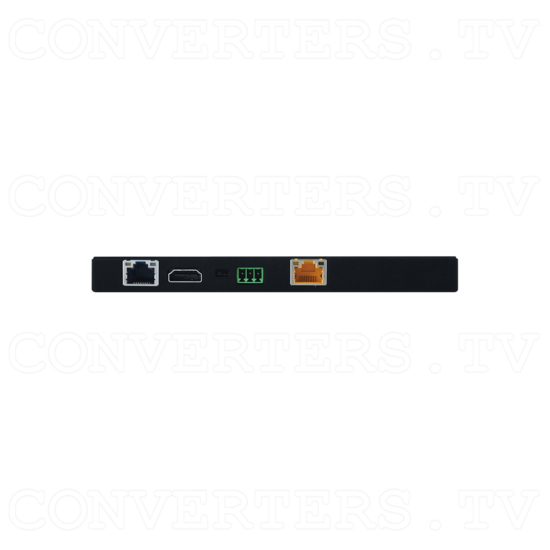 HDMI/Audio over CAT Cable Transmitter w/ 48V PoH - ID#15519 Back View.png