HDMI 8 In 1 Out Switcher

save 25%




The HDMI 8 In 1 Out Switcher allows for eight separate HDMI input devices to share one HDTV display. It allows you to easily switch between the eight input devices to select the desired input for display. Digital HDMI output devices such as Digital VCR / DVD / CVD / SCVD players, Set Top boxes, PS3 or Xbox360 Game Consoles or Converter units can easily be connected via HDMI cable.

For selection of your desired device source, you simply push the "Input" button on the unit. This will cycle between input sources and the LED will illuminate to indicate which input source is being selected. You can also switch between input sources using the included remote control.

This device will suit people who have multiple HDMI devices, but may have only one HDMI input port on their HDTV. It is an extremely low cost, low fuss solution for people who require more than one HDMI port on their HDTV, without the need for an expensive HDTV upgrade. The unit eliminates the time and hassle of constantly swapping cables between devices, greatly simplifying the process of switching between input devices for more pleasurable time spent viewing or playing your favorite movies or games.

| | | | |
| --- | --- | --- | --- |
| Unit Dimensions: | 28.0 x 10.5 x 4.5 cm | Shipping Weight: | 1.40 kg |
| Location: | NSW, Australia | Item Type: | HDMI Converters |
| Condition: | New | Warranty : | 12 Months |
| Certificates : | CE, CTick, UL | Manual : | User Manual (494.52 KB) |
Features:
HDMI 1.3, HDCP 1.1, and DVI 1.0 compliant
Connect up to 8 individual HDMI video sources to one HDTV
Signal enhancement feature allows you to improve signal quality over long distance transmission
LED indicators
Supports Input/Output resolution PC: VGA, SVGA, XGA, SXGA, UXGA (1600x1200), and WUXGA (1920x1200); HDTV: 480i, 576i, 480p, 576p, 720p, 1080i and 1080p
Remote Control
RS232 port
Easy to install and operate
Specifications:
Inputs: 8 x HDMI female port (type A connector)
Output: 1 x HDMI female port (type A connector)
Frequency Bandwidth: 2.25Gbps (single link)
Power Supply: 5V DC
Dimensions (mm): 280 (W) x 104 (L) x 44 (H)
Weight (g): 850
Colour: Black
Operating Temperature: 0°C-40°C
Power Supplies:
Multi-Voltage Power Supply : 100 - 240VAC to 5V DC 2.6A Switch Mode Power Supply - Center Positive
Connects From :
Connects To :

HDMI (HDTV)
VGA 9 pin D-sub
Converts From :
Converts To :

HDTV 480p
HDTV 576p
HDTV 720p
HDTV 1080p
HDTV 1080i
HDTV 480i
HDTV 576i

HDTV 480p
HDTV 576p
HDTV 720p
HDTV 1080p
HDTV 1080i
HDTV 480i
HDTV 576i
1 x HDMI Switcher 8 in : 1 out
1 x Product Manual
1 x 100-240VAC to 5V DC 2.6A Switch Mode Power Supply (Center Positive)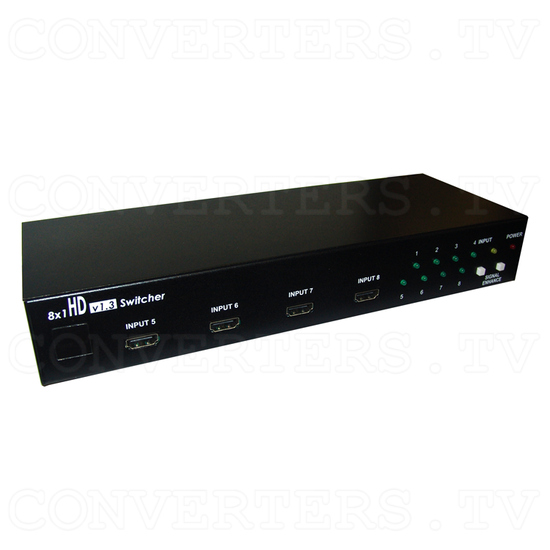 HDMI 8 In 1 Out Switcher - Full View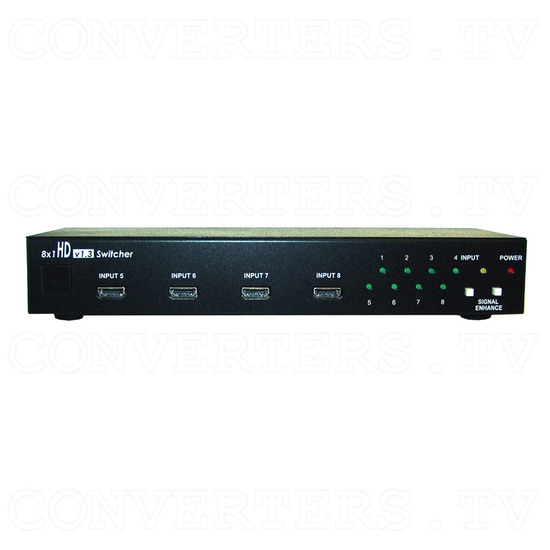 HDMI 8 In 1 Out Switcher - Front View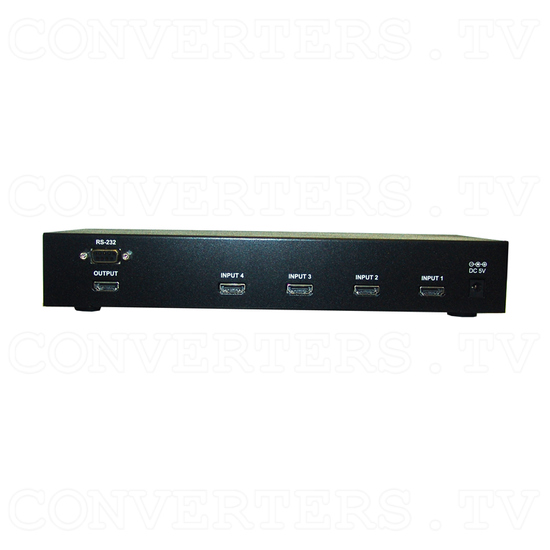 HDMI 8 In 1 Out Switcher - Back View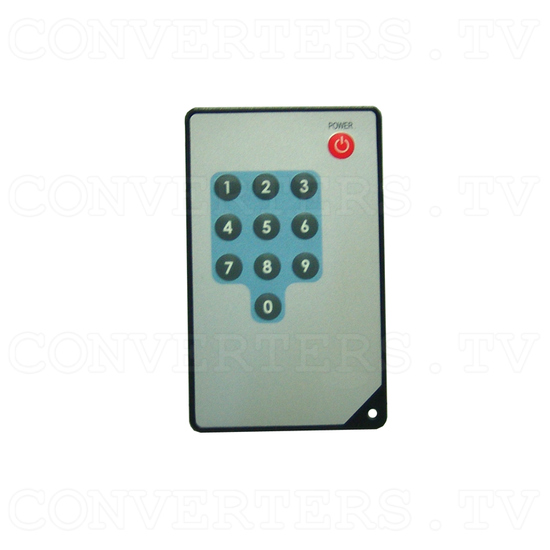 HDMI 8 In 1 Out Switcher - Remote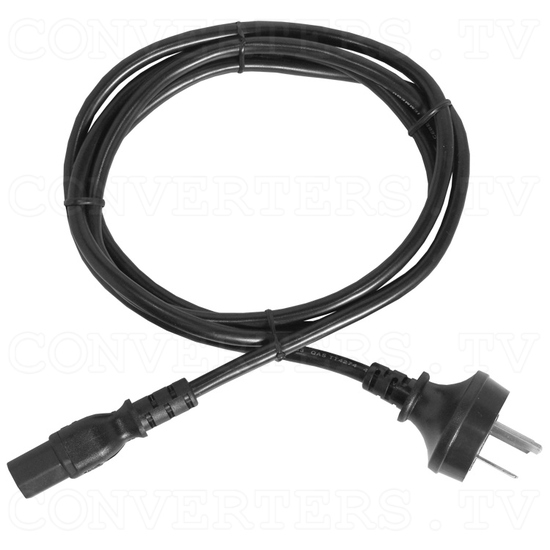 HDMI 8 In 1 Out Switcher - Power Supply 110v OR 240v
HDMI 8 In 1 Out Switcher - Full Kit