HDMI 4K with LAN over CAT5e/6/7 Receiver

save 5%




New HDMI 4K with LAN over CAT5e/6/7 Receiver terminates a single pair of CAT5e/6/7 wires up to a distance of 100m from the source and receives uncompressed HDMI HD 1080p, UHD 4K2K and 3D format video, audio and IP data.

The HDMI 4K with LAN over CAT5e/6/7 Receiver supports HDMI video like HD 1080p, UHD 4K2K and all 3D formats, plus it supports a bi-directional LAN serving, allowing a device such as a Smart TV or a Games Console to connect to the Internet.

High Definition Digital audio is also supported by the HDMI 4K with LAN over CAT5e/6/7 Receiver, handling up to LPCM 7.1CH, Dolby TrueHD, Dolby Digital Plus and DTS-HD Master Audio standards.

The HDMI 4K with LAN over CAT5e/6/7 Receiver is powered via an in-built PoE (Power over Ethernet) function, thus receiving its operating power from a compatible transmitter, allowing for far greater flexibility with remote site installations.

Compatible Transmitter:

ID#15204: https://www.converters.tv/products/vga_to_hdtv/15204.html

| | | | |
| --- | --- | --- | --- |
| Unit Dimensions: | 5.0 x 13.0 x 2.3 cm | Shipping Weight: | 0.64 kg |
| Location: | NSW, Australia | Item Type: | CAT5/6 Cable Products |
| Condition: | New | Warranty : | 12 Months |
| Certificates : | CE, CTick, UL | | |
Features:
HDMI with 3D, 4K×2K support, HDCP and DVI compliant
Simultaneous transmission of uncompressed data over a single CAT5e/6/7 cable up to 100m/328ft
Uncompressed video support up to 1080p@60 Hz/12-bit
High definition audio support up to LPCM 7.1CH, Dolby TrueHD, Dolby Digital Plus and DTS-HD Master Audio
Supports HDCP repeater and CEC function
Installation friendly
Important Note:
The PoE function is designed for use with compatible Transmitter units only.
Transmitters from other brands may not be compatible.
Use with Non-compatible transmitters voids Warranty.
Features:
Video Bandwidth: 340 MHz / 10.2 Gbps
Ethernet Speed: 100 Mbps
Input Port: 1 × CAT5e/6/7
Output Ports: 1 × HDMI, 1 × LAN (RJ45)
HDMI Output Cable Distance: Up to 10 meters
CAT5e/6 Input Cable Distance: Up to 100 meters
Resolutions Support: HDMI HD 480i~1080p@50/60, 1080p@24, UHD 4K2K, 3D & VGA~WUXGA
ESD Protection: Human body model: ±8kV (air-gap discharge); ±4kV (contact discharge)
Dimensions (cm's): 5.0 (w) × 13.0 (d) × 2.3 (h)
Operating Temperature: 0˚c ~ 40˚c / 32˚f ~104˚f
Storage Temperature: −20˚c ~ 60˚c / −4˚f ~ 140˚f
Relative Humidity: 20% ~ 90 % RH (non-condensing)
Power Consumption (watts): 12.1w
| Connects From : | Connects To : |
| --- | --- |
| | |
Converts From :
Converts To :

HDTV 480p
HDTV 576p
HDTV 720p
HDTV 1080p
HDTV 1080i
HDTV 480i
HDTV 576i
4K x 2K
3D
1 x HDMI 4K with LAN over CAT5e/6/7 Receiver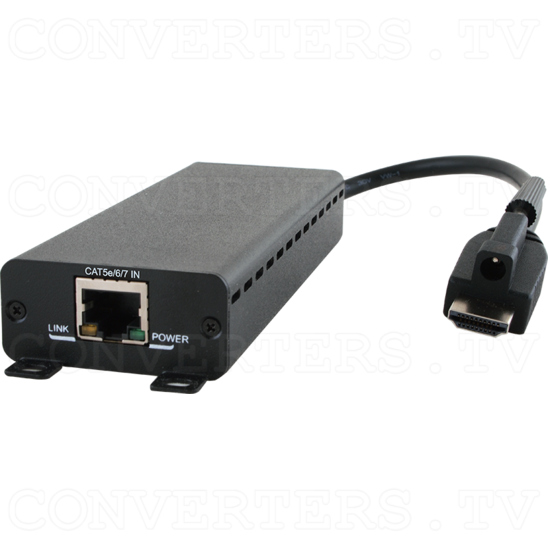 HDMI 4K with LAN over CAT5e/6/7 Receiver - Full View.png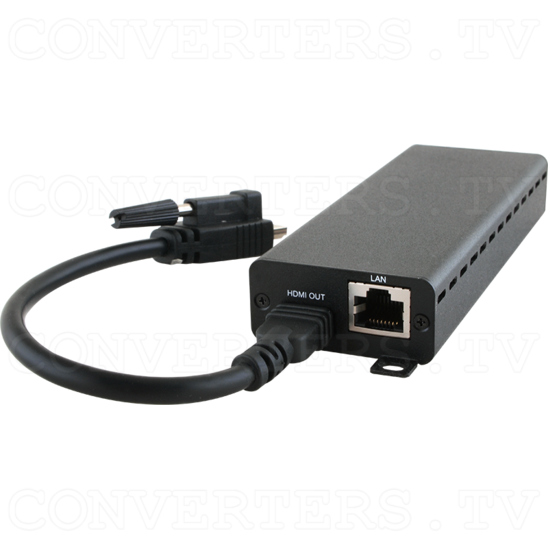 HDMI 4K with LAN over CAT5e/6/7 Receiver - Back View.png
HDMI 4K with LAN over CAT5e/6/7 Receiver - How To Connect.png