HDMI 4K UHD+ EDID Emulator

save 17%





The 4K UHD HDMI EDID Emulator is designed to manage and manipulate the EDID information provided by a connected HDMI source device. Extended Display Identification Data contain critical information about the capabilities of the connected HDMI display, including audio/video format support and HDMI features support.

The 4K UHD HDMI EDID Emulator aims to simplify the technical complications that often arise when performing video system integration, home theater installation, display room setup, or audio/video equipment testing.

Providing the ability to select between a display's native EDID and pre-made EDIDs, the 4K UHD HDMI EDID Emulator also allows the user to copy EDIDs from other displays and to use them. Alternately, create customized EDID codes using the PC-based EDID management software.



| | | | |
| --- | --- | --- | --- |
| Unit Dimensions: | 13.0 x 8.2 x 2.5 cm | Shipping Weight: | 0.65 kg |
| Location: | NSW, Australia | Item Type: | Digital and Analog Audio Products |
| Condition: | New | Warranty : | 12 Months |
| Certificates : | CE, CTick, UL | Manual : | User Manual (302.33 KB) |
Features:
HDMI input and output with 18Gbps (600MHz) 4K UHD support
DVI 1.0 compliant with the use of an HDMI-DVI adaptor
HDCP 1.4 and 2.2 compliant
Supports HD resolutions up to 3840×2160@60Hz (4:4:4, 8-bit) & 4096×2160@60Hz (4:4:4, 8-bit)
Supports 48-bit Deep Color up to 1080p@60Hz
Supports pass-through of LPCM 2.0/5.1/7.1, Bitstream, and HD Bitstream audio formats
Supports CEC pass-through
Supports four distinct EDID functions:
Read: Read and copy the connected display's EDID into the unit
Write: Overwrite connected display's EDID (only available on displays which explicitly support the overwrite function)
Emulation: The HDMI input device reads the EDID stored within the unit (built-in, learned, or created)
Bypass: The HDMI input device reads the EDID directly from the connected display
Supports 8 standard default EDIDs, 8 slots for user-created or learned EDIDs, and EDID bypass
Supports PC-based EDID management tools
Specifications:
Video Bandwidth: 600MHz / 18Gbps
Input Port: 1 x HDMI
Output Port: 1 x HDMI
Control Port: 1 x USB mini-B
Supported Resolutions: 480p/i@60Hz ~ 4K@60Hz (4:4:4, 8-bit); VGA@60Hz ~ WUXGA@60Hz (RB)
HDMI Cable Length: 10m (1080p@60Hz, 12-bit); 3m (4K@60Hz, 4:4:4, 8-bit)
Power Supply: 100-240vAC to 5vDC 2.6A (US/EU standards; CE/FCC/CL approved)
Power Consumption (watts): 2.8w
Dimensions (cm's): 7.5 (w) x 11.0 (d) 2.5 (h) (case only); 13.0 (w) x 18.2 (d) x 2.5 (h) (all included)
Weight (grams): 265g
Chassis: Black Metal
Operating Temperature: 0c ~ 40c / 32f ~ 104f
Relative Humidity: 20% ~ 90% RH (non-condensing)
ESD Protection: Human Body Model: +/-12kV (air-gap discharge); +/-8kV (contact discharge)
Connects From :
Connects To :

HDMI (HDTV)
USB (Service)
Converts From :
Converts To :

HDTV 480p
HDTV 576p
HDTV 720p
HDTV 1080p
HDTV 1080i
HDTV 480i
HDTV 576i
4K x 2K
3D

HDTV 480p
HDTV 576p
HDTV 720p
HDTV 1080p
HDTV 1080i
HDTV 480i
HDTV 576i
4K x 2K
3D
1 x HDMI 4K UHD+ EDID Emulator
1 x Product Manual
HDMI 4K UHD+ EDID Emulator - Full View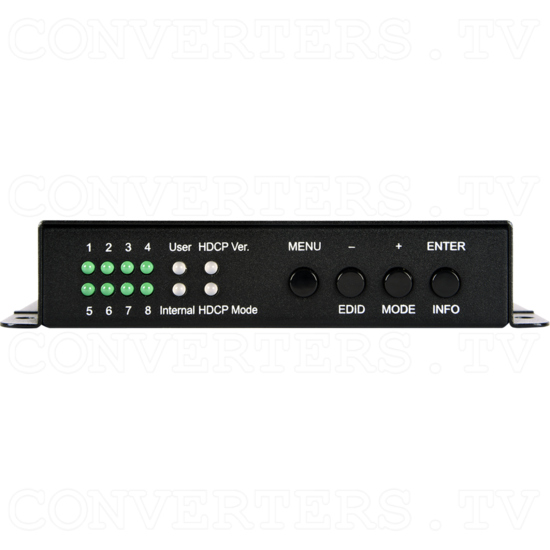 HDMI 4K UHD+ EDID Emulator - Front View
HDMI 4K UHD+ EDID Emulator - Back View