HDMI 2 In 1 Out Switcher

save 18%




The HDMI 2 In 1 Out Switcher is a quality, high performance HDMI switch designed to allow either of two HDMI sources to be displayed on one High Definition TV. The very simple and compact design makes for effort free control of your HDMI sources such as Blu Ray players, Set Top Box, Cable Box, DVD players, Game consoles, etc. Simple and affordable, the switcher is ideal for any Home Theatre setup.

Standard and High Definition video support for PC: VGA, SVGA, XGA, SXGA and UXGA(1600*1200) and for HDMI/DVI: 480i, 480p, 576i, 576p, 720p, 1080i and 1080p. Transmission distance from the device output is up to 70m@1080p. Automatic equalization of the received single compensates for long distance transmission of High Definition signals. Output resolution equals selected input resolution.

Simple to install and operate, it is powered by a 100-240vAC to 5vDC power adapter. It makes controlling your HDMI video sources very easy and uncomplicated with clearly marked inputs 1 and 2, and 1 output, plus an easily accessible top mounted switch for input selection, the HDMI 2 In 1 Out Switcher simplifies the operation of your Home Theatre devices. Also works with DVI video equipment using a DVI to HDMI Adapter cable and extend Audio from the source player direct to an external sound system.

| | | | |
| --- | --- | --- | --- |
| Unit Dimensions: | 10.0 x 6.4 x 1.9 cm | Shipping Weight: | 0.34 kg |
| Location: | NSW, Australia | Item Type: | |
| Condition: | New | Warranty : | 12 Months |
| Certificates : | CE, CTick, UL | Manual : | User Manual (212.35 KB) |
Features:
HDMI 1.2, HDCP 1.1 and DVI 1.0 compliant
Input LED indicators: Red=Input 1; Green=Input 2
Accepts HDMI and DVI input/output
Automatically provides equalisation to compensate for long cable transmission loss up to 70m@1080p
Supports high resolution input: PC: VGA, SVGA, XGA, SXGA, and UXGA (1600 x 1200); HDTV: 480i, 576i, 480p, 576p, 720p, 1080i and 1080p
Easy to install and operate
Specification:
Frequency Bandwidth: 1.65Gbps (single link)
Output resolution = Input resolution (if 720p in = 720p out; 1080p in = 1080p out)
Inputs: 2 x HDMI female ports (Type A connector)
Output: 1 x HDMI female port (Type A connector)
100-240vAC to 5vDC Power Adapter, Center Positive
Weight(g): 95g
Dimensions(mm): 100(W) x 64(L) x 18.5(H)
Colour: White
Operating Temperature: 0°C~40°C
Accepted Resolutions: HDMI/DVI:
PC:
640*480@60Hz
640*480@72Hz
640*480@75Hz
800*600@56Hz
800*600@60Hz
800*600@72Hz
800*600@75Hz
1024*768@60Hz
1024*768@70Hz
1024*768@75Hz
1280*960@60Hz
1280*1024@60Hz
1280*1024@75Hz
1600*1200@60Hz
1920*1200@60Hz
HD:
720*480i@59Hz
720*480i@60Hz
720*480p@59Hz
720*480p@60Hz
1280*720p@59Hz
1280*720p@60Hz
1920*1080i@59Hz
1920*1080i@60Hz
1920*1080p@59Hz
1920*1080p@60Hz
720*576i@50Hz
720*576p@50Hz
1280*720p@50Hz
1920*1080i@50Hz
1920*1080p@50Hz
1920@1080p@23Hz
1920*1080p@24Hz
1366*768@60Hz
1366*768@50Hz
Converts From :
Converts To :

HDTV 480p
HDTV 576p
HDTV 720p
HDTV 1080p
HDTV 1080i
HDTV 480i
HDTV 576i

HDTV 480p
HDTV 576p
HDTV 720p
HDTV 1080p
HDTV 1080i
HDTV 480i
HDTV 576i
1 x 2-in 1-out HDMI Switcher
1 x Product Manual
1 x Switch mode Power Supply 100-240v 50-60Hz 0.3A, DC 5V - 1.2A
HDMI 2 In 1 Out Switcher - Full view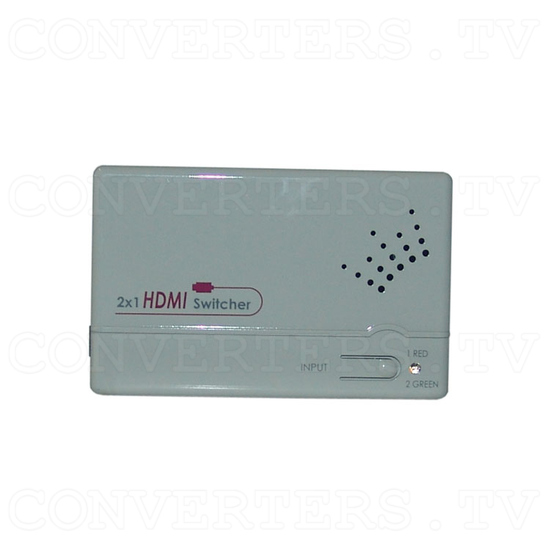 HDMI 2 In 1 Out Switcher - Top View
HDMI 2 In 1 Out Switcher - Front View
HDMI 2 In 1 Out Switcher - Back View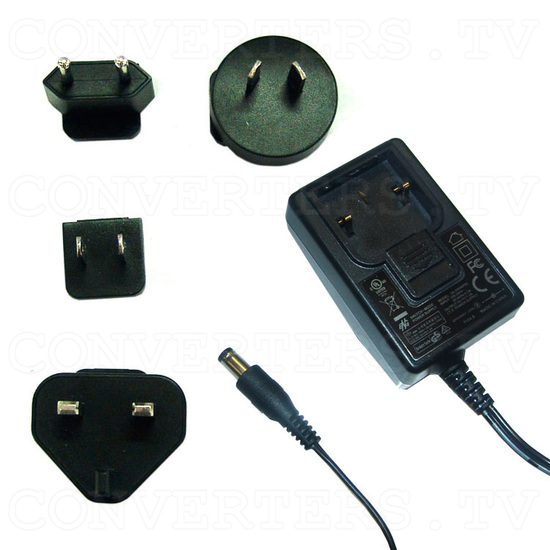 HDMI 2 In 1 Out Switcher - Power Supply 110v OR 240v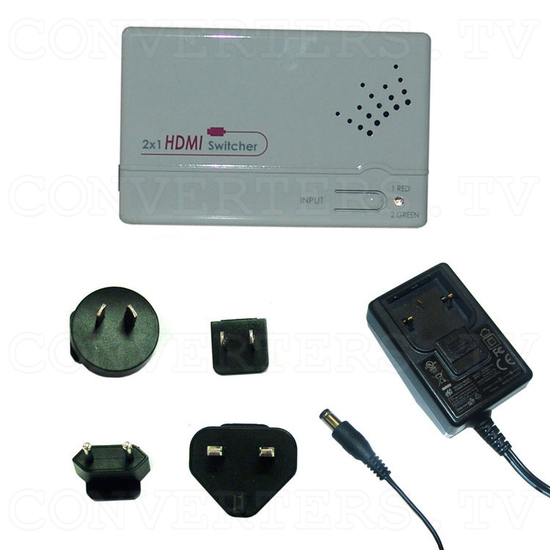 HDMI 2 In 1 Out Switcher - Full Kit