| | |
| --- | --- |
| | HDMI 1x2 v1.3 Splitter |
The HDMI 1x2 v1.3 Splitter allows you to split one HDMI source into two separate HDMI outputs for use with multiple displays simultaneously. Besides splitting and distributing, the unit also amplifies the signal providing high performance input/output of video and audio without signal loss. Compatible with HDMI v1.3 specifications, with support for Deep Color (10-bit and 12-bit) video and new lossless compressed (Dolby TrueHD, Dolby Digital Plus and DTS-HD Master Audio) digital audio, with a high bandwidth up to 225MHz (6.75Gbps).

The HDMI 1x2 v1.3 Splitter divides the selected HDMI input signal into two separate and equal outputs for display to two High Definition TV's or Monitors (via HDMI). The signals are re-shaped and amplified so no signal loss occurs. This produces high quality HDMI video signals to each of the two displays. The splitter supports all HDMI compliant devices such as DVD players, Blu-Ray Players, Set-Top Boxes and Gaming Consoles. It is ideal for Professional Advertisers, Business owners, Academic Lecturers and Teachers or for private Home Theatre use.

High Definition resolutions up to 1080p, and UXGA for PC's are supported. Each of the two outputs can be run up to 15 meters (1080p/8 Bits signal) in distance before further amplification is required.As the HDMI 1x2 v1.3 Splitter is DVI 1.0 compliant, it can also be used with DVI devices. Simply connect your DVI source or display by using a HDMI/DVI converter cable.

| | | | |
| --- | --- | --- | --- |
| Unit Dimensions: | 14.5 x 9.0 x 3.2 cm | Shipping Weight: | 0.80 kg |
| Location: | NSW, Australia | Item Type: | HDMI Converters |
| Condition: | New | Warranty : | 12 Months |
| Certificates : | CE, CTick, UL | Manual : | User Manual (274.24 KB) |
Features:
HDMI 1.3, HDCP1.1 and DVI1.0 compliant Receiver
Deep color video up to 12bit, 1080p@(24/60)Hz
One HDMI source which connect up to two HDMI displays simultaneously
HDCP keysets allows each output to work independently when connecting to a HDMI display
Splits a HDMI source up to two outputs without signal loss
Supports DVI source and DVI display by using HDMI to/from DVI adaptor cable
Dolby Digital, DTS digital audio transmission (32-192 kHz Fs sample rate)
Supports a wide range of PC and HDTV resolutions, from VGA to UXGA and 480i to 1080p
HDMI cable distance test with 1080p/8bits resolution the Input/Output distance can run up to 15/15 meters. with 1080p/12bits the Input/Output distance can run up to 10/15 meters
Supports EDID functionality. The unit will detect the first HDMI/DVI output sources EDID and record in the unit. If the first detected output source is empty it will pass to next source, until the first HDMI/DVI been detected. When users reconnect all the output sources or re-plug the power source,the system will automatically recover the EDID
Supports xvYCC
Supports CEC bypass
Specifications:
Frequency Bandwidth: 2.25Gbps (single link)
Input Port: 1x HDMI female port (Type A connector)
Output Ports: 2x HDMI female ports (signal link)
Power Supply: 5VDC/2.6A (US/EU standards, CE/FCC/UL certified)
Dimensions (mm): 145(W) x 90(D) x 32(H)
Weight (g): 160
Chassis Material: Plastic
Silkscreen Color: Silver
Operating Temperature: 0°C ~ 40°C
Power Supplies:
Multi-Voltage Power Supply : 100 - 240VAC to 5V DC 2.6A Switch Mode Power Supply - Center Positive
Connects From :
Connects To :

DVI - I (HDTV)
HDMI (HDTV)

DVI - I (HDTV)
HDMI (HDTV)
Converts From :
Converts To :

HDTV 480p
HDTV 576p
HDTV 720p
HDTV 1080p
HDTV 1080i
HDTV 480i
HDTV 576i
3D

HDTV 480p
HDTV 576p
HDTV 720p
HDTV 1080p
HDTV 1080i
HDTV 480i
HDTV 576i
3D
1 x HDMI 1x2 v1.3 Splitter
1 x Product Manual
1 x 100-240VAC to 5V DC 2.6A Switch Mode Power Supply (Center Positive)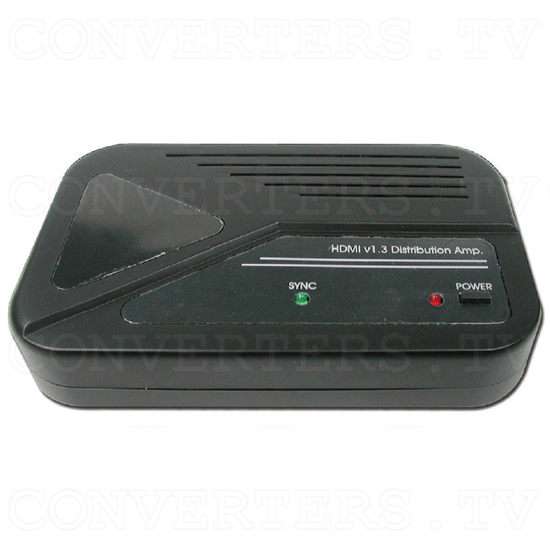 HDMI 1x2 v1.3 Splitter - Full View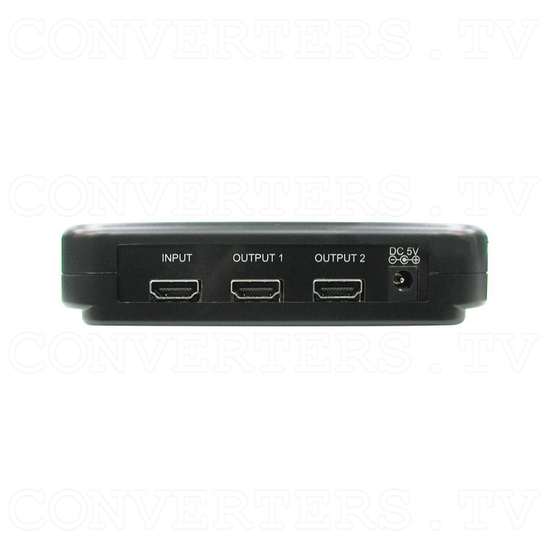 HDMI 1x2 v1.3 Splitter - Back View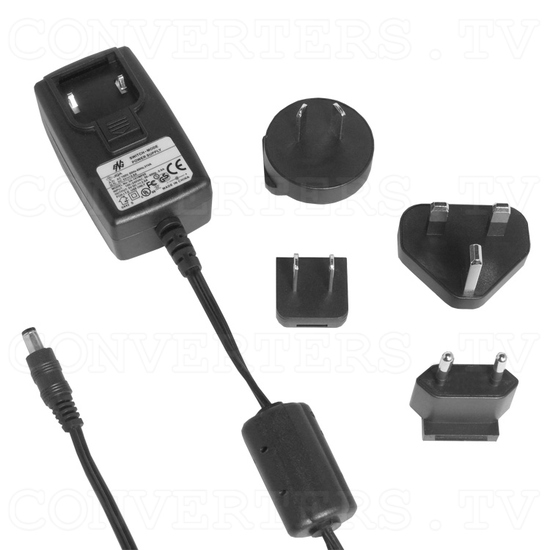 HDMI 1x2 v1.3 Splitter - Power Supply 110v OR 240v