| | |
| --- | --- |
| | HDMI & VGA Receiver over IP with USB Connections |
The HDMI/VGA over CAT5e/6/7 Extender is a multi-function transmitter and receiver set supporting the transmission of ultra high-definition signals (up to 4K2K@30Hz, YUV444). This system is an ideal solution for any household or commercial environment. It also features HDMI (DVI compatible with adaptor) and VGA inputs and outputs.

The video and audio can be transmitted over distances up to 100m through a single switching hub, can be extended up to 100m between switching hubs and also supports Gigabit networks. Additionally, the HDMI/VGA over CAT5e/6/7 Extender system includes extra functions like bi-directional IR passthrough for control of attached devices. Adjustable analog In/Out Line levels and separate Microphone input provides the User with a variety of audio options.

The USB connections function allows the system to act like a USB hub. Combined with the VGA input/output feature it allows the system to be used as a KVM switch. Adding extra HDMI/VGA over CAT5e/6/7 Extenders allows the User to cascade the system to extend transmission distance without signal loss or delay. Featuring extensive user-friendly control options, the transmitter and receiver set can be controlled by via On-screen Display (OSD), Telnet, IR Remote, WebGUI and RS-232 commands.

| | | | |
| --- | --- | --- | --- |
| Unit Dimensions: | 18.0 x 11.3 x 2.5 cm | Shipping Weight: | 1.41 kg |
| Location: | NSW, Australia | Item Type: | |
| Condition: | New | Warranty : | 12 Months |
| Certificates : | CE, CTick, UL | Manual : | User Manual (497.2 KB) |
Features:
HDMI with 4Kx2K supported, HDCP 2.2 compliant
Supports 1 HDMI and 1 VGA inputs
Supports video and audio transmission over IP
Supports input resolution of HDTV up to 4K2K@60Hz YUV 4:2:0 or 4K2K@30Hz YUV 4:4:4
Supports output resolution up to 4K2K@30Hz YUV4:2:0
Supports pass-through of audio formats of PCM 2CH, Dolby digital 5.1, DTS
Supports bitstream data for data transmit over IP
Supports audio line in for input audio to Transmitter and line out to earphone
Supports Microphone In via Receiver
Supports USB keyboard and mouse for easy operation
Device can be controlled by OSD, WebGUI and on panel buttons
Supports IR and RS-232 bypass
Compliant with DVI source
Specifications:
Transmitter:
Video transmission format: H264
Input Ports: 1 x HDMI; 1 x VGA; 1 x Audio line in; 1 x Audio line out; 1 x USB in (USB2.0); 1 x IR Blaster; 1 x IR Extender
Output Port: 1 x CAT5e/6; 1 x RS232 (For bypass only)
IR Frequency: 30 ~ 50KHz
Support Resolutions for HDMI input 480i/p ~ 1080i/p@24/50/60Hz and 4K2K@60Hz YUV 4:2:0 or 4K2K@30Hz
Support Resolutions for VGA input: 1920 x 1200p@60Hz (RB)
Baud Rate: 300~230400 bps (default at 115200 bps)
Power Supply: 100-240vAC to +5VDC 2.6A (US/EU standards, CE/FCC/UL certified)
Weight (gms): 440 g
Dimensions (cms): 18.0(l) x 10.0(d) x 3.0(h) jack excluded; 18.0(l) x 11.0 (d) x 2.5(h) jack included
Chassis: Black Metal
Operating Temp: 0c~40c/32f~104f
ESD Protection: Human Model: +/-8kV (contact); +/-4kV (air)
Relative Humidity: 20%~90% (non-condensing)
Receiver:
Output Ports: 1 x HDMI; 1 x VGA; 1 x MIC in; 1 x Line out; 1 x IR Emitter; 1 x IR Extender; 2 x USB 1.1 (for keyboard and mouse); 2 x USB 2.0 (for thumb drive and USB2.0 supported device, the USB camera or external hard disk with USB interface is not supported)
Input Port: 1 x CAT5e/6; 1 x RS232 (Bypass only)
IR Frequency 30 ~ 50 kHz
Support Resolutions for HDMI output 480i/p ~ 1080i/p@24/50/60Hz and 4K2K@30Hz RGB
Support Resolutions for VGA output: 1920x1200P@60Hz (RB)
Baud Rate: 300~115200 bps (default at 115200bps)
Power Supply: 100-240vAC to +5VDC 4A (US/EU standards, CE/FCC/ UL certified)
Weight (gms): 395 g
Dimensions (cms): 18.0(l) x 10.0(d) x 3.0(h) jack excluded; 18.0(l) x 11.3(d) x 3.0(h) jack included
Chassis: Black Metal
ESD: Human Model: Human Model: +/-8kV (contact); +/-4kV (air)
Relative Humidity: 20%~90% (non-condensing)
Connects From :
Connects To :

VGA 15pin D-Sub (31K+)
HDMI (HDTV)
USB (PC) Type A Device Ports
RJ-45 Ethernet
3.5mm Headphone Jack
RS-232 (9 pin D-Sub)
IR Blaster (Tx)
IR Extender (Rx)
Converts From :
Converts To :

HDTV 480p
HDTV 576p
HDTV 720p
HDTV 1080p
HDTV 1080i
HDTV 480i
HDTV 576i
4K x 2K
3D
1 x HDMI & VGA Receiver over IP with USB Connections
1 x User Manual
1 x Product Manual
1 x Infrared Reciever
1 x 100-240VAC to 5V DC 2.6A Switch Mode Power Supply (Center Positive)
HDMI & VGA Receiver over IP with USB Connections - Full View
HDMI & VGA Receiver over IP with USB Connections - Front View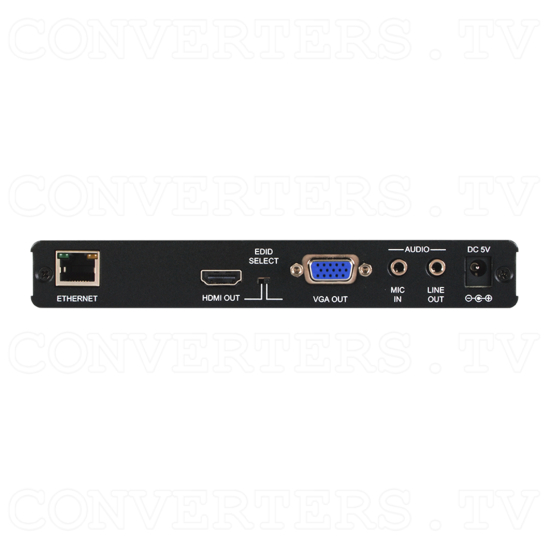 HDMI & VGA Receiver over IP with USB Connections - Back View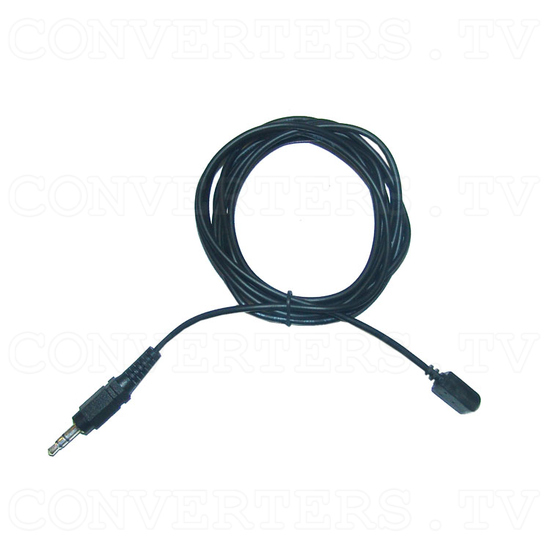 HDMI & VGA Receiver over IP with USB Connections - Infrared Reciever
HDMI & VGA Receiver over IP with USB Connections - Power Supply 110v OR 240v