HDBaseT HDMI/IR/RS-232/PoE to CAT5e/6/7 Transmitter

save 15%




The HDBaseT HDMI/IR/RS-232/PoE to CAT5e/6/7 Transmitter ( used in conjunction with the receiver #782) makes your home or office more efficient by transmitting and receiving uncompressed HDMI video and audio signals up to a distance of 100m. You can control signalling that can be utilised on the HDBaseT HDMI/IR/RS-232/PoE to CAT5e/6/7 Transmitter/Receiver through the built-in RS-232 and IR ports over 100 meters.


Household entertainment sharing and control
Lecture room display and control
Showroom display and control
Meeting room presentation and control
Classroom display and control

Compatible Receiver:

ID#782: http://www.converters.tv/products/vga_to_vga/782.html

| | | | |
| --- | --- | --- | --- |
| Unit Dimensions: | 10.2 x 11.5 x 2.5 cm | Shipping Weight: | 1.00 kg |
| Location: | NSW, Australia | Item Type: | |
| Condition: | New | Warranty : | 12 Months |
| Certificates : | CE, CTick, UL | Manual : | User Manual (331.86 KB) |
Features:
HDMI 1.4 with 3D, 4k x 2k support, HDCP & DVI Compliant
Supports Ethernet up to 100Mbps
Supports Power over Ethernet (PoE) of remote receiver
Supports IR and RS-232 control
Supports CEC bypass
Simultaneously transmit uncompressed data over a single 100M/328ft with CAT6/CAT5e cable
Uncompressed video 1080p, 60Hz, 36bits
Audio support up to 7.1CH & Dolby TrueHD, DTS-HD
5Play™ convergence: HDMI, LAN, POE & Control (IR & RS232)
Installation Friendly
Specifications:
Video Bandwidth: 300MHz / 9Gbps
Ethernet Speed: up to 100Mbps
Input: 1 x HDMI, 1 x IR Extender, 1 x RS-232 1 x LAN Ethernet
Output: 1 x RJ45 CAT5e/6/7, 1 x IR Blaster
HDMI In/Out Cable Distance: Up to 10m
CAT5e/6/7 In/Out Cable Distance: Up to 100m
HDMI In/Out Resolutions: PC VGA~WUXGA; HD 480i/p~1080i/p@50/60Hz, 1080p@24Hz
IR Frequency: 30~50Hz
Power Supply: 100-240vAC to +24vDC 1.25A (US/EU standards; CE/FCC/UL certified)
Power Consumption: 13 watts
Weight (g): 256
Dimensions (cm): 10.2(L) x 11.5(W) x 2.5(H)
Chassis Material and Colour: Aluminium Silver
Operating Temp: 0c ~ 40c / 32f ~ 104f
Relative Humidity: 20~90% RH (non-condensing)
Accepted HDMI And DVI PC Timings:
640*480@60/72/75Hz
800*600@56/60/72/75Hz
1024*768@60/70/75Hz
1280*960@60Hz
1280*1024@60/75Hz
1366*768@50/60Hz
1600*1200@60Hz
1920*1200@60Hz
Accepted HDMI And DVI HD Timings:
720*480i@59/60Hz (Not DVI)
720*480p@59/60Hz
720*576i@50Hz (Not DVI)
720*576p@50Hz
1280*720p@50/59/60Hz
1920*1080i@50/59/60Hz
1920*1080p@23/24Hz (Not DVI)
1920*1080p@50/59/60Hz
Note: This system was tested with CAT6/23AWG cable. Results may vary with cables of different specifications.
Converts From :
Converts To :

HDTV 480p
HDTV 576p
HDTV 720p
HDTV 1080p
HDTV 1080i
HDTV 480i
HDTV 576i
CAT5/6 Protocol

HDTV 480p
HDTV 576p
HDTV 720p
HDTV 1080p
HDTV 1080i
HDTV 480i
HDTV 576i
CAT5/6 Protocol
1 x HDBaseT HDMI/IR/RS-232/PoE to CAT5e/6/7 Transmitter
1 x User Manual
1 x 100-240V Switch Mode Power Supply -- 24V ~ 1.25A (Center Positive)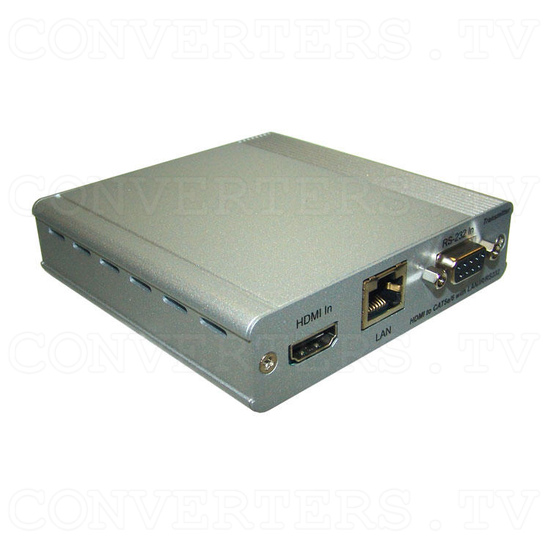 HDBaseT HDMI/IR/RS-232/PoE to CAT5e/6/7 Transmitter - Full View
HDBaseT HDMI/IR/RS-232/PoE to CAT5e/6/7 Transmitter - Angle View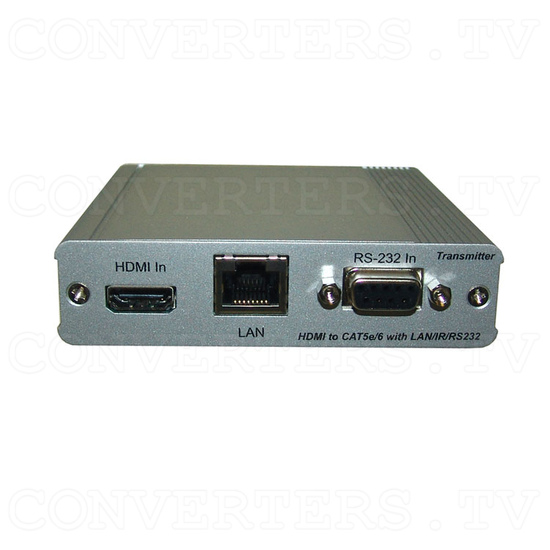 HDBaseT HDMI/IR/RS-232/PoE to CAT5e/6/7 Transmitter - Front View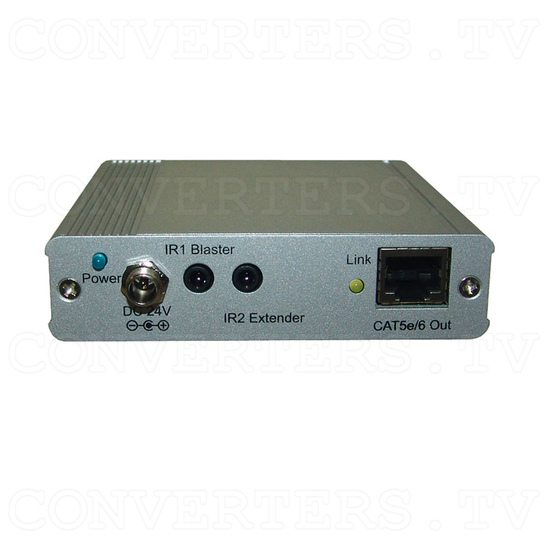 HDBaseT HDMI/IR/RS-232/PoE to CAT5e/6/7 Transmitter - Back View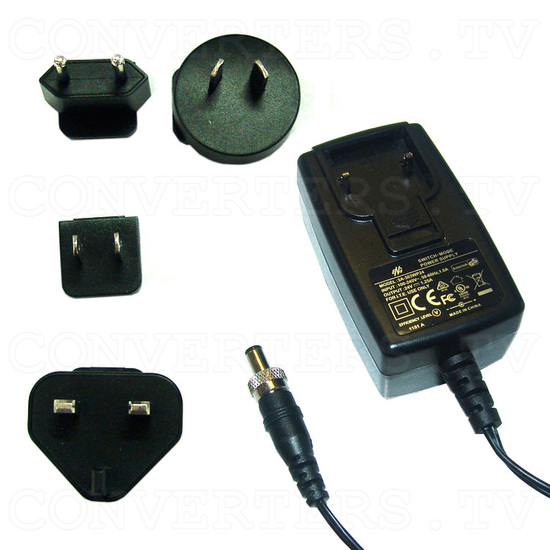 HDBaseT HDMI/IR/RS-232/PoE to CAT5e/6/7 Transmitter - Power Supply 110v OR 240v
HDBaseT HDMI/IR/RS-232/PoE to CAT5e/6/7 Transmitter - Full Kit