HDBaseT 8x8 UHD HDMI over CAT5e/6/7 Matrix with LAN HDCP 2.2

save 39%




New HDBaseT 8x8 UHD HDMI over CAT5e/6/7 Matrix with LAN HDCP 2.2 supports the transmission of HDMI video signals (with resolutions up to UHD 4K2K) and digital multi-channel audio signals over a single CAT5e/6/7 cable for up to 100m distance for each individual output. System setup and control is achieved using IR, RS-232, Telnet or WebGUI protocol. A LAN connectivity port allows a 100BaseT network to be attached to 'Smart TV's' or game consoles.

The HDBaseT 8x8 UHD HDMI over CAT5e/6/7 Matrix with LAN HDCP 2.2 supports SD and HD video 480i/p ~ 1080i/p@50/60Hz, all 3D video and UHD 4k2k video formats with the associated 3D and UHD 4k2k equipment attached. Full support is also given for HD digital audio formats such as LPCM 2Ch ~ 7.1CH, Dolby TrueHD, Dolby Digital Plus and DTS-HD Master Audio.

The Power over Cable (PoC) function can power compatible Receivers, providing greater flexibility in installations.

| | | | |
| --- | --- | --- | --- |
| Unit Dimensions: | 43.8 x 25.7 x 9.2 cm | Shipping Weight: | 5.30 kg |
| Location: | NSW, Australia | Item Type: | CAT5/6 Cable Products |
| Condition: | New | Warranty : | 12 Months |
| Certificates : | CE, CTick, UL | Manual : | User Manual (643.3 KB) |
Features:
HDMI with 4K2K supported, HDCP 1.1 and DVI compliant
Supports PC resolution up to WUXGA and HDTV resolution up to 4K2K (3840x2160@24/25/30 & 3840x2160@50/60_YUV420, 4096x2160 @24/25/30 & 4096x2160 @50/60Hz _YUV420)
Supports distances up to 100 meters through CAT5e/6/7 cable
Supports all 3D formats
Supports digital audio LPCM 2/5.1/7.1CH, Dolby Digital Plus, Dolby TrueHD and DTS-HD Master Audio
Supports PoC (Power over Cable) on compatible receivers only
Supports bidirectional IR from inputs and output locations
Supports RS-232, remote control, on-panel control and IP control (Telnet & Web GUI)
Supports LAN serving function through the LAN port
Supports Internal & External EDID settings
Compliant with DVI source
Specifications:
Video Bandwidth: 340MHz/10.2Gbps
Input Ports: 8 x HDMI, 9 x IR Extender, 1 x RS-232, 1 x LAN (RJ45), 1 x Mini USB (Service only)
Output Ports: 8 x CAT5e/6/7, 9 x IR Blaster
Supported Resolutions: 480i~1080p@24/50/60, 4K2K@24/25/50/60, YUV420@50/60 VGA~WUXGA
IR Frequency: 30~50kHz
Power Supply: 100-240vAC to +24vDC 6.25A (US/EU standards, CE/FCC/UL certified)
Power Consumption (watt): 65w (Tx) 62w (Rx)
ESD Protection: Human Model: ± 8Kv (air-gap) ; +/1 4Kv (contact)
Dimensions (WxDxH): 43.8 x 25.67 x 9.2 cm
Weight: 4.402kg
Chassis Material: Metal
Silkscreen Color: Black
Operating Temperatuer: 0c ~ 40c / 32f ~ 104f
Relative Humidity: 20% ~ 90% RH (non-condensing)
Note:
Do not connect the LAN/CONTROL port to CAT outputs of this device.
Do not connect more than one Ethernet/network link within the Matrix system, doing so may cause equipment malfunction and damage
The PoC (Power over Cable) function is designed for powering compatible receiver units only. Non-PoC receivers will need their own power supply. Receivers of another brand may not be compatible.
Connects From :
Connects To :

HDMI (HDTV)
RS-232 (9 pin D-Sub)
LAN
IR Extender (Rx)

CAT5 / CAT6 Cable RJ-45
IR Blaster (Tx)
Converts From :
Converts To :

HDTV 480p
HDTV 576p
HDTV 720p
HDTV 1080p
HDTV 1080i
HDTV 480i
HDTV 576i
4K x 2K
3D
1 x HDBaseT 8x8 UHD HDMI over CAT5e/6/7 Matrix with LAN HDCP 2.2
1 x Infrared Extender
1 x Infrared Blaster
1 x 100-240vAC to +24vDC 6.25A Power Supply
1 x Remote Control
1 x R/L Ear Jack
1 x Product Manual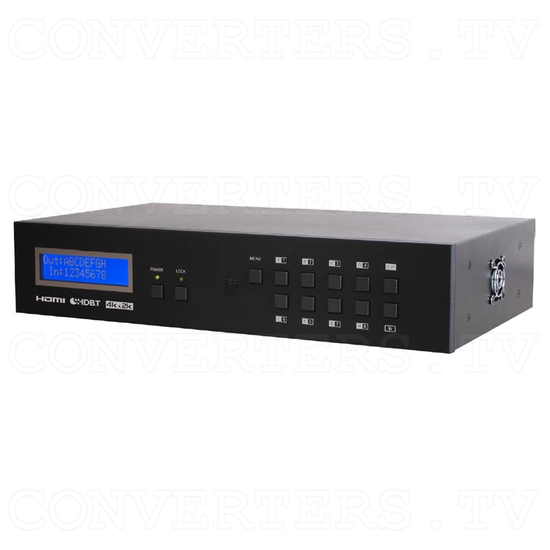 HDBaseT 8x8 UHD HDMI over CAT5e/6/7 Matrix with LAN HDCP 2.2 - Full View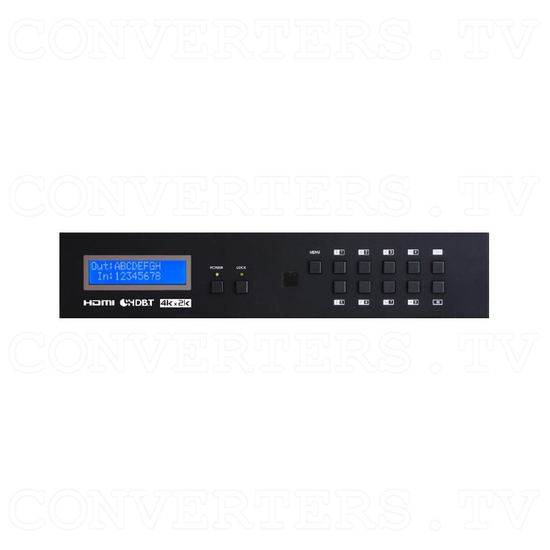 HDBaseT 8x8 UHD HDMI over CAT5e/6/7 Matrix with LAN HDCP 2.2 - Front View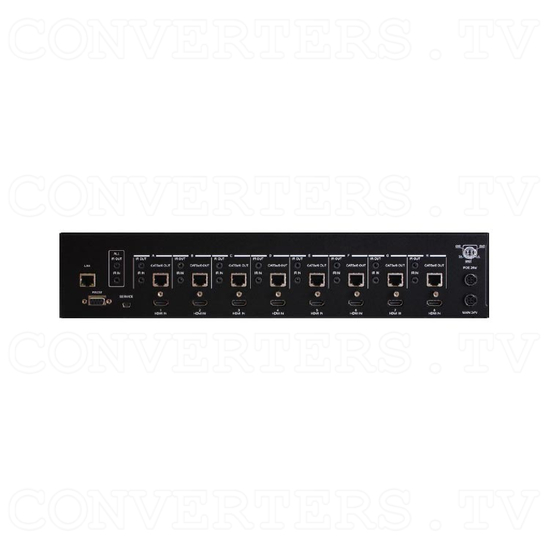 HDBaseT 8x8 UHD HDMI over CAT5e/6/7 Matrix with LAN HDCP 2.2 - Back View