Dual Input to 4K UHD+ HDMI Video Wall Processor

save 16%





The Dual Input to 4K UHD+ HDMI Video Wall Processor can take any standard 4K UHD source from either HDMI or HDBaseT and generate a high-quality video wall with bezel compensation and full audio bypass.

Due to support for AVLC (Adaptive Visually Lossless Compression) on the HDBaseT input, both inputs support 4K UHD HDMI video, up to and including 4K@60Hz (4:4:4, 8-bit) as well as 10/12-bit with HDR. Each of the 4 outputs support resolutions up to 1080p@60Hz to generate a true 4K video wall.

Each HDMI output is paired with an RS-232 port to allow support for event-triggered commands to be sent to each display via RS-232 or CEC.

The HDBaseT input can also provide 48V PoH (Power over HDBaseT) to any compatible Transmitter (PD), allowing for greater flexibility within different installation scenarios.

A dedicated PC application allows the user to fully customize the video wall and associated features. Multiple control interfaces are available including front panel buttons with OSD, IR, RS-232, and Telnet.

Built in advanced EDID management options including Internal, External, and User configurations as well as advanced HDCP processing allows this video wall unit to handle almost any source situation.


| | | | |
| --- | --- | --- | --- |
| Unit Dimensions: | 28.0 x 21.5 x 3.0 cm | Shipping Weight: | 1.05 kg |
| Location: | NSW, Australia | Item Type: | |
| Condition: | New | Warranty : | 12 Months |
| Certificates : | CE, CTick, UL | | |
Features:
1 HDMI and 1 HDBaseT inputs support sources up to 18Gbps (600MHz) 4K UHD
4 HDMI output supports output resolutions up to 1080p@60Hz
DVI 1.0 compliant with the use of an HDMI-DVI adapter
HDCP 1.x and 2.2 compliant
Inputs support UHD resolutions up to 3840×2160@60Hz (4:4:4, 8-bit)
Inputs support 4K HDR at 24Hz (4:4:4) and 60Hz (YUV 4:2:0) with up to 12-bit color (HDR is automatically converted to SDR for 1080p output)
Supports pass-through of audio formats including LPCM 2.0/5.1/7.1, Bitstream, and HD Bitstream
Integrated AVLC (Adaptive Visually Lossless Compression) support on the HDBaseT input
Supports standard IEEE 802.3at 48V PoH from unit to Transmitter (PD) (compatible Transmitters only)
Basic signal event automation (via RS-232 or CEC) to each connected HDMI display
Dedicated PC application for easy control of the unit
Also controllable via a front panel buttons with OSD, IR, Telnet, and RS-232
Specifications:
Input Ports: 1 × HDMI; 1 × HDBaseT (RJ-45)
Output Ports: 4 × HDMI; 1 × Stereo (5-pin Terminal Block); 4 × RS-232 (3-pin Terminal Block)
Pass-through Ports: 1 × IR Extender (3.5mm); 1 × IR Blaster (3.5mm); 1 × RS-232 (3-pin Terminal Block); 2 × LAN (RJ-45)
Control Port: 1 × RS-232 (3-pin Terminal Block)
Power Supply: 100~240vAC to +24vDC 3.75A
Dimensions (cm's): 28.0 (w) × 20.3 (d) × 3.0 (h) [Case Only]; 28.0 (w) × 21.5 (d) x 3.0 (h) [All Inclusive]
Weight (grams): 652g
Connects From :
Connects To :

HDMI (HDTV)
CAT5 / CAT6 Cable RJ-45
IR Extender (Rx)
RS-232 Terminal Block

HDMI (HDTV)
LAN
IR Blaster (Tx)
Analog Stereo L/R terminal block
Converts From :
Converts To :

HDTV 480p
HDTV 576p
HDTV 720p
HDTV 1080p
HDTV 1080i
HDTV 480i
HDTV 576i
4K x 2K

HDTV 480p
HDTV 576p
HDTV 720p
HDTV 1080p
HDTV 1080i
HDTV 480i
HDTV 576i
4K x 2K
1 x Dual Input to 4K UHD+ HDMI Video Wall Processor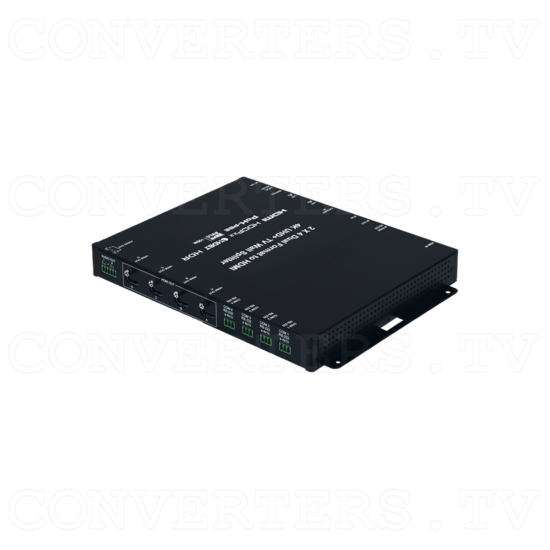 Dual Input to 4K UHD+ HDMI Video Wall Processor - Full View.png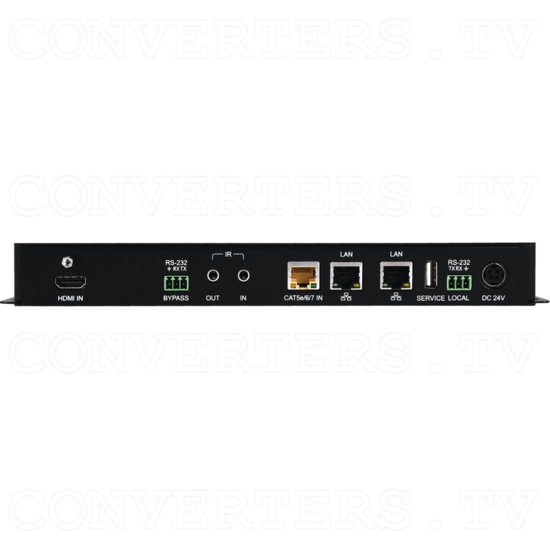 Dual Input to 4K UHD+ HDMI Video Wall Processor - Front View.png
Dual Input to 4K UHD+ HDMI Video Wall Processor - Back View.png