DVI over CAT5 Transmitter

save 15%




The DVI Over CAT5 Transmitter allows a user to distribute a DVI signal over CAT5 cable. When used with a DVI Over CAT5 Receiver Box, this unit provides a great way to transmit and extend a DVI signal over a long distance (100-250metres depending on Receiver used).

The unit transfers the HD image signal via DVI, as well as offering Left/Right and Coaxial audio ports for the transfer of analog/digital audio signals. Through the dedicated DDC port, the device also supports HDCP and CEC.

The DVI over CAT5 Transmitter supports high definition input up to 1080P/UXGA, with output resolution following input resolution. The unit is suitable for anyone who wishes to further extend a DVI signal, and has many practical uses including digital signage, advertising, and home theatre integration.

If the HDCP and DDC status are known for the source and display, then the following scenarios will apply:


If source and display support HDCP, users just need to use 1 CAT5/6 cable.
If source and display don't support HDCP, users need to use 2 CAT5/6 cables.
If display supports HDCP but source doesn't, users just need to use 1 CAT5/6 cable.
If source supports HDCP but display doesn't, there's no result.
Unit Dimensions:
12.5 x 13.0 x 3.0 cm
Shipping Weight:
1.00 kg
Location:
NSW, Australia
Item Type:
Condition:
New
Warranty :
12 Months
Certificates :
CE, CTick, UL
Manual :
User Manual (326.57 KB)
User Manual (348.55 KB)

Features:
Compliant with HDMI 1.2, HDCP 1.1 and DVI 1.0 specifications
Supports Equalizer, Gain, CTI (Colour Transient Improvement) adjustment
Supports high definition input up to 1080P/UXGA - output resolution follows input
Easy to install and simple to operate
Connect CAT 5 back to DVI without signal loss
Supports DDC/HDCP signal transferring through DDC cable
Built-in EDID at transmitter
Support both external Coaxial and Stereo Sound
Specifications:
Transmitter Input port: 1 x DVI-I female port (Accept DVI-D signal only), 1 x Coaxial, 1 x L/R Audio
Transmitter Output port: 2 x CAT5 RJ 45 8pin
Receiver Input port: 2 x CAT5 RJ 45 8pin
Receiver Output port: 1 x DVI-I female port, 1 x Coaxial, 1 x L/R Audio
Resolution: HD- 480p 60, 576p 60, 720P 50/60, 1080i 50/60Hz, 1080p 50/60Hz, PC- 640 x 480=VGA72, VGA75, 800 x 600=SVGA56, SVGA60, SVGA72, SVGA75, 1024 x 768=XGA60, XGA70, XGA75, 1280 x 1024=SXGA60, SXGA75, 1600 x 1200=UXGA60, 1920 x 1200=Reduced blanking WUXGA
Power Supply: 5V / 2.6A DC power supply
Dimensions (mm): 125 x 130 x 30 / each
Weight (g): 700 /each
Material: Aluminium
Colour: Silver
Power Supplies:
Multi-Voltage Power Supply : 100 - 240VAC to 5V DC 2.6A Switch Mode Power Supply - Center Positive
| Connects From : | Connects To : |
| --- | --- |
| | |
Converts From :
Converts To :

HDTV 480p
HDTV 576p
HDTV 720p
HDTV 1080p
HDTV 1080i
HDTV 480i
HDTV 576i
1 x DVI over CAT5 Transmitter
1 x User Manual ID#750 & ID#751
1 x 100-240VAC to 5V DC 2.6A Switch Mode Power Supply (Center Positive)
DVI over CAT5 Transmitter - Full View
DVI over CAT5 Transmitter - Front View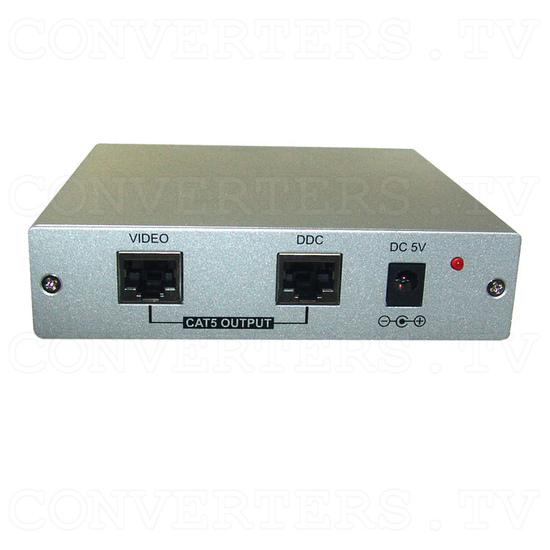 DVI over CAT5 Transmitter - Back View
DVI over CAT5 Transmitter - Power Supply 110v OR 240v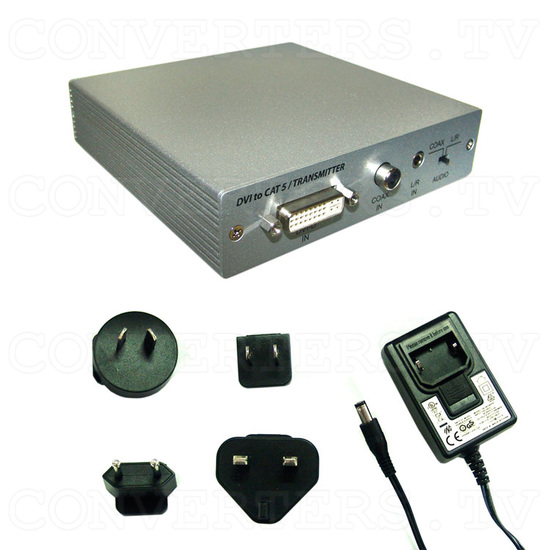 DVI over CAT5 Transmitter - Full Kit