CAT6 to HDMI v1.3 Receiver

save 19%




The CAT6 to HDMI v1.3 Receiver is designed to allow you to extend a HDMI signal over a long distance. Instead of using expensive HDMI cables, this unit distributes the signal over a CAT6 cable. When used with an appropriate HDMI to CAT6 Transmitter unit, the Input/Output source can run up to 45 meters (1080p/8 bits).

The device supports Deep Color (12 bits/color) video and new lossless compressed (Dolby TrueHD, Dolby Digital Plus and DTS-HD Master Audio) Digital audio, at a bandwidth of up to 225MHz. The unit is also able to be "Cascaded", meaning that several of these Transmitter/Receiver units can be linked together to create an even longer Digital HDMI Signal transmission pathway.

Please note that the signal distance may be influenced by the source and display used, as well as cable specifications. For example a 1080p 8-bit signal is able to be extended further than a 1080p 12-bit signal. For more information please view the product specifications below.

We recommend pairing this Receiver unit with the ID#748 HDMI v1.3 to CAT6 Transmitter unit. Other options are also available. Feel free to contact us for more information.

| | | | |
| --- | --- | --- | --- |
| Unit Dimensions: | 8.0 x 7.0 x 3.0 cm | Shipping Weight: | 0.55 kg |
| Location: | NSW, Australia | Item Type: | |
| Condition: | New | Warranty : | 24 Months |
| Certificates : | CE, CTick, UL | Manual : | User Manual (429.78 KB) |
Features:
Complies with HDMI 1.3, HDCP 1.1 and DVI1.1 standards
Supports digital video formats in Deep Color Mode at up to 36 bits (12bits/color) and new lossless compressed (Dolby TrueHD, Dolby Digital Plus and DTS-HD Master Audio) Digital audio
Supports CAT6 cables for data/DDC transmission
Supports high definition resolution, the cable distance test @ 1080p/8bits: Input/Output source can run up to 30/45 meters; @ 1080p/12bits: Input/Output source can run up to 15/15 meters
Supports CEC bypass
Supports xvYCC
Supports IR Receiver & IR Blaster
Supports full range of IR frequencies from 20~60 KHz
Supports multi cascade for further extension of the signal distance
Specifications:
Receiver: 1 x HDMI, 1 x IR Receiver, 1 x CAT-6 Output Video, 1 x CAT-6 Output DDC
HDMI Input Cable: 1080p 8-Bit (15M), 12-Bit (15M)
HDMI Output Cable: 1080p 8-Bit (15M), 12-Bit (15M)
Cat6 Cable: 1080p 8-Bit (45M), 12-Bit (20M)
Power Supply: 5V, 2.6A (US/EU Standards, CE/FCC/UL Certified)
ESD Protection: ±8kV (air-gap discharge), ± 4kV (contact discharge)
Dimensions (cm): Receiver: 8 (W) x 7 (D) x 3 (H)
Weight (g): Receiver: 200
Chassis Material: Aluminium
Colour: Silver
Operating Temperature: 0°C ~ 40°C / 32°F ~ 104°F
Storage Temperature: -20°C ~ 60°C / -4°F ~ 140°F
Power Consumption: 5W/TX, 5W/RX
Relative Humidity: 20 ~ 90% RH (non-condensing)
Power Supplies:
Multi-Voltage Power Supply : 100 - 240VAC to 5V DC 2.6A Switch Mode Power Supply - Center Positive
| Connects From : | Connects To : |
| --- | --- |
| | |
Converts From :
Converts To :

HDTV 480p
HDTV 576p
HDTV 720p
HDTV 1080p
HDTV 1080i
HDTV 480i
HDTV 576i
1 x
1 x Product Manual
1 x Infrared sensor
1 x 100-240VAC to 5V DC 2.6A Switch Mode Power Supply (Center Positive)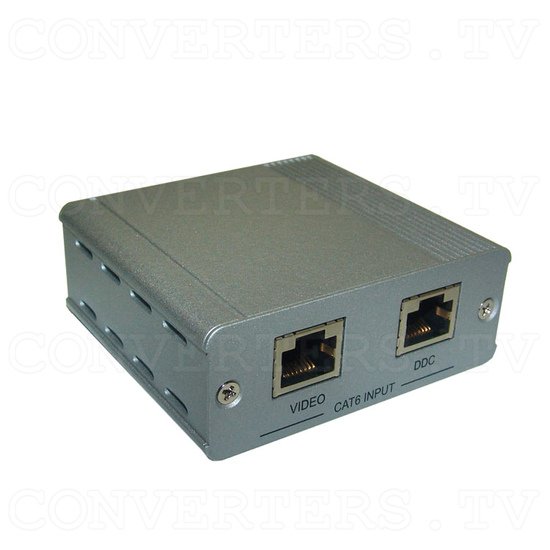 CAT6 to HDMI v1.3 Receiver - Full View
CAT6 to HDMI v1.3 Receiver - Front View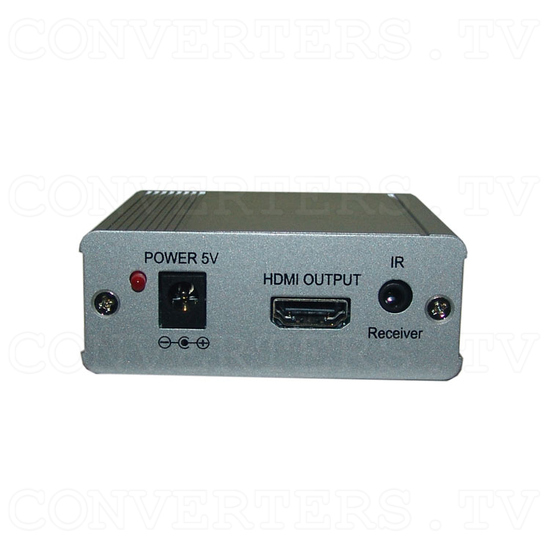 CAT6 to HDMI v1.3 Receiver - Back View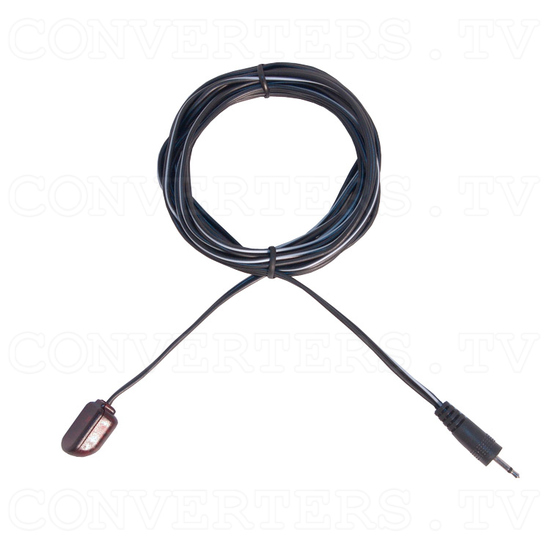 CAT6 to HDMI v1.3 Receiver - Infrared sensor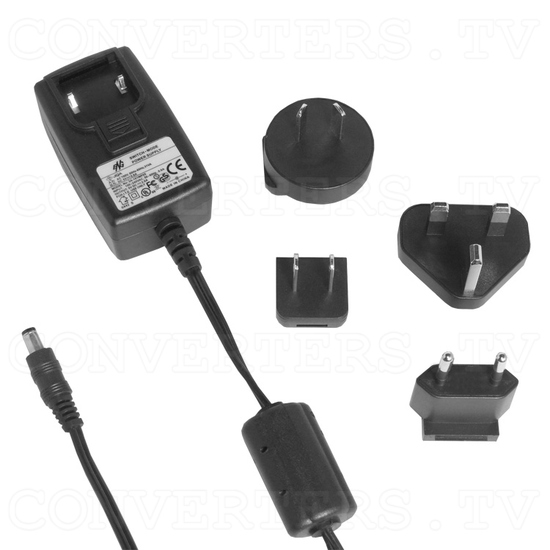 CAT6 to HDMI v1.3 Receiver - Power Supply 110v OR 240v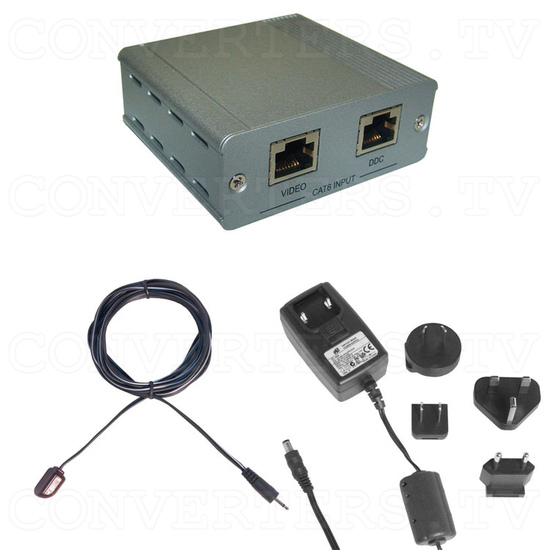 CAT6 to HDMI v1.3 Receiver - Full Kit