4x4 HDMI UHD 4K Matrix

save 10%





The 4x4 HDMI UHD 4K Matrix combines, switches and connects an HDMI signal from any of its four video sources to any of its four connected HDMI displays. This allows any one of the four source signals to be shown independently on any one of the four displays, or all four simultaneously.

With support for HD 1080p and UHD 4K video formats, including 3D, the 4x4 HDMI UHD 4K Matrix is HDMI, DVI and HDCP compliant and complete with in-built 'Deep Color' and high-definition, 'Lossless Audio' technology for LPCM 2.0~7.1 CH, Dolby TrueHD & Atmos, plus DTS-HD Master Audio formats.

Control of inputs and outputs is easily managed via on-panel buttons, IR remote control, RS-232 or Telnet/WebGUI IP interface. The displays EDID settings are controlled either from the video player source, or from an internal pre-set standard. The 4x4 HDMI UHD 4K Matrix HDCP protocol supports connections from 'Apple' products.

| | | | |
| --- | --- | --- | --- |
| Unit Dimensions: | 43.6 x 16.7 x 4.4 cm | Shipping Weight: | 3.00 kg |
| Location: | NSW, Australia | Item Type: | HDMI Video Matrix |
| Condition: | New | Warranty : | 12 Months |
| Certificates : | CE, CTick, UL | | |
Features:
HDMI HD, UHD 4K2K, 3D, HDCP and DVI compliant
Supports HD Lossless audio LPCM 2.0~7.1CH, Dolby TrueHD, Dolby Atmos and DTS-HD Master Audio
Supports HD up to 1080p, UHD 4K2K (3840*2160@24/25/30Hz & 50/60Hz with YUV420; 4096*2160@24Hz & 50/60Hz with YUV420)
Supports Internal/External EDID settings
Supports system control via on-panel buttons, IR Remote, RS-232, TelNET & WebGUI
Input ports HDCP supports Standard and Apple Mode, for connecting Apple brand products
Specifications:
Video Bandwidth: 300MHz / 9Gbps
Input Ports: 4 x HDMI; 1 x IR (3.5mm); 1 x RS-232 (9-pin D-sub); 1 x Control (RJ-45); 1 x USB (Service only)
Output Ports: 4 x HDMI
HDMI Video Resolutions: 480i/p ~ 1080i/p@24/25/60Hz; 4K@24/25/30Hz; 4K@50/60Hz (YUV420)
VGA Video Resolutions: VGA (640*480) ~ WUXGA (1920*1200)
HDMI Cable Length: 10m@8-bit & 12-bit colour; 5m@4K2K
Power: 100 ~ 240vAC to +5vDC 3.6A (US/EU standards; CE/FCC/UL certified)
Power Consumption (watts): 12.87w
Dimensions (cm's): 43.6 (w) x 16.0 (d) x 4.4 (h) jacks out; 43.6 (w) x 16.7 (d) x 4.4 (h) jacks in
Weight (kgs): 1.945kg
Chassis: Black Metal
Operating Temperature: 0c ~ 40c / 32f ~ 104f
Relative Humidity: 20% ~ 90% RH (non-condensing)
ESD Protection: Human Body Model: +/-8kV (air-gap discharge); +/-4kV (contact discharge)
Connects From :
Connects To :

HDMI (HDTV)
RJ-45 Control Telnet/WebGUI
RS-232 (9 pin D-Sub)
IR Extender (Rx)
USB (Service)
Converts From :
Converts To :

HDTV 480p
HDTV 576p
HDTV 720p
HDTV 1080p
HDTV 1080i
HDTV 480i
HDTV 576i
4K x 2K
3D

HDTV 480p
HDTV 576p
HDTV 720p
HDTV 1080p
HDTV 1080i
HDTV 480i
HDTV 576i
4K x 2K
3D
1 x 4x4 HDMI UHD 4K Matrix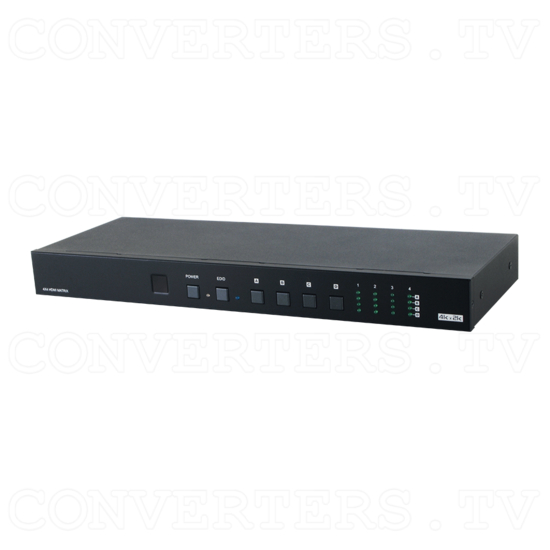 4x4 HDMI UHD 4K Matrix - ID#15538 Full View.png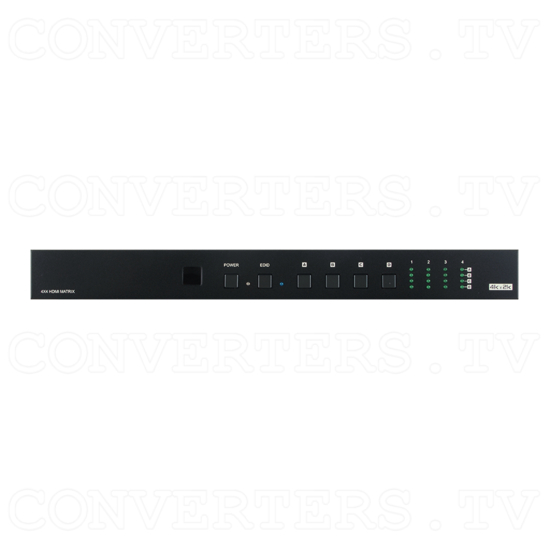 4x4 HDMI UHD 4K Matrix - ID#15538 Front View.png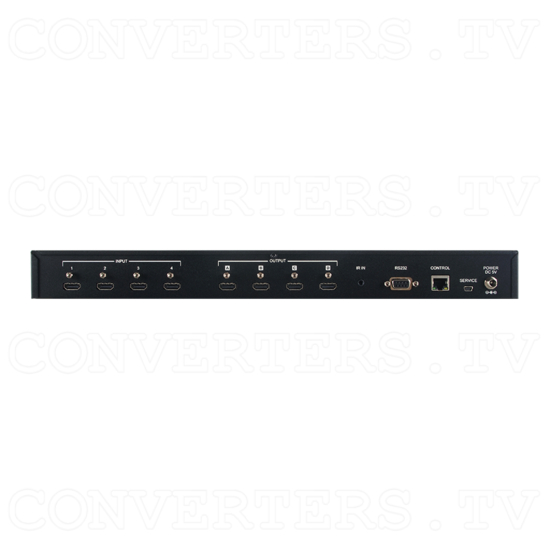 4x4 HDMI UHD 4K Matrix - ID#15538 Back View.png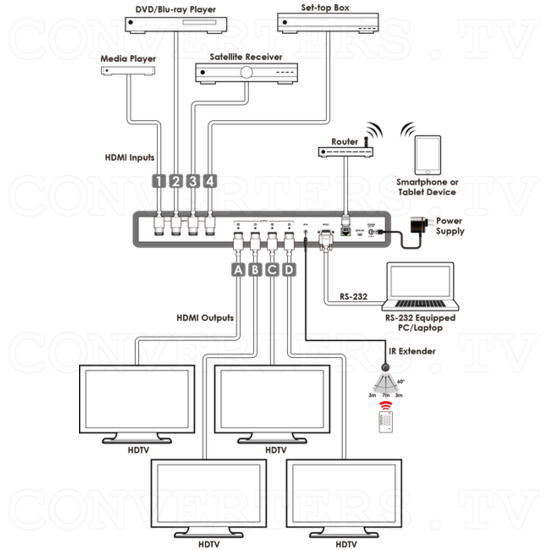 4x4 HDMI UHD 4K Matrix - ID#15538 Schematic Diagram.png