| | |
| --- | --- |
| | |
The 4x2 HDMI Switch allows connection of any two (of four) HDMI High Definition source signals, from equipment like DVD/BLU-Ray players, Set Top Boxes and Game Consoles, to display to two separate HDTV's.

A convenient hand-held IR remote control is used to select the two HDMI inputs to be displayed and to allocate the two inputs to the two outputs. Once you have connected the four video sources to the 4x2 HDMI Switch, simply use the remote control to decide which source goes to which display.

The 4x2 HDMI Switch is fully DVI 1.0 compliant, so by using DVI/HDMI adaptors or cables, the range of High Definition (HD) video equipment compatible for use with this switch is expanded greatly.

Sleek and stylish in design and supporting Deep Colour 36-bit video up to Full HD 1080p resolution, plus new Lossless Compressed digital audio, any Home Theatre Systems can be easily organised and managed by the 4x2 HDMI Switch.

Please note, the 4x2 HDMI Switch does not support 'simultaneous' display, that is, one input being selected to display on both outputs.

| | | | |
| --- | --- | --- | --- |
| Unit Dimensions: | 20.6 x 11.1 x 3.2 cm | Shipping Weight: | 0.55 kg |
| Location: | NSW, Australia | Item Type: | HDMI Converters |
| Condition: | New | Warranty : | 12 Months |
| Certificates : | CE, CTick, UL | | |
Features:
HDCP 1.1and DVI 1.0 compliant
Allows four HDMI sources such as DVD/BLU-Ray players to send audio/video signals to two HDMI displays (does not support simultaneous output)
Supports HDMI with Deep Color Video at up to 36 bits (12bits/color) and new lossless compressed (Dolby TrueHD, Dolby Digital Plus and DTS-HD Master Audio) digital audio
Equalizes and recovers incoming TMDS data before re-transmitting it with perfect quality regardless of the incoming signal
Supports high definition input/output at up to 1080p@60Hz
Supports CEC function
Supports IR Remote Control
Easy to install and operate
Specifications:
Input Ports: 4 x HDMI
Output Ports: 2 x HDMI
Video Resolution: Up to Full HD 1080p@50/60Hz
Digital Audio: Lossless Compressed Dolby TrueHD, Dolby Digital Plus and DTS-HD Master Audio
Power Supply: 100-240vAC to +5vDC 1A (US/EU standards, CE/FCC/UL certified)
Dimensions (cm's): 20.6 (w) x 11.1 (d) x 3.2 (h)
Weight (gms): 248g
Chassis: Black Plastic
Operating Temperature: 0c ~ 40c / 32f ~ 104f
Humidity: 20% ~ 90% RH (non-condensing)
ESD Protection: Human Body Model: +/-8kV (air-gap discharge); +/-4kV (contact discharge)
| Connects From : | Connects To : |
| --- | --- |
| | |
Converts From :
Converts To :

HDTV 480p
HDTV 576p
HDTV 720p
HDTV 1080p
HDTV 1080i
HDTV 480i
HDTV 576i

HDTV 480p
HDTV 576p
HDTV 720p
HDTV 1080p
HDTV 1080i
HDTV 480i
HDTV 576i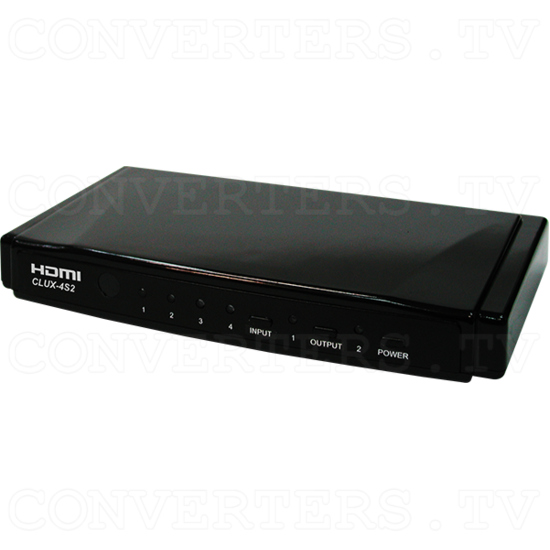 4x2 HDMI Switch - Full View.png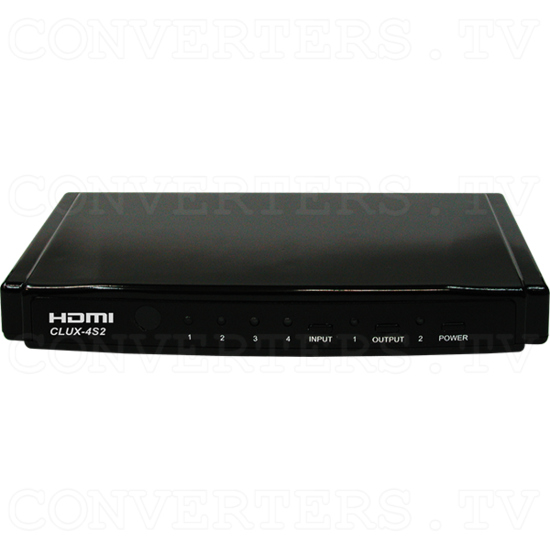 4x2 HDMI Switch - Front View.png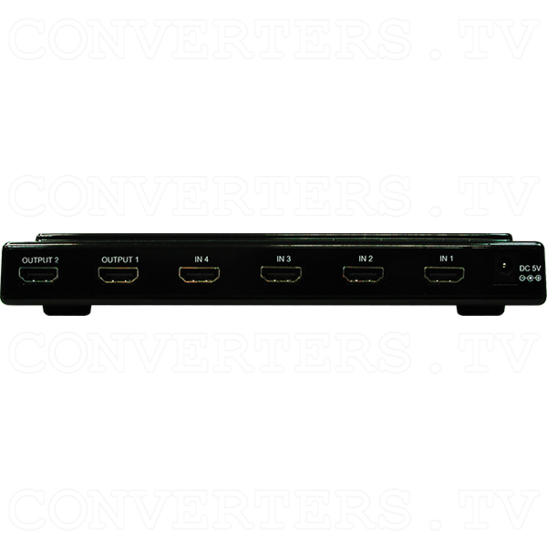 4x2 HDMI Switch - Back View.png