The 4K UHD+ HDMI Scaler is engineered to scale up a wide range of HDMI and DVI resolutions, and to output a new signal at a selected HDMI or Ultra High Definition 4K resolution.

Input resolutions up to and including 4K@60Hz (4:4:4, 8-bit) are supported and selectable output resolutions range from SVGA 800*600 to UHD 4K 3840*2160@60Hz (4:4:4, 8-bit), ensuring the User can set the 4K UHD+ HDMI Scaler to display the highest quality picture on your screen.

The 4K UHD+ HDMI Scaler can be controlled via an On Screen Display (OSD) using front mount panel buttons. Make adjustments to fine tune for image quality like output resolution, brightness, contrast and aspect ratio. Additionally, EDID and HDCP parameters can be set for perfect system response.

The 4K UHD+ HDMI Scaler provides basic LPCM 2CH analog stereo audio breakout to support quick and easy connection to an external amplifier or powered speakers. Select via OSD to relay audio to an external sound system, or to pass-through to the TV speakers via HDMI.

A perfect tool for your HD and UHD signal conversion needs, the 4K UHD+ HDMI Scaler would suit any application.



| | | | |
| --- | --- | --- | --- |
| Unit Dimensions: | 12.8 x 11.7 x 2.5 cm | Shipping Weight: | 0.50 kg |
| Location: | NSW, Australia | Item Type: | |
| Condition: | New | Warranty : | 12 Months |
| Certificates : | CE, CTick, UL | | |
Features:
HDMI input and output with 18Gbps (600MHz) 4K UHD support
DVI 1.0 compliant using an adaptor
HDCP 1.4 and 2.2 compliant
Supports HD/UHD resolutions 480i/p ~3840*2160@60Hz (YUV 4:4:4, 8-bit) & 4096*2160@60Hz (YUV 4:4:4, 8-bit)
Supports 48-bit Deep Colour up to 1080p60
Supports pass-through of LPCM 7.1, Bitstream and HD Bitstream audio formats over HDMI
Provides EDID management via EDID bypass, 6 in-built EDID's and 1 User modifiable EDID
Supports up and down scaling of HDMI source resolutions from 480p to 4K@60Hz
OSD control via front panel buttons
Specifications:
Video Bandwidth: 1.8Gbps (600MHz)
Input Ports: 1 x HDMI; 1 x USB (Service only)
Output Ports: 1 x HDMI; 1 x 3.5mm stereo audio mini-jack
Power Supply: 100-240vAC to +5vDC 2.6A (US/EU standards; CE/FCC/UL certified)
Power Consumption (watts): 6w
Dimensions (cm's): 12.8 (w) x 10.8 (d) x 2.5 (h) case only; 12.8 (w) x 11.7 (d) x 2.5 (h) all
Weight (grams): 368g
Chassis: Black Metal
Operating Temperature: 0c ~ 40c / 32f ~ 104f
Relative Humidity: 20% ~ 90% RH (non-condensing)
ESD Protection: Human Body Model: +/-8Kv (air-gap discharge); +/-4Kv (contact discharge)
Connects From :
Connects To :

HDMI (HDTV)
USB (Service)

HDMI (HDTV)
Analog Stereo L/R Jacks
Converts From :
Converts To :

HDTV 480p
HDTV 576p
HDTV 720p
HDTV 1080p
HDTV 1080i
HDTV 480i
HDTV 576i
4K x 2K
3D

HDTV 480p
HDTV 576p
HDTV 720p
HDTV 1080p
HDTV 1080i
HDTV 480i
HDTV 576i
4K x 2K
3D
4K UHD+ HDMI Scaler - ID#15520 Full View.png
4K UHD+ HDMI Scaler - ID#15520 Front View.png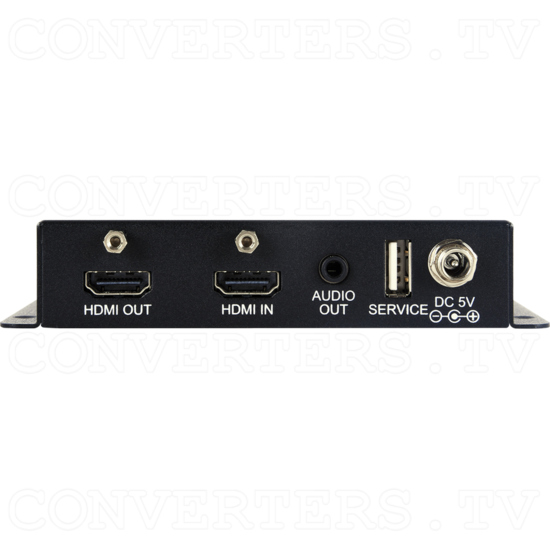 4K UHD+ HDMI Scaler - ID#15520 Back View.png