4K UHD+ HDMI Input Card

save 21%




The 4K UHD+ HDMI Input Card is used in a Modular HDMI Matrix with 4 high-bandwidth input card slots and four high-bandwidth output card slots.

Each standard card, input or output, is equipped with four HDMI ports capable of handling up to four independent 18Gbps video signals simultaneously and the backplane cross-point can handle a maximum I/O configuration of 16×16.

4K UHD video sources, up to and including 4K@60Hz (4:4:4, 8-bit) as well as 10/12-bit sources with HDR are fully supported.

All ports support up to 7.1 channel LPCM digital audio as well as Bitstream and HD Bitstream audio formats.

Control is via front panel buttons with an LCD menu, WebGUI, Telnet, RS-232 or IR remote.

I/O cards using the HDMI interface (HDMI 2.0, HDCP 2.2) interface are available now and I/O cards supporting HDBaseT (with AVLC) are under development.

| | | | |
| --- | --- | --- | --- |
| Unit Dimensions: | 48.4 x 48.2 x 18.2 cm | Shipping Weight: | 19.50 kg |
| Location: | NSW, Australia | Item Type: | HDMI Converters |
| Condition: | New | Warranty : | 12 Months |
| Certificates : | CE, CTick, UL | | |
Features:
Input and output card slots support 18Gbps (600MHz) 4K UHD with HDR
DVI 1.0 compliant with the use of an HDMI-DVI adapter
HDCP 1.x and 2.2 compliant
8 high-bandwidth card slots (4 dedicated input slots, 4 dedicated output slots) with a maximum matrix configuration of 16×16
1 CPU and control card slot
Supports UHD resolutions up to 3840×2160@60Hz (4:4:4, 8-bit)
Supports 4K HDR at 24Hz (4:4:4) and 60Hz (YUV 4:2:0) with up to 12- bit color
Supports 12-bit Deep Color up to 1080p@60Hz
Supports pass-through of audio formats including LPCM 2.0/5.1/7.1, Bitstream, and HD Bitstream
Output cards have an integrated scaling function which supports upscaleto 4K@60Hz and downscale to 1080p@60Hz if required by the connected display
Advanced EDID Management for rapid integration of sources and displays
Field updatable firmware
3U rack mounted design
Redundant power supply
Control via front panel buttons with LCD menu, Ethernet (Telnet & WebGUI), RS-232, and IR remote
4-port HDMI input and 4-port HDMI output cards are available now
4-port HDBaseT (with AVLC) input and output cards are under development
Specifications:
Input Ports: 4 × Input Card
Output Ports: 4 × Output Card
Control Ports: 1 × IR Extender (3.5mm); 1×IR Blaster (3.5mm); 1×RS-232 (DE-9); 1×IP Control (RJ-45)
Power Supply: 110~240V AC
Dimensions (cm's): 44.0 (w) × 42.9 (d) × 17.7 (h) [Case Only]; 48.4.(w) × 48.2 (d) × 18.2 (h) [All Inclusive]
Weight (kg's): 19kg
Modular Matrix Input Card Details:
CIN-V4HP
Input Ports: 4 × HDMI; 4 × Stereo (3.5mm)
Output Ports: N/A
Pass-through Ports: 4×IR Blaster (3.5mm)
Dimensions (mm's): 187.4mm × 344.9mm (W×D) [Case Only]; 197.5mm × 29.1mm × 364.6mm (W×H×D) [All Inclusive]
Weight: 458g
Modular Matrix Output Card Details:
COUT-V4HP
Input Ports: N/A
Output Ports: 4 × HDMI; 4 × Stereo (3.5mm)
Pass-through Ports: N/A
Dimensions (mm's): 187.4mm × 344.9mm (W×D) [Case Only]; 197.5mm × 29.1mm × 364.6mm (W×H×D) [All Inclusive]
Weight: 458g
Connects From :
Connects To :

HDMI (HDTV)
3.5mm Headphone Jack
IR Blaster (Tx)
Converts From :
Converts To :

HDTV 480p
HDTV 576p
HDTV 720p
HDTV 1080p
HDTV 1080i
HDTV 480i
HDTV 576i
4K x 2K

HDTV 480p
HDTV 576p
HDTV 720p
HDTV 1080p
HDTV 1080i
HDTV 480i
HDTV 576i
4K x 2K
1 x 4K UHD+ HDMI Input Card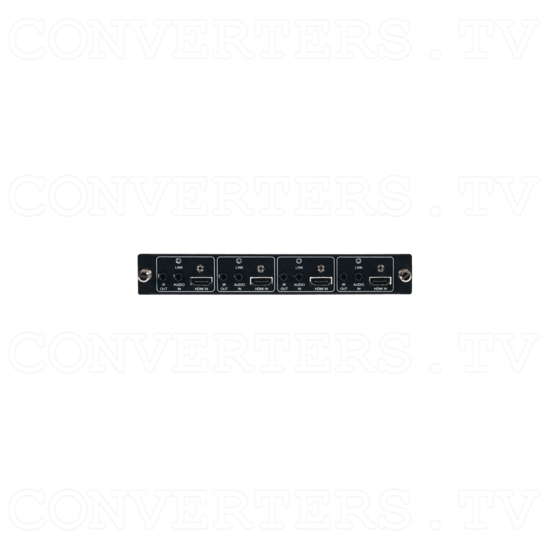 4K UHD+ HDMI Input Card - Full View.png