​4K UHD+ Audio Inserter is designed to insert an external analog or digital audio signal into an HDMI or DVI (with adaptor) source signal to generate an HDMI compliant output with new audio.

Stereo LPCM 2.0 and multi-channel bitstream audio is supported for insertion and the preferred source can be selected with a simple switch. Both the input and output HDMI ports support 4K UHD+ resolutions up to 4K@60Hz (YUV 4:4:4, 8-bit) and are capable of providing high quality audio and video performance.

This 4K UHD+ Audio Embedder supports pass-through of HD and standard bitstream formats, as well as LPCM 7.1 with audio sampling rates up to 192 kHz. EDID management support allows the user to select from multiple EDIDs and with the use of optional PC software to edit, upload or download EDID files.

| | | | |
| --- | --- | --- | --- |
| Unit Dimensions: | 12.8 x 11.7 x 3.0 cm | Shipping Weight: | 0.50 kg |
| Location: | NSW, Australia | Item Type: | Digital and Analog Audio Products |
| Condition: | New | Warranty : | 12 Months |
| Certificates : | CE, CTick, UL | | |
Features: ​
HDMI input and output with 18Gbps (600MHz) 4K UHD+ support
DVI 1.0 compliant with the use of an HDMI-DVI adaptor
HDCP 1.4 and 2.2 compliant
Supports HD resolutions up to 3840*2160@60Hz (YUV 4:4:4, 8-bit) & 4096*2160@60Hz (YUV 4:4:4, 8-bit)
Supports 48-bit Deep Color up to 1080p@60Hz
Supports pass-through of LPCM 7.1, Bitstream and HD Bitstream audio formats over HDMI
Supports embedding external audio sources (analog stereo or digital S/PDIF) into an existing HDMI source, or adding audio to a DVI source (output as HDMI)
Supports HDMI audio sampling rates up to 192 kHz
Supports the following S/PDIF audio sampling rates: 32kHz, 44.1kHz, 48kHz, 88.2kHz, 96kHz, and 192kHz
Provides EDID management with EDID bypass and 2 user modifiable EDIDs
PC based EDID management tool support
Outputs a 720p@60Hz color bar pattern when no input is connected
Supports RS-232 style control via a Virtual COM port over USB
Specifications:
Video Bandwidth: 18Gbps / 600MHz
Input Ports: 1 x HDMI; 1 x Optical S/PDIF (Digital Audio); 2 x RCA Left/Right (Analog Audio); 1 x mini-USB (service & control only)
Output Port: 1 x HDMI
HDMI Audio Sampling Rate: Up to 192kHz
Optical S/PDIF Audio: 32kHz; 44.1kHz; 48kHz; 88.2kHz; 96kHz
Sampling Rate: 192kHz
HDMI Cable I/O Distance: 10m@1080p 12-bit; 15m@1080p 8-bit
HDMI Audio Format (Bypass): LPCM 2.0 / 5.1 / 7.1; Bitstream; HD Bitstream
Optical Audio Format: LPCM 2.0, Bitstream
Analog Audio Format: 2 Channel (Stereo)
Power Supply: 100-240vAC to +5vDC 2.6A (US/EU standards; CE/FCC/UL certified)
Power Consumption (watts): 3.78w
Dimensions (cm's): 12.8 (w) x 10.8 (d) x 2.5 (h) (case only); 12.8 (w) x 11.68 (d) x 3.0 (h) (all inclusive)
Weight (grams): 358g
Operating Temperature: 0c ~ 40c / 32f ~ 104f
Relative Humidity: 20% ~ 90% RH (non-condensing)
ESD Protection: Human Body Model: +/-8kV (air-gap discharge); +/-4kV (contact discharge)
Connects From :
Connects To :

HDMI (HDTV)
Coaxial RCA S/PDIF
Optical TOSlink S/PDIF
Analog Stereo L/R Jacks
Mini USB - Power Only
Converts From :
Converts To :

HDTV 480p
HDTV 576p
HDTV 720p
HDTV 1080p
HDTV 1080i
HDTV 480i
HDTV 576i
Coaxial S/PDIF
Optical S/PDIF
Analog Stereo L/R Audio
4K x 2K
3D

HDTV 480p
HDTV 576p
HDTV 720p
HDTV 1080p
HDTV 1080i
HDTV 480i
HDTV 576i
Displayport
4K x 2K
3D
1 x 4K UHD+ Audio Inserter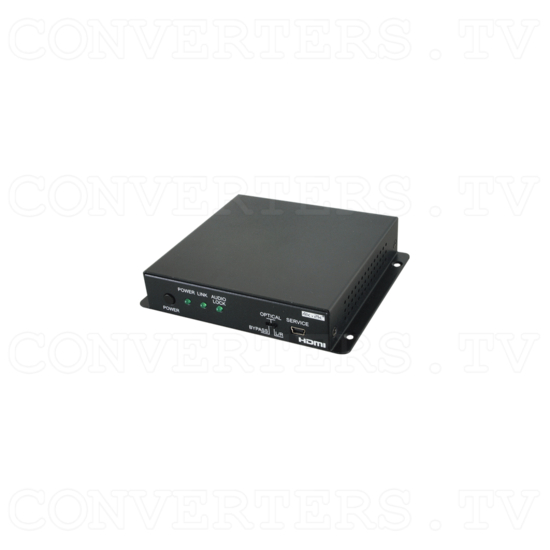 4K UHD+ Audio Inserter - ID#15490 Full View.png
4K UHD+ Audio Inserter - ID#15490 Front View.png
4K UHD+ Audio Inserter - ID#15490 Back View.png