| | |
| --- | --- |
| | 4 x 1 HDMI UHD Switcher with Fast Switching and Control System |
The 4 by 1 HDMI UHD Switcher allows four HDMI sources to be routed to an HDMI display. The Fast Switching Technology greatly reduces the time required to swap between inputs. The Control System provides direct control and also indirect control interfaces, for all your connected devices. Supporting traditional direct control systems like IR, Relay and DC. Indirect control systems include IR Learning, RS-232, Telnet/Web GUI controls. All this allows the user with PC or APP based control systems greater flexibility over devices.

The operation of the system can be easily managed through software application on PC/NB or APP on mobile devices, on-panel buttons, IR remote control, RS-232, Telnet or Ethernet protocols.

| | | | |
| --- | --- | --- | --- |
| Unit Dimensions: | 21.9 x 17.7 x 4.5 cm | Shipping Weight: | 1.50 kg |
| Location: | NSW, Australia | Item Type: | HDMI Converters |
| Condition: | New | Warranty : | 12 Months |
| Certificates : | CE, CTick, UL | Manual : | User Manual (815.79 KB) |
Features:
HDMI (with 3D & 4K2K support) and HDCP compliant
Supports HDTV resolutions up to 4K2K (3840*2160@24/25/30/50/60Hz @YUV420 & 4096*2160@24/50/60Hz@YUV420)
Supports HDMI data rates up to 340MHz/10.2Gbps and 'Deep Color' up to 1080p/36-bit
Supports simultaneous audio outputs on both digital HDMI and analog R/L
HDMI inputs support 'Standard' and 'Apple' HDCP modes
Support control via RS-232, IR, Telnet and Web GUI
Supports four control inputs with voltage of 0~3.3V
Supports control system with 1 x IR Learner, 5 x IR outputs, 4 x Trigger inputs, 4 x Relay outputs and 2 x COM ports
COM port supports Baud rates from 300~115,200bps
Specifications:
Input Ports: 4 x HDMI, 4 x Terminal Block Input (0~3.3v), 1 x Control (RJ-45), 2 x COM port (Terminal Block), 1 x RS-232 (3.5mm Jack), 1 x IR Learner, 1 x USB (Service only)
Output Ports: 1 x HDMI, 1xR/L (Banana Jacks), 5xIR, 4xRelay Output
IR Frequency: 30~50kHz
Baud Rate: 300 up to 115,200bps
Power Supply: 100-240VAC to +24VDC 6.25A (US/EU standards, CE/FCC/UL certified)
Power Consumption (watts): 60w
Dimensions: 21.9(w) x 15.6(d) x 4.3(h) Jack exc; 21.9(w) x 17.7(d) x 4.5(h) Jack inc
Weight: 1.272kg
Operating Temperature: 0c ~ 40c / 32f ~ 104f
Relative Humidity: 20% ~ 90% RH (non-condensing)
ESD Protection: Human Body Model: ±8kV (air-gap discharge); ±4kV (contact discharge)
Chassis Material: Metal
Silkscreen Color:Black
Connects From :
Connects To :

HDMI (HDTV)
Optical TOSlink S/PDIF
RS-232 (9 pin D-Sub)
IR Extender (Rx)
USB (Service)
Trigger (Terminal Block 0~15vDC)

HDMI (HDTV)
Analog Stereo L/R Jacks
RS-232 (9 pin D-Sub)
IR Blaster (Tx)
Converts From :
Converts To :

HDTV 480p
HDTV 576p
HDTV 720p
HDTV 1080p
HDTV 1080i
HDTV 480i
HDTV 576i
4K x 2K
3D

HDTV 480p
HDTV 576p
HDTV 720p
HDTV 1080p
HDTV 1080i
HDTV 480i
HDTV 576i
4K x 2K
3D
1 x 4x1 HDMI UHD Switcher with Fast Switching and Control System
1 x Product Manual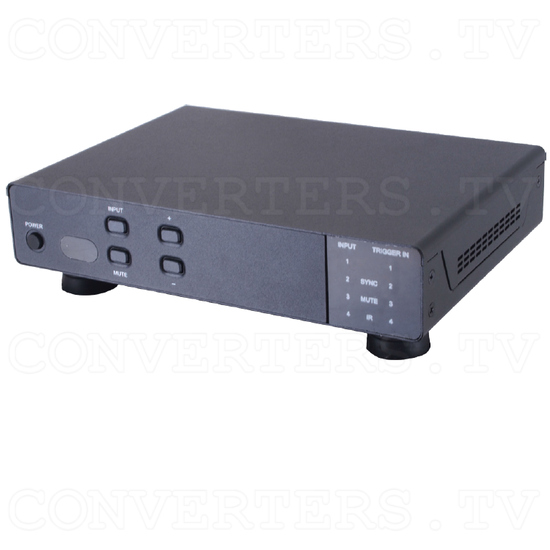 4 x 1 HDMI UHD Switcher with Fast Switching and Control System - Full View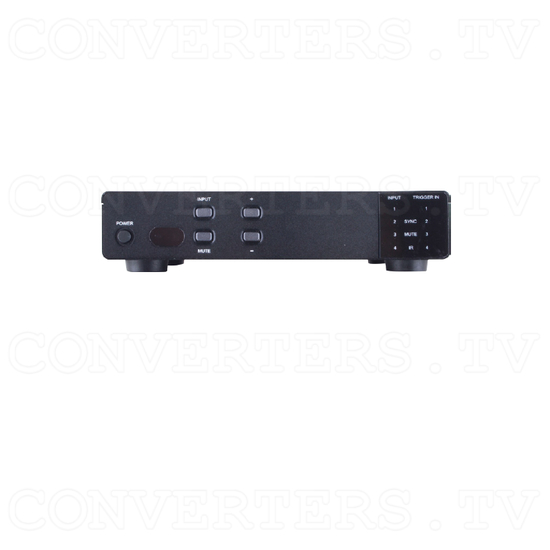 4 x 1 HDMI UHD Switcher with Fast Switching and Control System - Front View
4 x 1 HDMI UHD Switcher with Fast Switching and Control System - Back View