The 4 Way HDMI UHD+ Switch allows for selection of any one of four 6G HDMI input signals to route to a single 6G HDMI display, supporting resolutions up to UHD+, 36-bit Deep Color and HD audio.

The 4 Way HDMI UHD+ Switch supports features defined by the HDMI 2.0 specification, such as HDMI 2.0 and DVI 1.0 compliance, support for HDCP2.2 protection and includes Internal/External EDID management and CEC pass-through. Multiple control interfaces are available to the User, including RS-232, IR remote control and front-panel buttons, making operation very easy and intuitive.

The 4 Way HDMI UHD+ Switch supports 4K UHD+ resolutions up to 4096x2160@60Hz (YUV 4:4:4, 8-bit), 3D signal support (with 3D source and 3D TV) and pass-through of high definition audio, including LPCM up to 7.1 CH and Bitstream. An in-built Auto-Switch feature detects which source is turned on and automatically switches to that input/source, or reverts to the previous input if the current source is turned off or disconnected.



| | | | |
| --- | --- | --- | --- |
| Unit Dimensions: | 21.4 x 10.8 x 2.5 cm | Shipping Weight: | 0.80 kg |
| Location: | NSW, Australia | Item Type: | |
| Condition: | New | Warranty : | 12 Months |
| Certificates : | CE, CTick, UL | Manual : | User Manual (226.96 KB) |
Features:
HDMI 2.0 and DVI 1.0 compliant
HDCP 2.2 compliant
4 HDMI inputs and 1 HDMI output
3D signal support (with 3D source and 3D TV)
Supports 4K UHD+ resolutions up to 4096*2160@60Hz(YUV 4:4:4, 8-bit)
Pass-through of HD audio including LPCM up to 7.1 CH and Bitstream
Supports CEC pass-through
Supports Internal/External EDID management
Specifictions:
Inputs: 4 x HDMI; 1 x IR; 1 x RS-232; 1 x mini-USB (service only)
Outputs: 1 x HDMI
Resolutions: VGA~WUXGA; 480i/p~1080i/p@60Hz; 4K@24/25/30/50/60Hz (YUV 4:4:4)
HDMI Cable Distance: 3m - 4K@60Hz, YUV 4:4:4, 8-bit; 5m - 4K@60Hz, YUV 4:2:0, 8-bit; 10m - 1080p@60Hz, 8-bit
IR Frequency: 30~50kHz
RS-232 Baud Rate: 115200bps
Power Supply: 100~240vAC to +5vDC 2.6A (US/EU standards, CE/FCC/UL certified)
Power Consumption (watts): 6.6W
Dimensions (cm's): 21.4(w) x 10.8(d) x 2.5(h)
Weight (grams): 608g
Chassis: Black Metal
Operating Temperature: 0c ~ 40c / 32f ~ 104f
Relative Humidity: 20% ~ 90% RH (no condensation)
ESD protection: Human Body Model: +/-8kV (air-gap discharge); +/-4kV (contact discharge)
Connects From :
Connects To :

HDMI (HDTV)
RS-232 (9 pin D-Sub)
Mini USB - Power Only
IR Extender (Rx)
Converts From :
Converts To :

HDTV 480p
HDTV 576p
HDTV 720p
HDTV 1080p
HDTV 1080i
HDTV 480i
HDTV 576i
4K x 2K
3D

HDTV 480p
HDTV 576p
HDTV 720p
HDTV 1080p
HDTV 1080i
HDTV 480i
HDTV 576i
4K x 2K
3D
1 x 4 Way HDMI UHD+ Switch
1 x Product Manual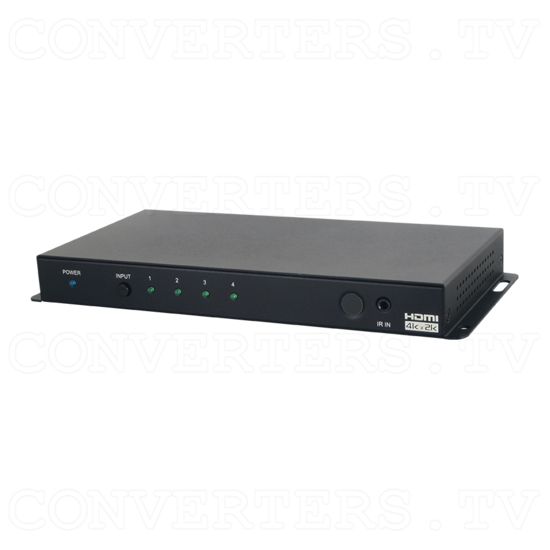 4 Way HDMI UHD+ Switch - ID#15491 Full View.png
4 Way HDMI UHD+ Switch - ID#15491 Front View.png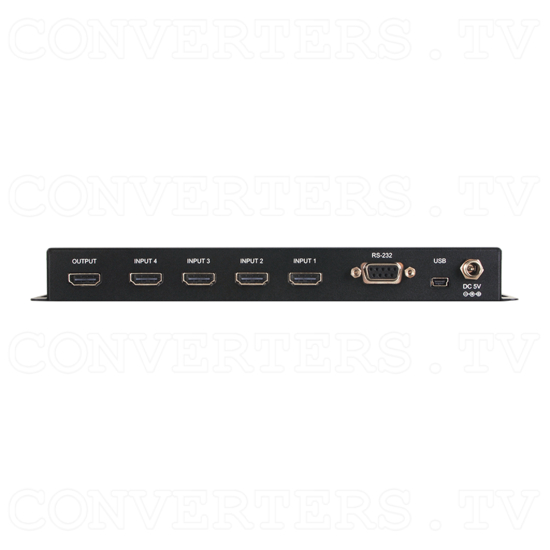 4 Way HDMI UHD+ Switch - ID#15491 Back View.png