4×4 HDMI UHD and Audio Matrix with Fast Switching

save 20%




This 4 by 4 HDMI UHD and Audio Matrix allows HDMI and audio signals to be routed to and simultaneously displayed on any of its four connected HDMI displays and/or audio output equipment. The addition of audio selection and extension features allows users to utilize both video and audio more efficiently.

Fast Switching technology can greatly reduce the time required to swap between inputs. It supports the latest HDMI features such as 4K2K, 3D, 36-bit Deep Color. All operations and controls can be done via on-panel buttons, IR remote control, RS-232 or Ethernet protocol.

| | | | |
| --- | --- | --- | --- |
| Unit Dimensions: | 48.2 x 27.8 x 5.0 cm | Shipping Weight: | 3.30 kg |
| Location: | NSW, Australia | Item Type: | Video Matrix Selectors |
| Condition: | New | Warranty : | 12 Months |
| Certificates : | CE, CTick, UL | Manual : | User Manual (484.42 KB) |
Features:
HDMI with 3D & 4K2K support, HDCP and DVI compliant
Supports four HDMI inputs and four HDMI outputs
Supports external audio inputs and outputs for HDMI outputs selection and additional audio extension up to 300m
Supports HDMI and Optical audio inputs and outputs for HDMI output selection and additional audio extension up to 300m
Displays any of four High-Definition sources on four HDTV displays simultaneously with Fast Switching technology
Supports 3D signals
Supports HDTV resolutions up to 4K2K (3840x2160@24/25/30/50/60Hz@ YUV420 & 4096x2160@24/50/60Hz@YUV420)
Supports data rate up to 340Mbps/10.2Gbps and 'Deep Color' up to 1080p 36-bit resolution
Supports individual EDID or common EDID on all ports
Supports LPCM 2CH, Dolby Digital 2~5.1CH and DTS 2~5.1CH sample up to 192kHz
HDMI inputs support 'Standard' and 'Apple' HDCP modes
Supports MUTE function of Video and/or audio on each output port
Specifications:
Video Bandwidth: 300MHz / 3Gbps
Input Ports: 4 x HDMI, 2 x Optical TOSlink, 2 x AUDIO-CAT 1 x IR Extender, 1 x RJ-45 (Control), 1 x RS-232, 1 x USB (Service)
Output Ports: 4 x HDMI, 2 x Optical TOSlink, 2 x AUDIO-CAT
Supported HDMI & PC Resolutions: 480i/p~1080i/p@24/50/60, 4K2K@24/50/60 (3840*2160 & 4096*2160@24/50/60Hz YUV420) & VGA~WUXGA@60 (RB)
IR Frequency: 30~50Hz
100-240vAC to +12vDC 3A (US/EU standards, CE/FCC/UL certified)
Power Consumption (watts): 4.7w
Dimensions (cm's): 48.2 (l) x 27.8 (d) x 5.0 (h)
Weight (kg's): 2.936kg
Chassis Material: Black Metal
Operating Temperature: 0c ~ 40c / 32f ~ 104f
Relative Humidity: 20% ~ 90% RH (non condensing)
ESD Protection: Human Body Model: +/-8kv (air-gap); +/-4kv (contact)
Connects From :
Connects To :

HDMI (HDTV)
RJ-45 Control Telnet/WebGUI
Optical TOSlink S/PDIF
RS-232 (9 pin D-Sub)
USB (Service)
RJ-45 Audio CAT

HDMI (HDTV)
Optical TOSlink S/PDIF
RJ-45 Audio CAT
Converts From :
Converts To :

HDTV 480p
HDTV 576p
HDTV 720p
HDTV 1080p
HDTV 1080i
HDTV 480i
HDTV 576i
4K x 2K
3D

HDTV 480p
HDTV 576p
HDTV 720p
HDTV 1080p
HDTV 1080i
HDTV 480i
HDTV 576i
4K x 2K
3D
1 x 4×4 HDMI UHD and Audio Matrix with Fast Switching
1 x Product Manual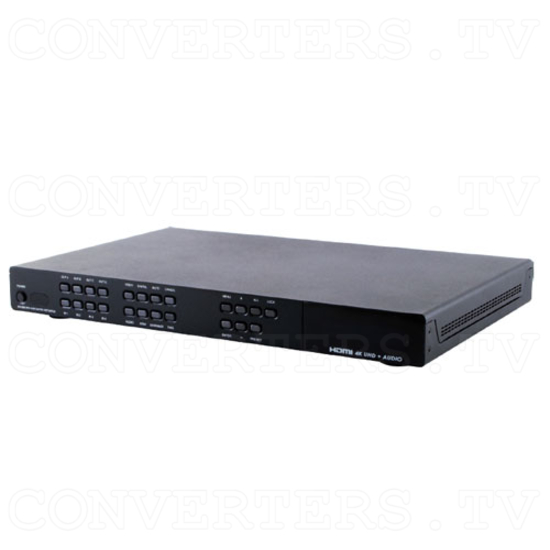 4×4 HDMI UHD and Audio Matrix with Fast Switching - Full View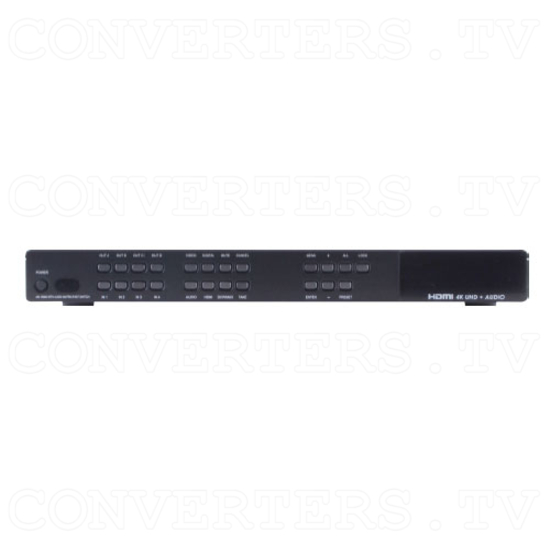 4×4 HDMI UHD and Audio Matrix with Fast Switching - Front View
4×4 HDMI UHD and Audio Matrix with Fast Switching - Back View