3G-SDI to HDMI Scaler with Audio - L/R and SPDIF

save 36%




The 3G-SDI to HDMI Scaler with Audio - L/R and SPDIF is designed to convert SD-SDI (Standard Def-Serial Data Interface), HD-SDI (High Def-Serial Data Interface-Dual Link), and 3G-SDI (High Def-Serial Data Interface-Single Link) to a HDMI video format for display on any standard HDMI HDTV's. An SDI pass-thru port allows for an SDI monitor to be connected, as well. The input SDI signal type is auto-detected and correct conversion techniques applied. Audio is also transported, converted and presented as Left/Right audio for connection to an amplifier or speakers.

After using high speed transmission rates to transport the SD-SDI (300m), HD-SDI (200m) or 3G-SDI (100m) signals over long distances, the resultant converted SDI to HDMI output signal from the device is ready for display. Commonly accepted operating transmission rates are 2.970Gbit/s, 2.970/1.001Gbit/s, 1.485Gbit/s, 1.485/1.001Gbit/s and 270Mbit/s. By connecting through to another 3G-SDI to HDMI Scaler with Audio (L/R and SPDIF) the transmission distance can be greatly increased, extending the distance from the source to the HDTV without any loss of signal quality.

Ideal for use with broadcast quality video, the device is a simple to use converter that would have many applications, not only for use with HDMI displays, but also for applications around Television Broadcast Stations and Service Centres as a test device. This device can be used with our ID#882, "HDMI to 3G-SDI Dual Output Converter" for 3g-SDI transmission and HDMI conversion.

Will also work with DVI devices.

| | | | |
| --- | --- | --- | --- |
| Unit Dimensions: | 18.0 x 14.5 x 6.0 cm | Shipping Weight: | 1.00 kg |
| Location: | NSW, Australia | Item Type: | |
| Condition: | New | Warranty : | 12 Months |
| Certificates : | CE, CTick, UL | Manual : | User Manual (1.13 MB) |
Features:
Operating Data Rates: 2.970Gbit/s; 2.970/1.001Gbit/s; 1.485Gbit/s; 1.485/1.001Gbit/s and 270Mbit/s
Supports SMPTE 425M (Level A and Level B); SMPTE 424M; SMPTE 292M; SMPTE 259M-C
SDI Loop output signal equalized and re-clocked
Integrated audio de-embedder for a maximum of 8 channels, 48kHz audio
Input Video format auto-detected (SDI-3G/SD/HD)
Conversion from SMPTE 425M Level B to Level A 1080p 50/59.94/60 4:2:2 10-bit
Support Transmission distances: SD-SDI=300m; HD-SDI=200m; 3G-SDI=100m
Connect with other 3G-SDI to HDMI Scaler with Audio (L/R + SPDIF) units to extend transmission distances without loss of signal or quality
Connect HDMI and SDI monitors for simultaneous display
Specifications:
Video Supported: 480i. 576i, HD-SDI-720p, 1080i, 3G-SDI-1080p
SMPTE Standard: 425M Level A & B; 424M; 292M; 259M-C
SDI Transmission Rates: 2.970 Gbit/s and 2.970/1.001 Gbit/s
SDI Cable Distances*: 3G up to 100m; HD up to 200m; SD up to 300m (*distance will vary with cable quality)
Frequency Bandwidth: 225MHz/link (HDMI v1.3)
Input Port: 1 x BNC (SD-SDI/HD-SDI/3G-SDI)
Output Port: 1 x BNC (SD-SDI/HD-SDI/3G-SDI); 1 x HDMI (type A); 2 x RCA Audio Jacks
Power Supply: 110-240vAC to 5vDC 2.6A (US/EU standards, CE/FCC/UL Certified)
Power Consumption (watts): 4.0W
ESD Protection: Human Body Model: air-gap discharge = ±8kV; contact discharge = ±4kV
Dimensions (cm): 13.7(W) x 9.0(L) x 2.5(H)
Weight (grams): 225g
Operating Temp: 0C ~ 40C / 32F ~ 104F
Storage Temp: -20C ~ 60C / -4F ~ 104F
Relative Humidity: 20% ~ 90% RH (Non-condensing)
Power Supplies:
Multi-Voltage Power Supply : 100 - 240VAC to 5V DC 2.6A Switch Mode Power Supply - Center Positive
Connects From :
Connects To :

HDMI (HDTV)
Coaxial RCA S/PDIF
Analog Stereo L/R Jacks
SDI
Converts From :
Converts To :

HDTV 480p
HDTV 576p
HDTV 720p
HDTV 1080p
HDTV 1080i
HDTV 480i
HDTV 576i
Coaxial S/PDIF
Analog Stereo L/R Audio
SDI
1 x 3G-SDI to HDMI Scaler with Audio (L/R + SPDIF)
1 x Product Manual
1 x 100-240VAC to 5V DC 2.6A Switch Mode Power Supply (Center Positive)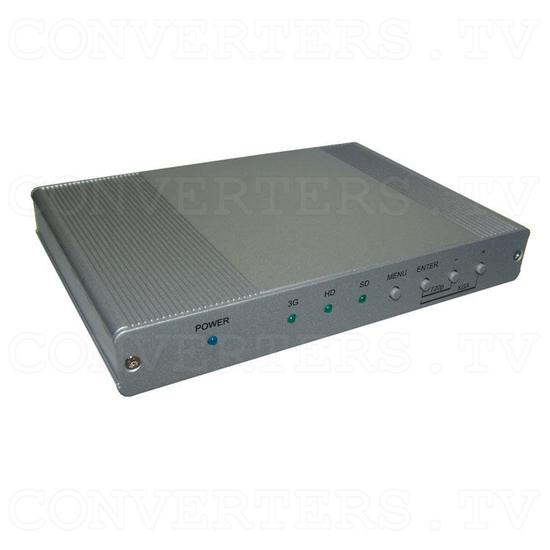 3G-SDI to HDMI Scaler with Audio - L/R and SPDIF - Full View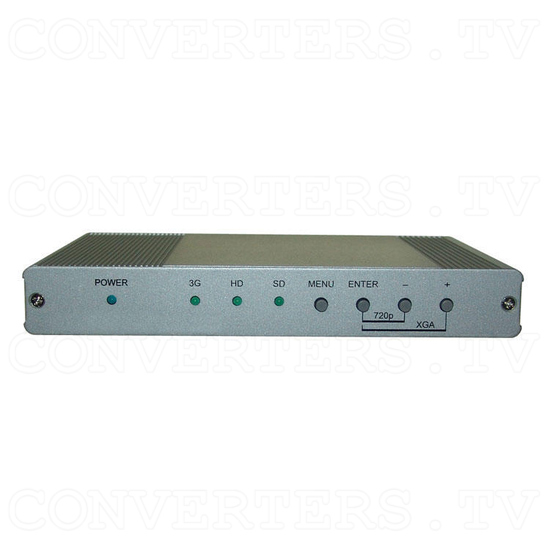 3G-SDI to HDMI Scaler with Audio - L/R and SPDIF - Front View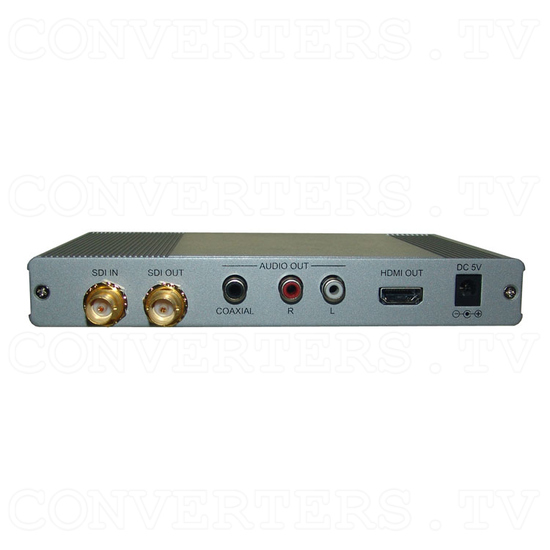 3G-SDI to HDMI Scaler with Audio - L/R and SPDIF - Back View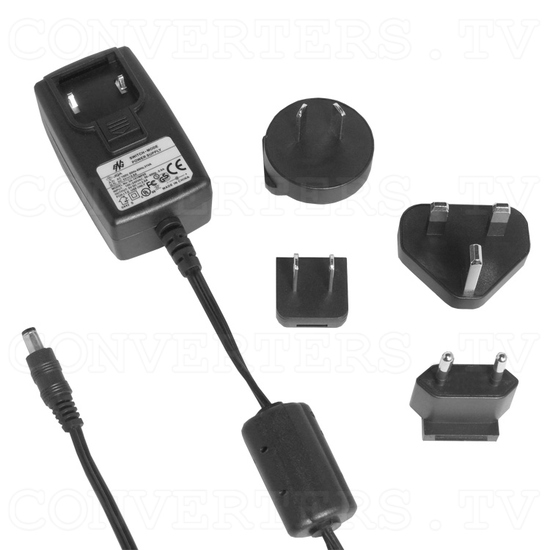 3G-SDI to HDMI Scaler with Audio - L/R and SPDIF - Power Supply 110v OR 240v
3G-SDI to HDMI Scaler with Audio - L/R and SPDIF - Full Kit