| | |
| --- | --- |
| | 32x32 Modularized Enclosure (482 mm x 494 mm x 233 mm) |
The 32 by 32 Modular Matrix is designed to allow the switching and distribution of up to 32 source devices to up to 32 connected displays, either directly via HDMI, DVI or via CAT5e/6/7 outputs to compatible receivers, providing control options (dependent on module configuration).

Providing unparalleled levels of flexibility with an advanced modular design, the 32 by 32 Modular Matrix can be setup in a wide variety of combinations. Allowing users the ability to tailor the Matrix to their requirements by adding or removing the input or output modules simplifies any network configuration.

The 32 by 32 Modular Matrix is supplied with dual removable internal PSU's, allowing for easy inspection and maintenance with zero down time. Also included is a local DVI monitoring port allowing installers access to easily monitor, test, and configure the Inputs and Outputs at anytime.

In addition, the 32 by 32 Modular Matrix also features IP control allowing users to access and control the matrix remotely. It also allows additional options for integration of third-party control systems.

| | | | |
| --- | --- | --- | --- |
| Unit Dimensions: | 48.2 x 49.4 x 23.3 cm | Shipping Weight: | 21.60 kg |
| Location: | NSW, Australia | Item Type: | Video Matrix Selectors |
| Condition: | New | Warranty : | 12 Months |
| Certificates : | CE, CTick, UL | | |
Features:
HDMI, HDCP 1.1 and DVI 1.0 compliant
Interchangeable input and output modules
Input and output module types can be mixed and added in multiples of 8 from 8×8 (1 Input module, 1 Output module) up to 32×32 (4 Input modules, 4 Output modules) with HDMI, DVI, CAT5e/6/7 and VGA (Input only) connection types
Supports a wide range of PC and HDTV resolutions from VGA to WUXGA and 480i to 1080p and 4K2K@24/25/30
Supports pass-through of LPCM 7.1CH, Dolby TrueHD, Dolby Digital Plus and DTS-HD Master Audio
Supports control of the matrix via RS-232, Telnet and Web GUI controls
Supports 10 available preset settings
Support 3 EDID modes: Standard, Dynamic and Manual (see Section 6.1 for details)
Dual removal power supply units
Supports HDMI cable input and output lengths of up to 15m each way (1080p@8-bit resolution), 10m (1080p@12-bit resolution) or 5m (4K2K@30 resolution)
Supports CAT5e/6/7 cable input and output lengths of up to 100m (1080p@8-bit/12-bit resolution) or 70m (4K2K@30 resolution) dependent on board capabilities
HDBaseT 5Play™ convergence supports HD Video, HD Audio, PoC, Ethernet and IR/RS-232 Control
HDBaseT 4Play convergence supports HD Video, HD Audio, PoC and IR/RS-232 Control
HDBaseT 3Play convergence supports HD Video, HD Audio and IR/RS-232 Control
Specifications:
Input Ports: Up to 32×HDMI or DVI or CAT5e/6/7 or VGA (dependent on module configuration)
Output Ports: Up to 32×HDMI or DVI or CAT5e/6/7 (dependent on module on module configuration)
Power Supply: 2 × AC 110~240V (US/EU standards, CE/FCC/UL certified)
Power Consumption (watts): 70w
Dimensions (cm's): 48.2 (w) × 49.4 (d) × 23.3 (h)
Weight (kg's): 15kg
Chassis: Black Metal
Operating Temperature: 0˚C~40˚C/32˚F~104˚F
Storage Temperature: −20˚C~60˚C/−4˚F~140˚F
Relative Humidity: 20%~90% RH (non-condensing)
Connects From :
Connects To :

VGA 15pin D-Sub (31K+)
HDMI (HDTV)
CAT5 / CAT6 Cable RJ-45

HDMI (HDTV)
CAT5 / CAT6 Cable RJ-45
Converts From :
Converts To :

HDTV 480p
HDTV 576p
HDTV 720p
HDTV 1080p
HDTV 1080i
HDTV 480i
HDTV 576i
CAT5/6 Protocol
4K x 2K
3D

HDTV 480p
HDTV 576p
HDTV 720p
HDTV 1080p
HDTV 1080i
HDTV 480i
HDTV 576i
CAT5/6 Protocol
4K x 2K
3D
1 x 32x32 Modularized Enclosure (482 mm x 494 mm x 233 mm)
32x32 Modularized Enclosure (482 mm x 494 mm x 233 mm) - ID#15161 Full View.png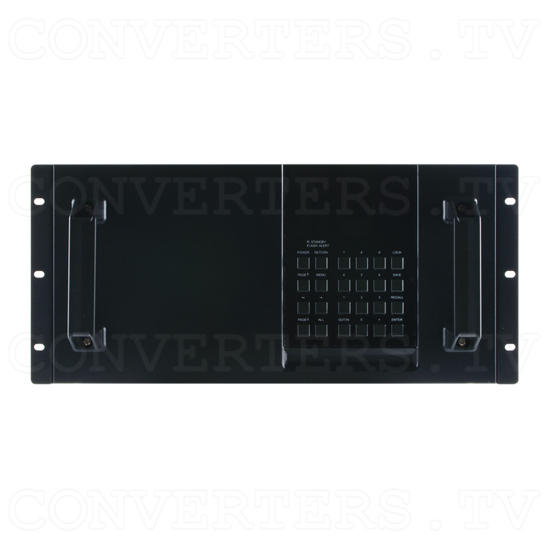 32x32 Modularized Enclosure (482 mm x 494 mm x 233 mm) - ID#15161 Front View.png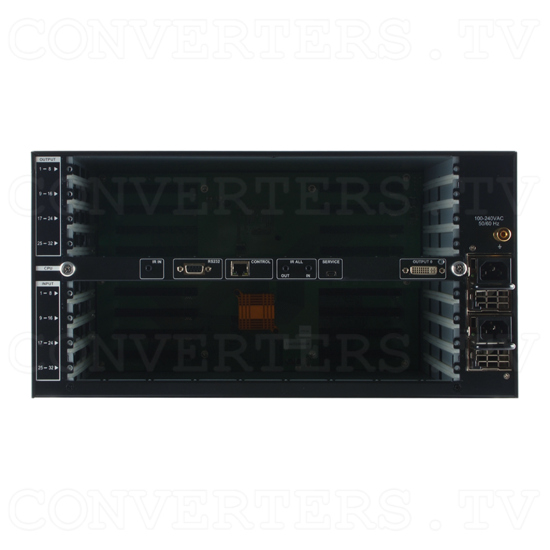 32x32 Modularized Enclosure (482 mm x 494 mm x 233 mm) - ID#15161 Back View.png