1x4 DVI Splitter

save 17%





The ​1 x 4 DVI Splitter is a high performance, HDCP compliant DVI signal distributor/amplifier. One DVI signal source is split into four identical buffered outputs, each connecting simultaneously to four DVI displays.

Full support given by the ​1 x 4 DVI Splitter for HDTV signals 480p to 1080p and PC resolutions from VGA ~ WUXGA. The EDID information from the device on output 1 (one) is transferred to the source. Audio is not supported and must be routed directly from the video/audio source, to an audio system.

Each of the buffered outputs will operate up to a distance of 15 meters and can be cascaded by up to 3 levels, giving multiple outputs operating simultaneously. To transfer HDMI™ signals, use an HDMI to DVI cable or adaptor.


| | | | |
| --- | --- | --- | --- |
| Unit Dimensions: | 10.2 x 14.1 x 3.8 cm | Shipping Weight: | 0.75 kg |
| Location: | NSW, Australia | Item Type: | DVI Converters |
| Condition: | New | Warranty : | 12 Months |
| Certificates : | CE, CTick, UL | | |
Features:
HDMI, HDCP and DVI 1.0 compliant
Compatible with an HDMI signal using an HDMI to DVI adaptor
Supports a wide range of PC and HDTV resolutions from VGA to WUXGA and 480p to 1080p
Can be cascaded up to 3 layers for multiple simultaneous output operation
The device will read and record the EDID of output 1 and sends it to the source device
Specifications:
Input Port: 1 × DVI
Output Ports: 4 × DVI
Audio Sampling Rate: Up to 192 kHz (with DVI to HDMI Adaptor)
Power Supply: 100-240vAC to +5vDC 2.6A (US/EU standards, CE/FCC/UL certified)
Power Consumption (watts): 6w
Dimensions (cm's): 10.2 (w) × 14.1 (d) × 3.8 (h)
Weight (grams): 550g
Chassis: Black metal
Operating Temperature: 0c ~ 40c / 32f ~ 104f
Relative Humidity: 20% ~ 90 % RH (non-condensing)
ESD Protection: Human body model: +/-8 kV (air-gap discharge); +/-6 kV (contact discharge)
| Connects From : | Connects To : |
| --- | --- |
| | |
Converts From :
Converts To :

HDTV 480p
HDTV 576p
HDTV 720p
HDTV 1080p

HDTV 480p
HDTV 576p
HDTV 720p
HDTV 1080p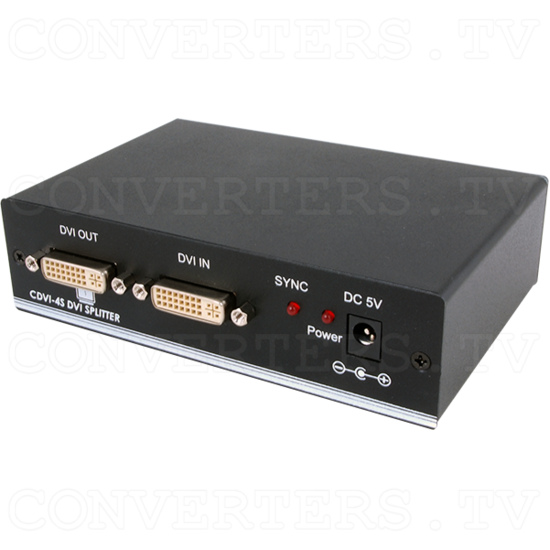 1x4 DVI Splitter - Full View.png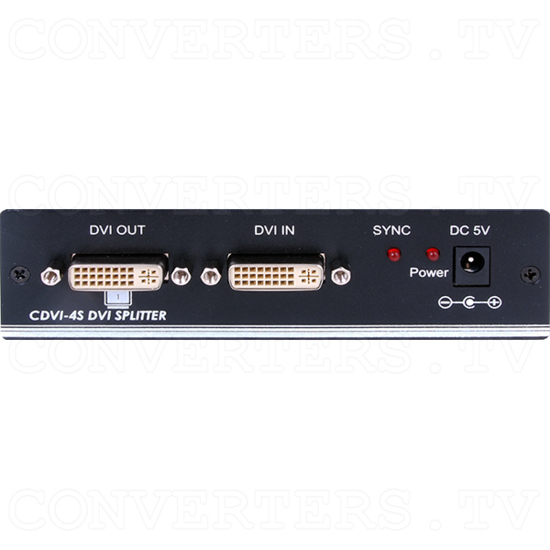 1x4 DVI Splitter - Front View.png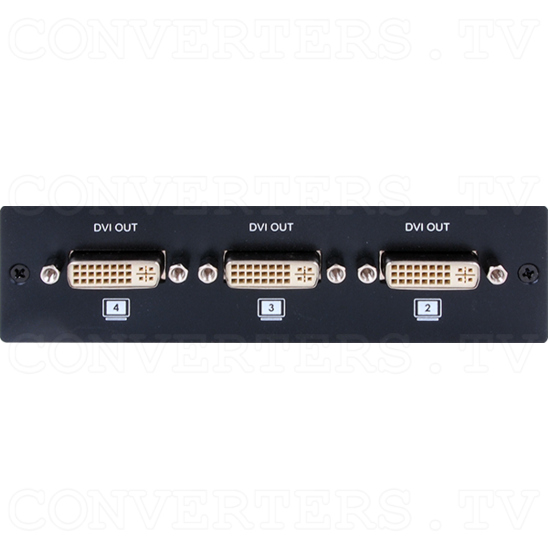 1x4 DVI Splitter - Back View.png
1x4 DVI Splitter - How To Connect.png