10x10 HDMI 6G HDBaseT Matrix with 48v PoH

save 21%




The 10 x 10 HDMI/HDBaseT Matrix supports video transmission (resolutions up to 4K2K@60Hz & HDCP 2.2), multi-channel digital and analog audio and system control via IR, RS-232, Telnet or WebGUI from ten High Definition sources to eight outputs over a single CAT5e/6/7 cable (up to 100m) for each output.

In addition, 2 HDMI outputs work with any 2 HDMI inputs and together they can operate as a 2x2 Matrix of 6G video. Further, it supports passthrough of high resolution digital audio formats such as LPCM 7.1CH, Dolby TrueHD, Dolby Digital Plus, Dolby Atmos and DTS-HD Master Audio. Also, 3D content can be transmitted and displayed when a 3D TV and a 3D source are connected.

Excluding video routing, it offers audio routing, insertion and extraction for utilisation with different applications, such as merging background music into video clips. A handy function is the support for an optical audio return channel, which can retrieve the audio signal from the optical input port on a compatible receiver connected to the Matrix through HDBaseT.

Additionally, the LAN connectivity will allow a 100BaseT network service to be connected to smart TV's and game consoles. The Matrix has a built-in pattern generator which can be used to verify the video signal on any of its 10 output ports. The maximum timing for the test pattern is 6G. The Power over HDBaseT (PoH) function can power compatible receivers located at remote locations, providing greater flexibility in installations.




| | | | |
| --- | --- | --- | --- |
| Unit Dimensions: | 48.3 x 35.6 x 9.6 cm | Shipping Weight: | 8.10 kg |
| Location: | NSW, Australia | Item Type: | HDMI Converters |
| Condition: | New | Warranty : | 12 Months |
| Certificates : | CE, CTick, UL | Manual : | User Manual (1.22 MB) |
Features:
HDMI 2.0, HDCP 1.4 and HDCP 2.2 compliant
Routes 10 HDMI sources to 10 displays
8 x HDBaseT outputs support 300MHz resolution YUV 4:4:4 and 2 support 600MHz resolution
Supports resolutions up to 1080p and 4K@30Hz on HDBaseT output ports and up to 4K@60Hz YUV444 on HDMI output ports
2 x 600MHz output resolution for any of 10 inputs or mirror any 2 output images for monitoring output images immediately
Supports HDBaseT transmission distance up to 100m over CAT5e/6 cable and 70m for 4K2K@30MHz
Advanced Internal and External EDID management
4 sets of configurable EDID
Supports HDBaseT output with Optical Return Channel
Supports LPCM 7.1CH, Dolby TrueHD, Dolby Digital Plus, Dolby Atmos and DTS-HD Master Audio
Audio delay for lip-sync
Audio mixer function provides background music mixing
IR remote control for sink and sources
Supports IR signal control from source and sink ends (bothway IR)
Internal test pattern up to 6G generated for self-testing and sink device testing
Specifications:
Video Badwidth: HDMI- 600MHz/18Gbps HDBaseT- 340MHz/10.2Gbps
Input Ports: 10 x HDMI; 4 x Analog L/R (RCA); 2 x Digital Co-Axial; 2 x Digital Optical TOSlink; 2 x CAT Audio (RJ45)
Output Ports: 2 x HDMI; 8 x RJ45 CAT5e/6; 12 x Analog L/R (RCA); 2 x CAT Audio (RJ45)
Control Ports: 9 x IR Extender, 11 x IR Blaster; 1 x RS-232 (9 pin D-sub); 1 x LAN
Service Port: 1 x USB 2.0
HDMI Resolutions: 480i/p ~ 4K2K@50/60Hz
Volume Adjustment: 0dB to -100dB and adjust 0.5dB per step (for both Zone and Extended Audio)
Treble/Bass Audio Control: Bass Range: -12dB to +12dB and adjust 1dB per step
Audio Delay: 230ms for line-out per channel and adjust 1ms per step
Audio Mixer: Mix any 2 audio cannels into 1; 3 mixes maximum; mixer gain adjustable 0% ~ 100%
EDID Management: Internal and External EDID
IR Frequency: 38Hz
Baud Rate: 115200bps
Power Supply: 100-240vAc to +24vDC 6.5A (US/EU standards, CE/FCC/UL certified)
Power Consumption (watts): 175W
Dimensions (cm's): 48.3(l) x 35.6(d) x 9.6(h)
Weight (kg's): 6.5kg
Chassis: Black Metal
Operating Temperature: 0c ~ 60c / -4f ~ 140f
Relative Humidity: 20% ~ 90% RH (non-condensing)
ESD Protection: Human Body Model: +/-8kV (air-gap); +/-4kV (contact)
Connects From :
Connects To :

HDMI (HDTV)
RJ-45 Control Telnet/WebGUI
Optical TOSlink S/PDIF
Analog Stereo L/R Jacks
CAT5 / CAT6 Cable RJ-45
RS-232 (9 pin D-Sub)
LAN
IR Blaster (Tx)
IR Extender (Rx)
USB (Service)

HDMI (HDTV)
CAT5 / CAT6 Cable RJ-45
Converts From :
Converts To :

HDTV 480p
HDTV 576p
HDTV 720p
HDTV 1080p
HDTV 1080i
HDTV 480i
HDTV 576i
CAT5/6 Protocol
4K x 2K
3D
ARC

HDTV 480p
HDTV 576p
HDTV 720p
HDTV 1080p
HDTV 1080i
HDTV 480i
HDTV 576i
CAT5/6 Protocol
4K x 2K
3D
ARC
1 x 10x10 HDMI 6G HDBaseT Matrix with 48v PoH
1 x Product Manual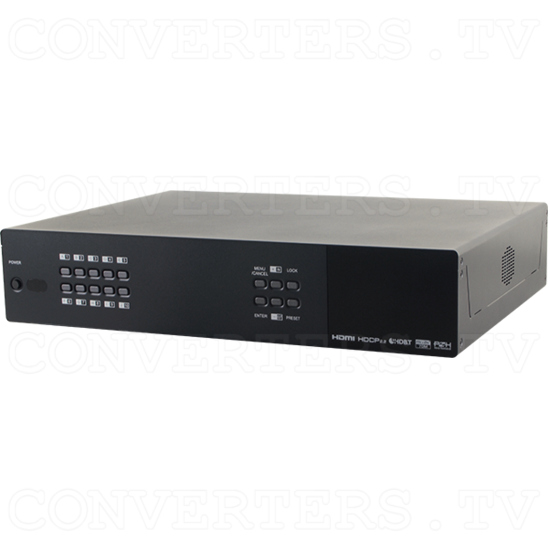 10x10 HDMI 6G HDBaseT Matrix with 48v PoH - Full View
10x10 HDMI 6G HDBaseT Matrix with 48v PoH - Front View
10x10 HDMI 6G HDBaseT Matrix with 48v PoH - Back View