Optical Audio Switcher 4 In 1 Out with Remote Control

save 38%




The Optical Audio Switcher 4 In 1 Out with Remote Control is the 2011 from our optical range of Audio converters/switchers. Designed to accept up to 4 digital audio streams via four TosLink input cables and by switch or remote control selection, it can direct the required digital audio stream to one TosLink output cable connected to your amplifier or active speaker. The device will work with audio formats PCM2, AC3/5.1, Dolby 5.1 & DTS 5.1 pass through.

Now you can connect your digital audio outputs from your Blu-Ray and DVD players or Game Console, etc. via the optical TosLink cable to this switcher and select the desired audio stream for play on your audio system. The optical sampling rate supports up to 192kHz @ 24 bit resolution, covering most standard digital audio equipment.

Compact, lightweight and easy to install, this device will help organize 4 of your video equipment digital audio outputs into one connection for simple input to your amplifier system, using an optical TosLink cable. Input channel selection is done either by front panel button operation or by remote control. No more changing over of audio cables.

| | | | |
| --- | --- | --- | --- |
| Unit Dimensions: | 10.0 x 7.0 x 2.0 cm | Shipping Weight: | 0.50 kg |
| Location: | NSW, Australia | Item Type: | |
| Condition: | New | Warranty : | 12 Months |
| Certificates : | CE, CTick, UL | Manual : | User Manual (253.94 KB) |
Features:
Small, compact and lightweight
Low Power rating and consumption
Front panel button control for power on/off and input channel selection
LED lamps to indicate active channel
Full remote control function
All inputs and output clearly labeled
5vDC (center positive) working
Specifications:
Input Ports: 4 x Optical TosLink
Output Port: 1 x Optical TosLink
Sampling Frequency: Up to 192kHz @ 24 bit resolution
Audio Formats Supported: PCM2, AC3/5.1, Dolby 5.1 and DTS 5.1 pass through
Power Supply: 5vDC 1A (center positive) US/EU standard;CE/FCC/UL certified
Power Consumption: <1 watt (less than 1 watt)
Electro-Static Discharge Protection: Human Body Model - airgap= ±8kV contact=±6kV
Chassis material: Plastic
Colour:
Operating temp: 0C ~ 40C / 32F ~ 104F
Relative Humidity: 20 ~ 90% RH (non-condensing)
Dimensions (cm): 10.0(W) x 7.0(D) x 2.0(H)
Weight (grams): 90g
| Converts From : | Converts To : |
| --- | --- |
| | |
1 x Optical Audio Switcher 4in : 1out with Remote Control
1 x Product Manual
1 x 100-240VAC to 5V DC 2.6A Switch Mode Power Supply (Center Positive)
Optical Audio Switcher 4 In 1 Out with Remote Control - Full View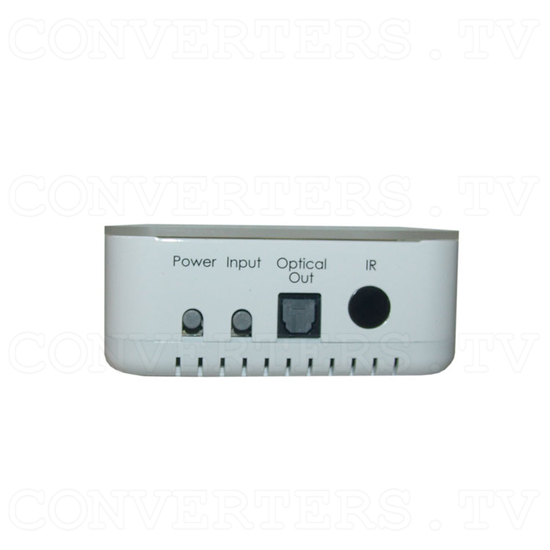 Optical Audio Switcher 4 In 1 Out with Remote Control - Left View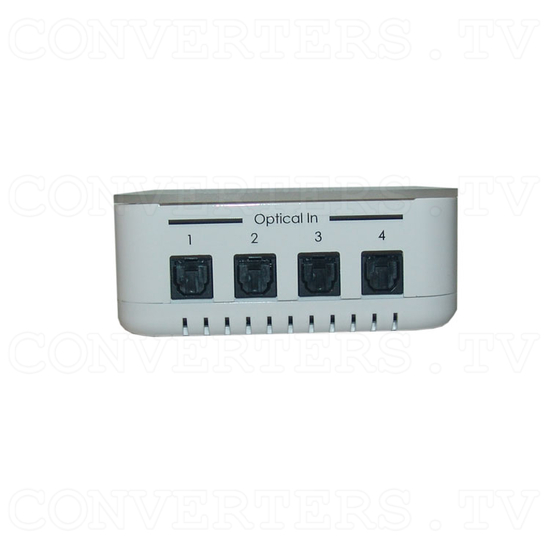 Optical Audio Switcher 4 In 1 Out with Remote Control - Right View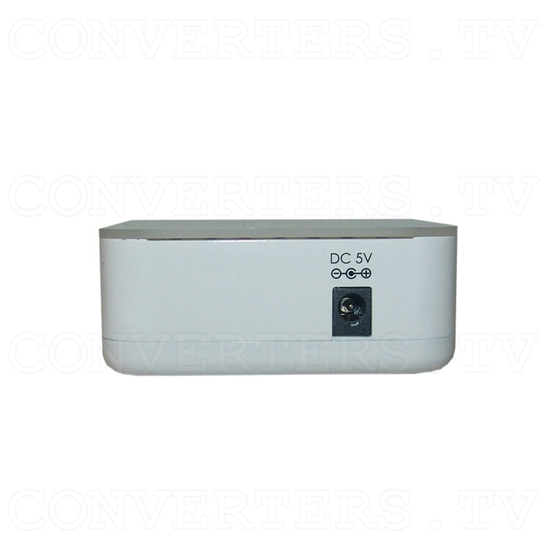 Optical Audio Switcher 4 In 1 Out with Remote Control - Back View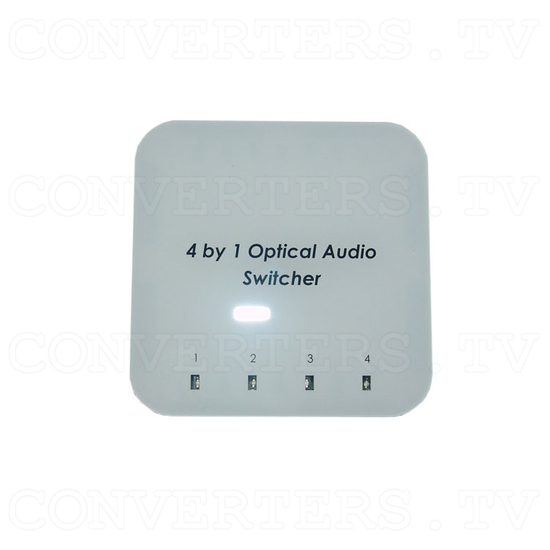 Optical Audio Switcher 4 In 1 Out with Remote Control - Top View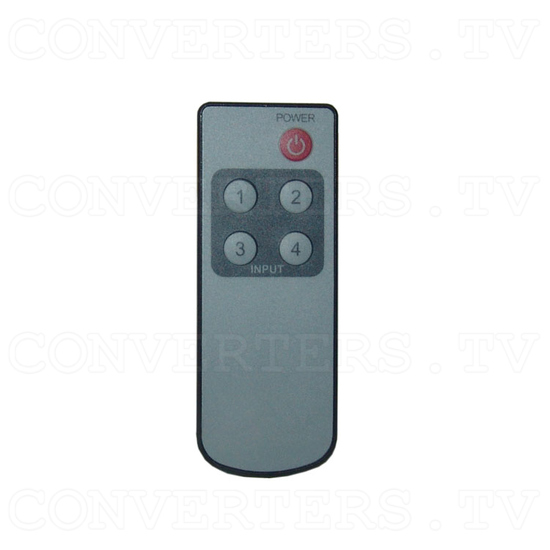 Optical Audio Switcher 4 In 1 Out with Remote Control - Remote
Optical Audio Switcher 4 In 1 Out with Remote Control - Power Supply 110v OR 240v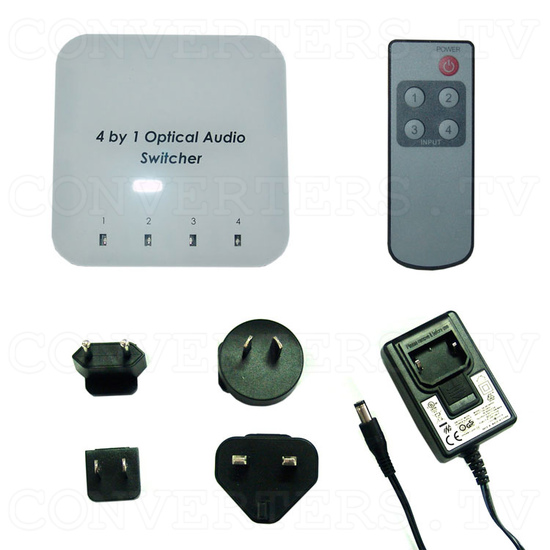 Optical Audio Switcher 4 In 1 Out with Remote Control - Full Kit