7 Inch Android Tablet 4.0 1.5GHz 8GB with Free Keyboard and Leather Cover (black)

save 27%




The 7 inch Android 4.0 tablet has a slim and lightweight design with a 7 inch five point touch screen and is a must have item for those who are constantly on the move. Being extremely user friendly with big coloured icons and easy navigation makes it perfect for people who may be new to the technology. Furthermore, the 7 inch tablet functions as a portable computer with the ability to access WiFi and Ethernet networks including 3G capabilities.

Having the ability to view movies, listen to music and viewing photos this is entertainment on the go! For those looking for a little extra this tablet comes with handy features such as the Android App store, inbuilt microphone and webcam as well as great extras including a FREE black leather case with keyboard.

Wanting more out of your tablet? There are thousands of free apps available for Android devices including Angry Birds, Fruit Ninja and Draw Something, Facebook, Skype, Twitter and eBay. Also for the avid readers, Alkido or Kindle apps which give you access to e-books wherever you are.

If black isnt your colour please note this tablet is also available in white: Click here

With a FREE black leather case with keyboard this offer is too good to miss!

| | | | |
| --- | --- | --- | --- |
| Unit Dimensions: | 20.0 x 12.4 x 1.4 cm | Shipping Weight: | 0.56 kg |
| Location: | NSW, Australia | Item Type: | |
| Condition: | New | Warranty : | 12 Months |
| Certificates : | CE, CTick, UL | | |
Specifications:
CPU: Allwinner A10, ARMc7 Processor rev 2 1.5GHz
OS: Google Android 4.0
Memory: 512MB
Hard disk: 8GB
Language: Afrikaans/ Amharic/ Czech/ Catalan/ Danish/ German/ English/ Spanish/ French/Hebrew/Italian/ Dutch/ Norwegian/ polish/ Portuguese/ Swedish/ Greek/ Russian/ Korean/ Indonesian/ Arabic/ Croatian/ Latvian/Lithuanian/ Magyar/ Romance/Slovak/ Finnish/ Filipino/ Slovenian/Thai /zulu/Turkey/ Vietnamese/ Chinese/ Japanese/ Bulgarian/ Serbian/ Ukrainian/Malay
Storage Device: Support external TF card, maximum capacity of 32GB
Gravity: Fast 4-Dimensional G-sensor
LCD: TFT 7'' Capacitive 5 Point Touch Screen 480*800 pixels
WIFI: WIFI:IEEE802.11b/g/n wireless network
Office software: Support Word, excel, slideshow, pdf
3G Support: External 3G
3D game: Support
Android market: Support
Skype Video Chat: Support
I/O Port Headphone *1, TF card reader *1, Mini USB port*1,Host port*1,
DC Jack *1,HDMI*1
Audio: 3.5mm headphone jack
High-quality stereo loud speaker
Built-in microphone
Camera: Main camera resolution up to 2 Mega pixels
Power adapter: Input 100-240V 50/60Hz Output: 5.0V 2400mA/4000mAh
Size: 195 * 122* 13mm
Net Weight: 0.35kg
Gross weight: 0.57kg
Color: Black (please note also available in white)
Battery: 24000mAh
| Converts From : | Converts To : |
| --- | --- |
| | |
1 x 7 Inch Android 4.0 tablet (Black)
1 x 100-240vAC to 5vDC 2A Australian Power Adaptor
1 x USB to Mini-USB Adaptor Cable - 18cm
1 x USB to Mini-USB Adaptor Cable - 80cm
7 Inch Android Tablet 4.0 1.5GHz 8GB with Free Keyboard and Leather Cover (black) - Full View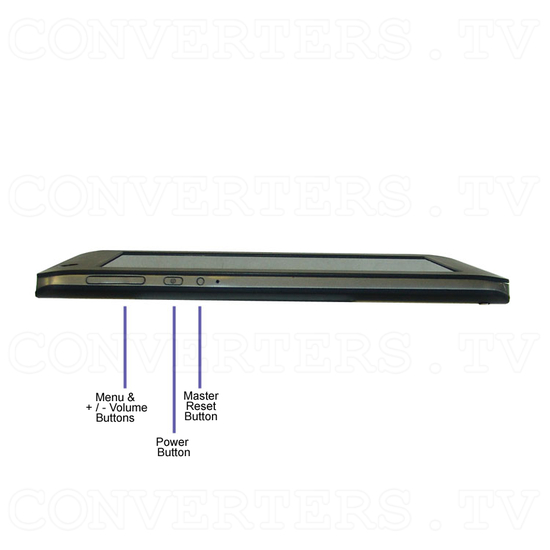 7 Inch Android Tablet 4.0 1.5GHz 8GB with Free Keyboard and Leather Cover (black) - Top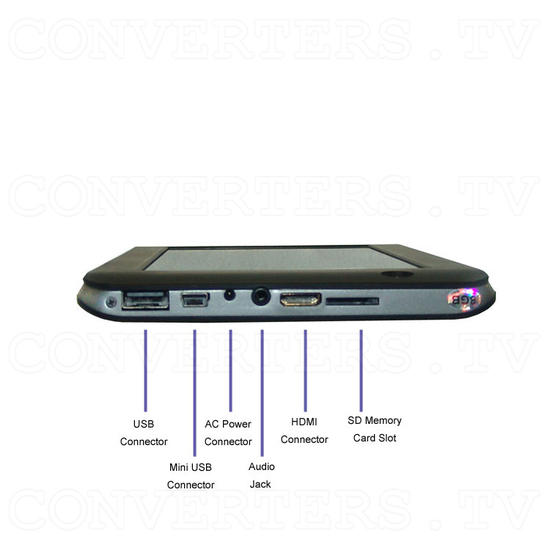 7 Inch Android Tablet 4.0 1.5GHz 8GB with Free Keyboard and Leather Cover (black) - Right View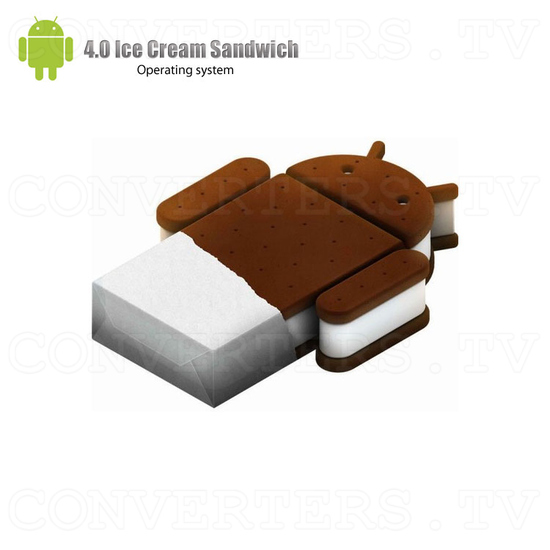 7 Inch Android Tablet 4.0 1.5GHz 8GB with Free Keyboard and Leather Cover (black) - Android 4.0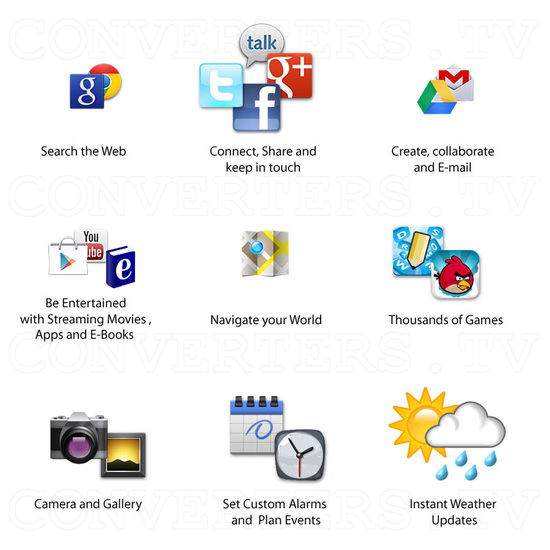 7 Inch Android Tablet 4.0 1.5GHz 8GB with Free Keyboard and Leather Cover (black) - Android Features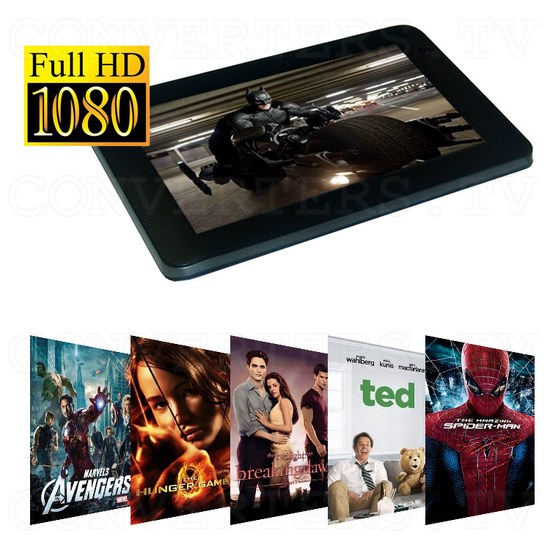 7 Inch Android Tablet 4.0 1.5GHz 8GB with Free Keyboard and Leather Cover (black) - Full HD 1080p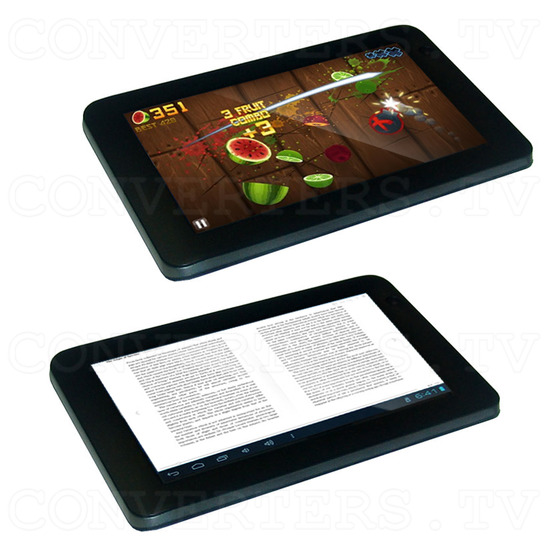 7 Inch Android Tablet 4.0 1.5GHz 8GB with Free Keyboard and Leather Cover (black) - Games and E-Books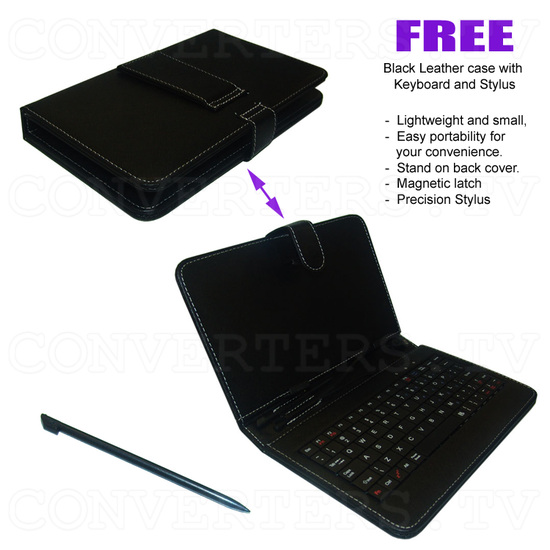 7 Inch Android Tablet 4.0 1.5GHz 8GB with Free Keyboard and Leather Cover (black) - Free Accessory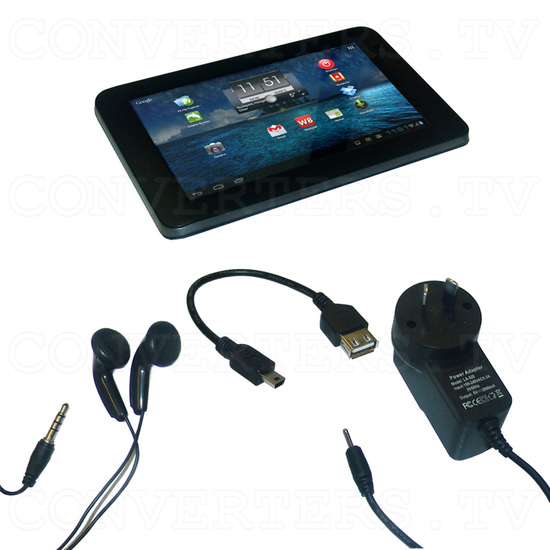 7 Inch Android Tablet 4.0 1.5GHz 8GB with Free Keyboard and Leather Cover (black) - Full Kit